Featured Title: Hatsune Miku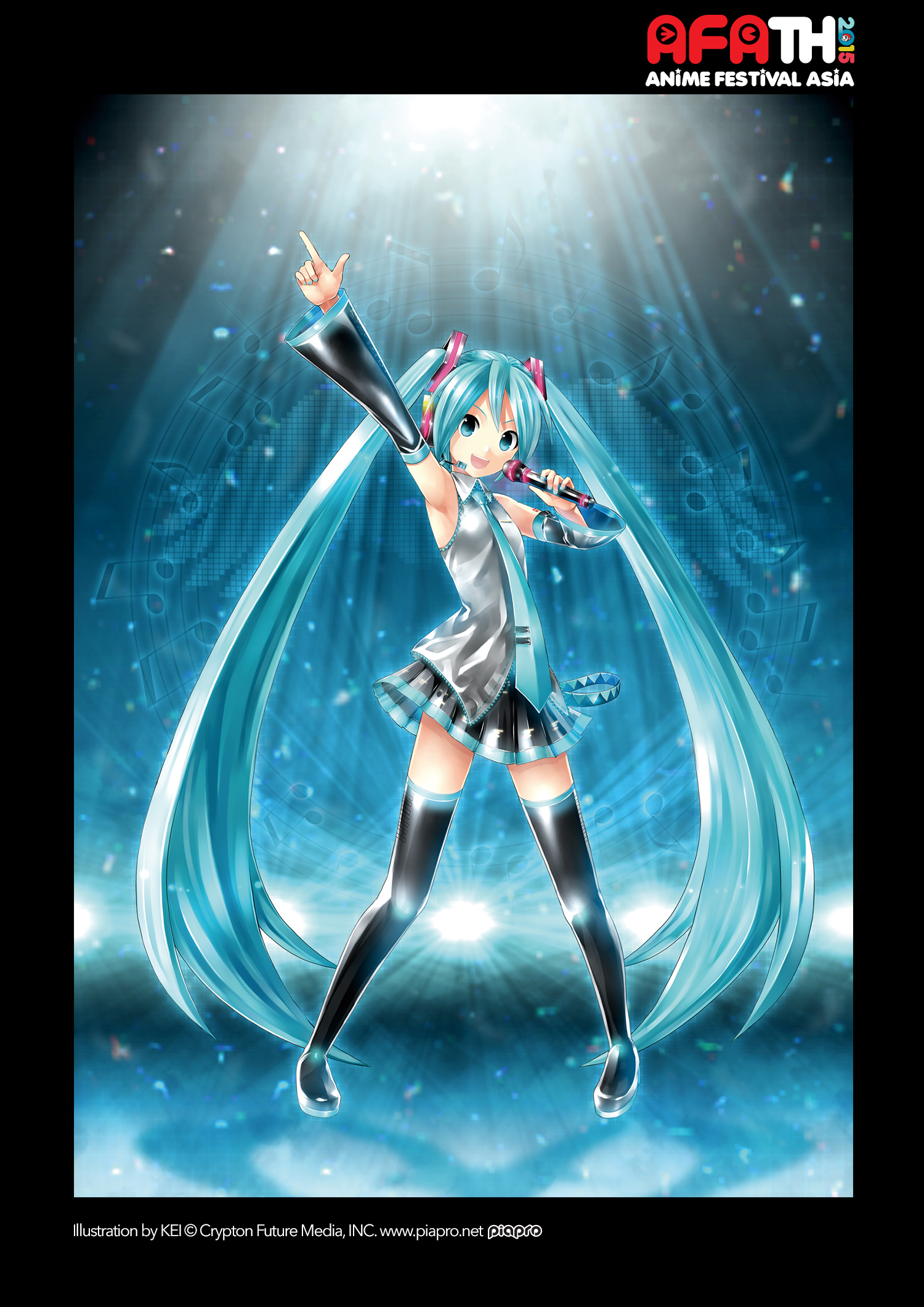 Introduction
Piapro:
"Hatsune Miku", "Kagamine Rin", "Kagamine Len", "Megurine Luka", "KAITO" and "MEIKO" are developed characters for singing voice synthesizer products of Crypton Future Media, INC.
For this software, voice characteristics have been recorded for each character, and it is possible to easily create vocal parts by just entering melody and lyrics on the computer screen.
After the release of the software, fans and users have started to create a massive amount of music and videos presented on video sharing websites. The publishing of these artworks stimulated the creative impulse of users to remix, and moreover, further collaborate with each other on new projects. Crypton immediately created the platform "PIAPRO" to support "Peer Production" among users and to further nurture the ongoing creative movement.
Every character has a unique expression according to each single user. Crypton Future Media's CEO Hiroyuki Itoh says: "There are many different values and ways of thinking, so if there are 1,000,000 users then there should be 1,000,000 different ways of thinking."
However, these characters are not only featured in the artwork of many creators. They come to life in 3D projection concerts and their popularity is continuously spreading around the world!
Hatsune Miku:
The trademarks of Hatsune Miku's character illustration are her blue-greenish pigtail hair style and her futuristic outfit resembling a school uniform of the same color mixed with black.
Hatsune Miku is futuristic voice synthesizer software that is designed to allow users to easily create vocal parts from scratch by just entering a melody and lyrics. Crypton Future Media developed the music software based on the voice of a Japanese voice actress, Saki Fujita, and first released it on August 31st, 2007. After the release, Hatsune Miku quickly evolved into a phenomenon of a highly participatory cyber culture with creating and sharing Miku-related content around the globe. At present, with more than 1,000,000 derivative artworks and 100,000 user-released songs, Hatsune Miku is not only the icon of this ever expanding creative community, but she is also successful in performing sold-out 3D concerts worldwide and appearing in TV commercials such as Toyota USA and Google.
Hatsune Miku was first released on August, 31st 2007 as "VOCALOID2 Hatsune Miku". In 2010, 6 additional libraries, such as "Sweet" and "Dark", were released with "VOCALOID2 MIKU APPEND". In summer 2013, the brand-new and updated version "HATSUNE MIKU V3 BUNDLE" featuring 5 voice banks and for the first time also an English voice bank was released. Additionally, a special version for abroad was released "HATSUNE MIKU V3 ENGLISH", that excludes the Japanese voice banks.
Exhibition:
Don't miss a range of exclusive of Vocaloid merchandise featuring Hatsune Miku and friends from Crypton Future Media! Only at AFA Mall at AFA Thailand 2015!
Links:
Official Website – http://piapro.net/en.html