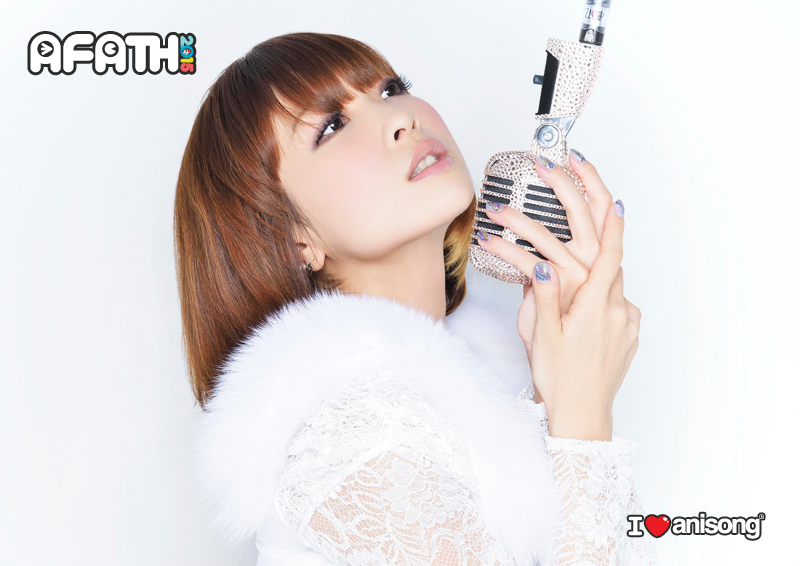 May'n
Profile:
The artist "May'n" is derived from her real name, and it demonstrates her hope to always "sing songs that will be everyone's main theme." In 2008, She performed as a singing voice of Diva of the Galaxy, Sheryl Norm, in the TV anime "Macross Frontier." She released 2 singles in the same year which instantly became big hit, each placing in the Top 3 on the Oricon Weekly Chart.
The mini-album "May'n Street" released in January 2009, was achieved the 2 nd  place on the Oricon Weekly Chart, since that, all of May'n's releases have consistently entered the top music sales charts.
In January 2010, May'n performed her first solo Budokan concert, which sold out all tickets in only 1 day. In March 2010, she held her first tour of Asia, followed in July by 17 cities summer tour of Japan. Her irresistible singing skills and unique voice makes everybody impressed. She works passionately on her live shows in Japan and overseas to deliver her songs directly.
May'n was chosen to record the theme song for the film "InciteMill-7Days Death Game-"in fall 2010. The 3D Live Documentary movie "May'n THE MOVIE –Phonic Nation -" was released nationwide in February 2011. Her second album "If you…" released in the end of February which made the 7th  place on the Oricon Weekly Chart. She made a great success holding the second solo Budokan concert in March 2011.
She had a second Asian concert touring 6 cities in 2011. She also participated in the Japanese Culture and Entertainment Festival "Japan Expo 2011" the largest event in Europe, and received the large applause. On March 20, 2012, the special concert "May'n GO! AROUND!!" was held at Yokohama Arena, and the next day on the 21st , her 3rd  album "HEAT" was released. In May 2012, "Chase the world", the opening tune of TV anime "Accel World" was released which recorded the highest sale of her works. From the end of May 2012, the first world-wide concert tour "ROCK YOUR BEATS", was started touring China, Germany, France, Hong Kong and had 34 performanced including in Japan. On March 2, 2013, her third solo performance in Budokan was the recent notable success.
Her acoustic tour is scheduled from May 2013, followed by her hall tour starting from October 2013. In 2014, "Kyo ni koiiro", the opening tune of TV anime "Inari KonKon Koi iroha" and her 4th album "NEW WORLD" was released at the same time. From February 23 started "May'n Road to 10th Anniversary Japan & World Tour "dots and lines"" which is the longest tour by herself touring Indonesia, Singapore, Taiwan, Los Angeles, San Francisco, Korea, China and had 47 prefectures that means all of city in Japan including for 1 year. On June 18, her 10th  single "Re:REMEMBER" was released.
She fascinates many audiences with her irresistible singing skills and unique voice, continues to be the must-see "New Generaion Female Rock Vocalist."
Links:
Official Website – http://mayn.jp
Official Blog – http://ameblo.jp/mayn-blog/
Official Facebook – https://www.facebook.com/mayn.official
Official Weibo: http://www.weibo.com/u/2804668611