Detective Conan: Dimensional Sniper – MOVIE
AFAID 2014 FEATURED ANIME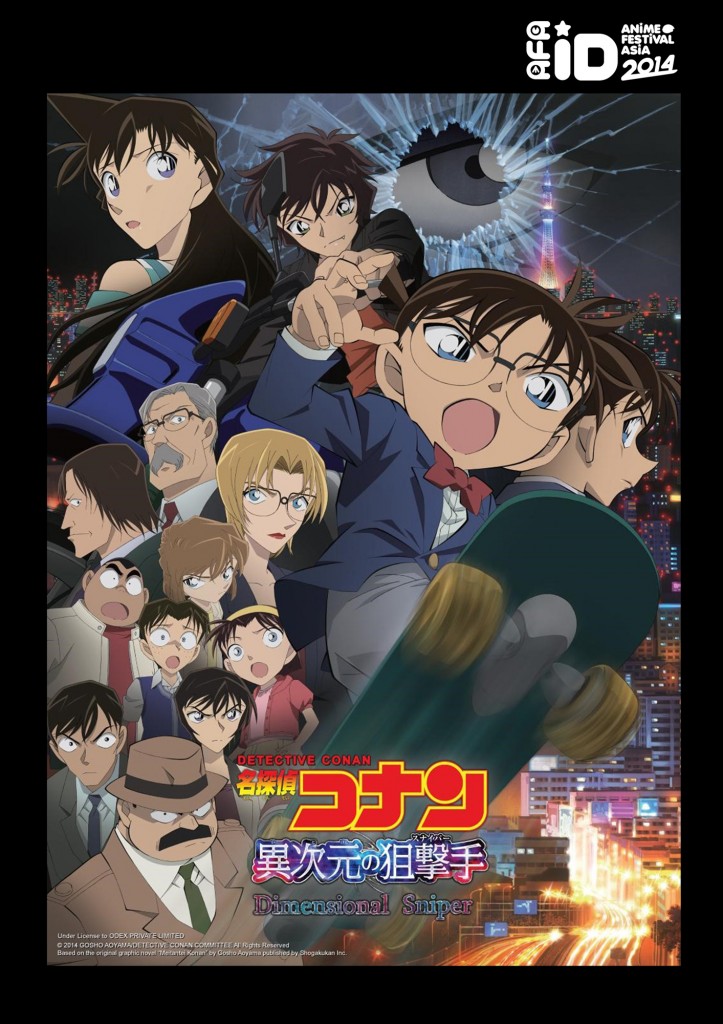 The latest movie from the popular Detective Conan series will be coming to Jakarta this August at the Anime Festival Asia Indonesia 2014.
Detective Conan: Dimensional Sniper on the AFAID Main Stage
>> FRI 15 AUG 2014 – From 3pm <<
Get Conan Merchandise from the ODEX Booth 112
Synopsis: Shuichi Akai is targeted by a mysterious sniper and Masumi Sera is shot. Tokyo is in panic, citizens are taken in by the shooting of a sniper. Nothing is known about him. Why was Sera targeted? Will Akai survive from this? Jodie Starling and Subaru Okiya are also in this one. Will Conan be able to find and apprehend the culprit?
Official website: http://www.conan-movie.jp/index.html (Japanese)
Movie details,
Original Author: Gosho Aoyama
Director: Kobun Shizuno
Screenplay: Kazunari Kouchi
Music: Katsuo Ono
Theme Song Performance: Ko Shibasaki
Runtime: 110 mins
Cast:
Minami Takayama as Conan Edogawa
Wakana Yamazaki as Ran Mouri
Rikiya Koyama as Kogoro Mouri
Kappei Yamaguchi as Shinichi Kudo
---
Available in Cinemas Soon!
The animated movie will also be in selected Indonesian, Malaysian and Singaporean cinemas from August.
Singapore (Cathay Cineplexes) – August 07 
Indonesia (Blitz Cinemas) – August 13
Malaysia (Golden Screen Cinemas) – August 14

Advanced ticket sales will be opening soon.
---