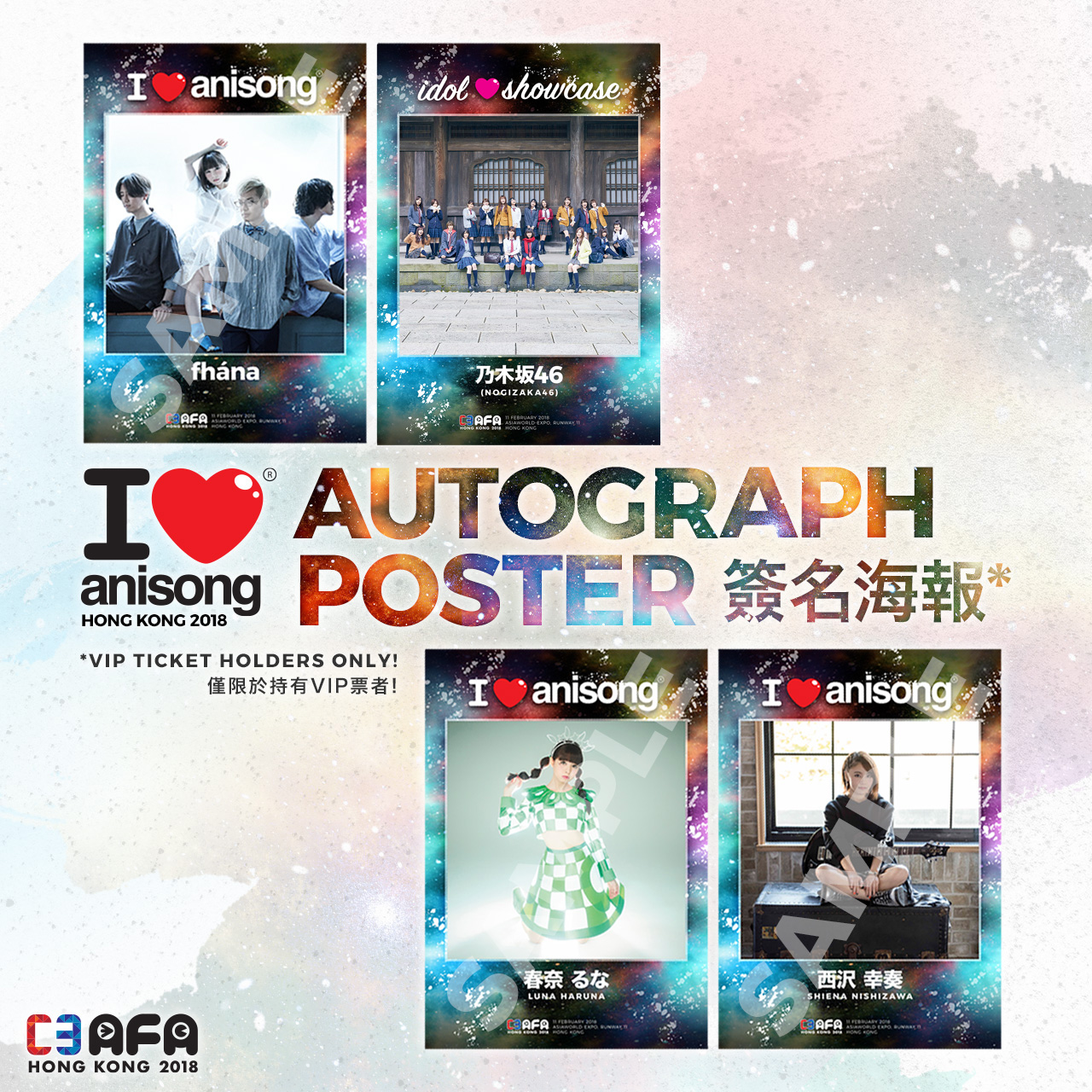 Location
The waiting area is on the first floor, near the escalator down to Hall 10/11.
Date
11 February 2018, Sunday
Timings of sessions
02:30PM – 乃木坂46 (NOGIZAKA46)
03:15PM – 春奈 るな Luna Haruna
04:00PM – 西沢 幸奏 Shiena Nishizawa
05:30PM – fhána
COLLECTION PROCEDURE
Queue at autograph booth 30 mins before the start of the session for verification.
Get ready the Photo ID and printed ticket (no photo of ticket allowed) used for autograph registration.
If collecting on behalf of someone else, please present the photocopy of the photo ID the person used to register and printed ticket (no photo of ticket allowed) used for autograph registration. Please have these items ready before it is your turn.
A coupon will be given to you once you are verified.
When the session starts, you will be asked to hand over the coupon to the staff. If you do not hand over the coupon, you will not be able to get the autograph poster.
Receive your autograph.
The session will end once the last person in the queue has gotten their autograph.
RULES & REGULATION
The autograph will be done on a poster given by the organisers. Autographs on own items are not allowed.
Photography and video recording is strictly prohibited during the session. This includes asking for selfies.
Please follow the instructions of the staff at all time. Persons found behaving in an unruly manner will be removed from the session.
If you wish cannot attend the session but still wish to collect your poster, you may only do so after the artiste's autograph session, until the start of the concert. The same procedure for verification applies.
If you have won another artiste's autograph, it means that you were unsuccessful in the first ballot.