YOU HAVE TAKEN THE PHOTOS
NOW SHOW THEM!!
After the event, there would be a photo contest happening to showcase and honour the photographers and their photos.
Submit up to 5 photos taken during the Canon Photo Party at the Anime Festival Asia Thailand 2016 – I Love Anisong Concert
Each photo should be in High resolution, atleast 1mb in file size, with 360DPI.
Shortlisted participant's artworks are showcased at Anime Festival Asia 2016, at the Canon Photo Party display area.
The Winner will be selected by the participating Artist.
The winner will also walk away with a brand new Canon SELFPHY Printer.
Terms and conditions apply.
Terms and Conditions for the Photo Contest
1) All entries must be received before 23:59 hours on 7th September 2016 (GMT +08:00).
2) Submission must be completed by the closing date. Failure to do so may result in disqualification.
3) SOZO reserves the right to disqualify all entries that do not meet the rules and regulations of the audition. These include entries submitted with invalid or incorrect information.
4) Representatives of SOZO will pick the audition winner from eligible entries. No correspondence will be entertained about SOZO's decision.
5) SOZO reserves the right to add, vary, delete or add on any terms and conditions at its sole discretion without prior notice.
6) SOZO reserves the right to withdraw, discontinue or terminate the contest at any time at its absolute discretion, without notice or liability to any person.
7) In the case of dispute, SOZO's decision is final.
8) SOZO may use participant's information and data collected during the event for marketing or promotional purposes.
9) Prohibited, Questionable and Infringing Items and Activities You are solely responsible for your conduct and activities on and regarding to SOZO and any and all data, text, information, usernames, graphics, images, photographs, profiles, audio, video, items, and links (together, "Content") that you submit, post, and display on SOZO.
10) Content License: SOZO/Canon does not claim ownership rights to your Content. You grant SOZO/Canon a license solely to enable SOZO/Canon to use any information or Content you supply SOZO/Canon with, so that SOZO/Canon is not violating any rights you might have in that Content. You grant SOZO/Canon a non-exclusive, worldwide, perpetual, irrevocable, royalty-free, sublicensable (through multiple tiers) right to exercise the copyright, publicity, and database rights (but no other rights) you have in the Content, in any media, now known or not currently known, with respect to your Content with credits. You agree to allow SOZO/Canon to store or re-format your Content on SOZO/Canon and display your Content within the campaign in any way as SOZO/Canon chooses.

SOZO will only use personal information in accordance with SOZO's Privacy Policy.
CELEBRATE

HIGH-QUALITY

CONCERT PHOTOGRAPHY WITH CANON!
Win a chance to take photos for one song at one of the artists set during
the I LOVE ANISONG concert!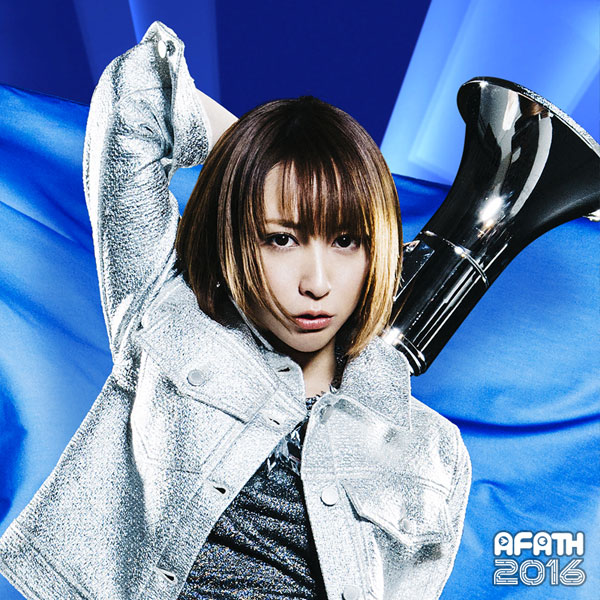 Eir Aoi
I LOVE ANISONG ARTIST - 19th August 2016
May'N
I LOVE ANISONG ARTIST - 20th August 2016
What is Canon Photo Party?
Canon Photo Party is an activity sponsored by Canon, bringing the joy of Concert Photography to all with a Camera. Photographers can apply for the chance to participate in Canon Photo Party to get the Canon Photo Pass to take photos during one selected song of the participating artist.
Term and conditions apply.
LEARN FROM THE

BEST

IN THE INDUSTRY!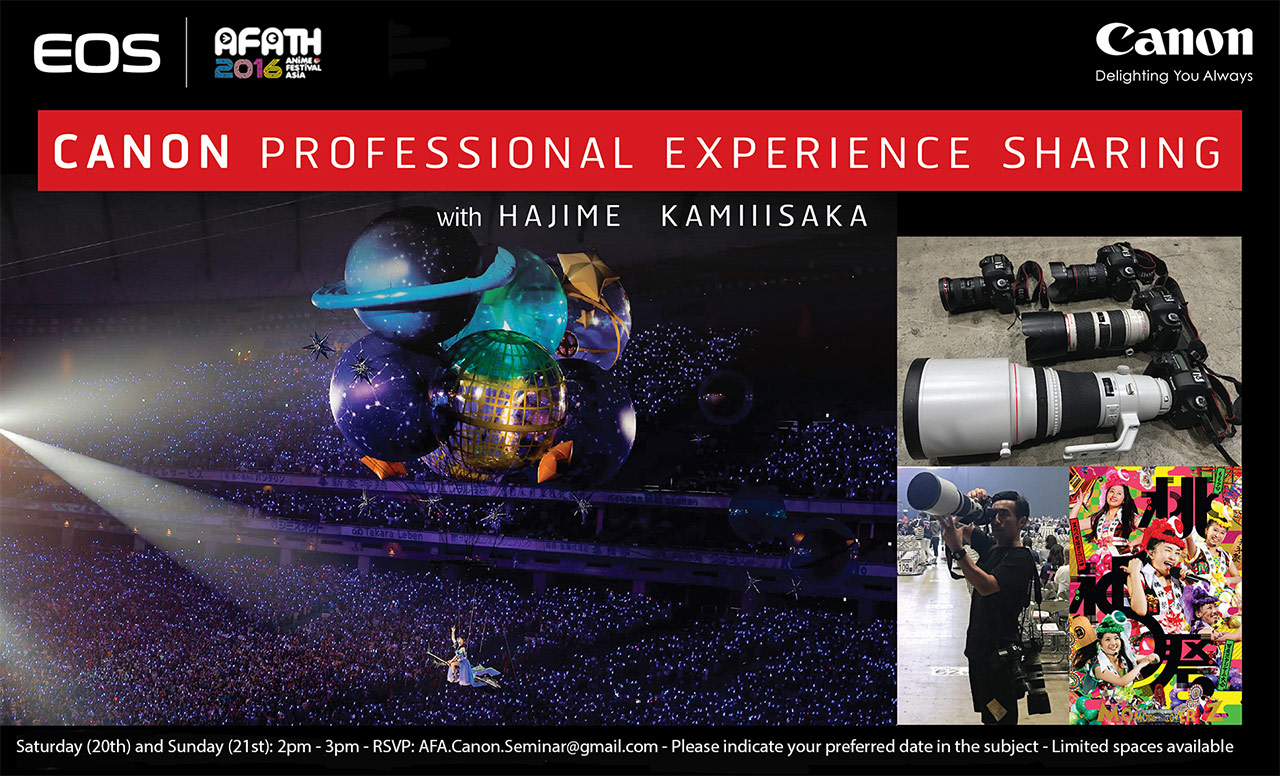 Celebrity photographer Hajime Kamiiisaka has photographed live concerts and album covers for many artistes that Japanese pop culture fans would be very familiar with, such as AKB48, Nana Mizuki, Momoiro Clover Z, and Kyary Pamyu Pamyu. Best known for his live concert photography, his wide-ranging portfolio that also includes fashion shoots and album covers.
Hajime Kamiiisaka is holding a seminar in Bangkok on 20 & 21 August as a tie-in with Anime Festival Asia (AFA) Thailand 2016.
Seminar Title
My life as a fashion and live concert photographer
Venue  
Siam Paragon Expo, Seminar Room 4 (same venue as AFA)
Date/Time
Saturday, 20 August 2016: 2pm – 3pm
Sunday, 21 August: 2pm – 3pm
RSVP:[email protected]
1. Please indicate your preferred date in the subject
2. Please indicate your name and contact details in the message
Spaces are limited to the first 50 participants.
APPLY FOR CANON PHOTO PASS!
The Canon Photo Pass will authorise you to shoot freely for the duration of ONE SELECTED SONG only.
The artist will announce that you can take photos before the song is performed.
You will be required to shoot only from a digital camera. Smartphones/MobilePhone cameras will not qualify as we want the images of the artist captured to be of the highest quality.
Only limited PHOTO PASSES are available. Canon cameras will be given priority in the selection of winners for Photo Passes.
NO usage of FLASH, light modifiers or anything that might disrupt the concert performances.
Participants are to give due respect to the artist performing and not use their likeness for commercial purpose and/or with ill intent.
Participants are to purchase/obtain their own tickets/access to the concert/event.
Terms and conditions apply.
EVER WANTED TO TRY A CANON CAMERA?
A selection of the latest Canon camera models will also be available for loan (FREE TRIAL) on the concert day at the Canon Counter.
Picture Identification or passport has to be produced and will be photocopied for security purposes. You will also be required to provide your contact details.
All borrowed equipment must be returned to the Canon Counter no later than 30 minutes after the end of the concert.
Choice of cameras will be on first-come first-served basis.
Any cost for damages done to the camera will be borne by the participant.
Thanks for your submission! We will be getting in touch with the successful applicants shortly via email.
Terms and Conditions
1) Participants will need to have a VIP ticket to the Anime Festival Asia Thailand 2016, I Love Anisong Concert for the selected artist.
2) Participant must use the Camera stated in the application for this exercise
3) Participant are not to use the photos taken at the event commercially and in ill faith.
4) The organisers and artist management reserves the right to ask the participant to take down, delete or remove the image taken during the concert for whatever reasons.
5) Smart Phones cameras, mobile phones cameras are not allowed to participate in this exercise.
6) Canon cameras will have priority for the limited slots available in this exercise.
7) All entries must be received before 23:59 hours on 17th August 2016 (GMT +07:00).
8) Submission must be completed by the closing date. Failure to do so may result in disqualification.
9) SOZO reserves the right to disqualify all entries that do not meet the rules and regulations. These include entries submitted with invalid or incorrect information.
10) Representatives of SOZO will pick the winner from eligible entries. No correspondence will be entertained about SOZO's decision.
11) SOZO reserves the right to add, vary, delete or add on any terms and conditions at its sole discretion without prior notice.
12) SOZO reserves the right to withdraw, discontinue or terminate the event at any time at its absolute discretion, without notice or liability to any person.
13) In the case of dispute, SOZO's decision is final.
14) All registrants acknowledge that Sozo will collect their personal information as required of the event, but collected data will be disposed off at the end of the event
15) SOZO Pte Ltd will not be liable for damages to participant's property
16) Participant is to participate at his/her's own risk
17) Participants are not allowed to use selfie sticks
CANON PHOTO PARTY IS BROUGHT TO YOU BY