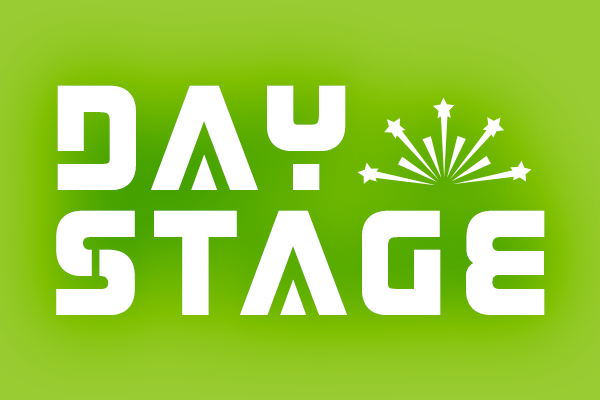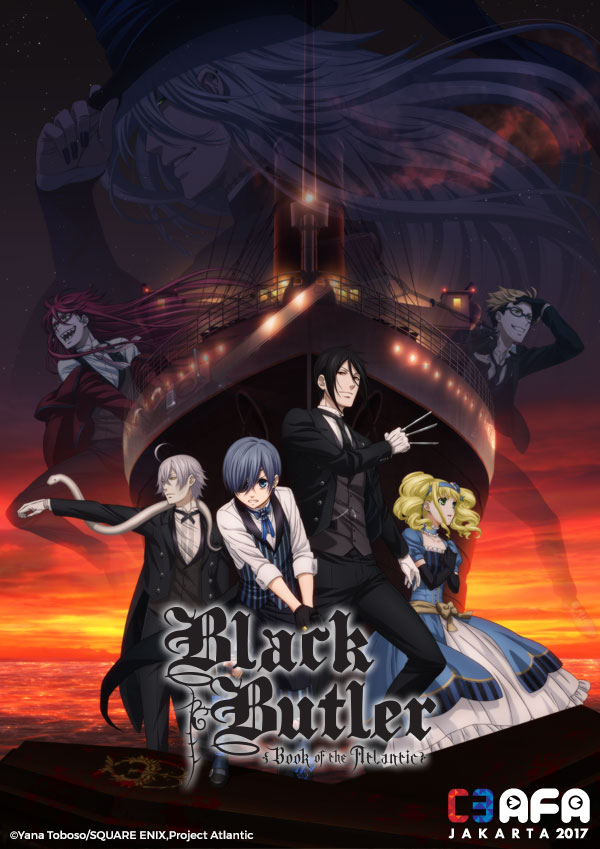 劇場版「黒執事 Book of the Atlantic」
Black Butler: Book of the Atlantic
• SPECIAL SCREENING •
劇場版「黒執事 Book of the Atlantic」
Black Butler: Book of the Atlantic
• SPECIAL SCREENING •
19 AUG SAT
11:00AM

Special Screening:


劇場版「黒執事 Book of the Atlantic」
Black Butler: Book of the Atlantic
19th Century England—
Sebastian Michaelis is the butler of the 13-year old master of the noble Phantomhive Family, Ciel Phantomhive. As the "Queen's Guard Dog", both Sebastian and Ciel are tasked with solving corrupt crimes in the underworld.
Investigating a case of rumoured "corpse revivals" occurring onboard a ship, Ciel and Sebastian boards the luxury passenger ship, "Campania", however they could have never imagined what was waiting for them there
©Yana Toboso/SQUARE ENIX,Project Atlantic
Inggris abad ke-19—
Sebastian Michaelis adalah butler dari tuan rumah keluarga bangsawan Phantomhive yang berusia 13 tahun, Ciel Phantomhive. Sebagai "Anjing Penjaga Ratu", Sebastian dan Ciel ditugaskan untuk mengungkap kasus korup di dunia gelap.
Menyelidiki kasus "mayat hidup" yang terjadi di atas kapal, Ciel dan Sebastian menaiki kapal pesiar mewah "Campania", namun mereka tak pernah mengira akan menemukan apa yang menunggu mereka disana—
©Yana Toboso/SQUARE ENIX,Project Atlantic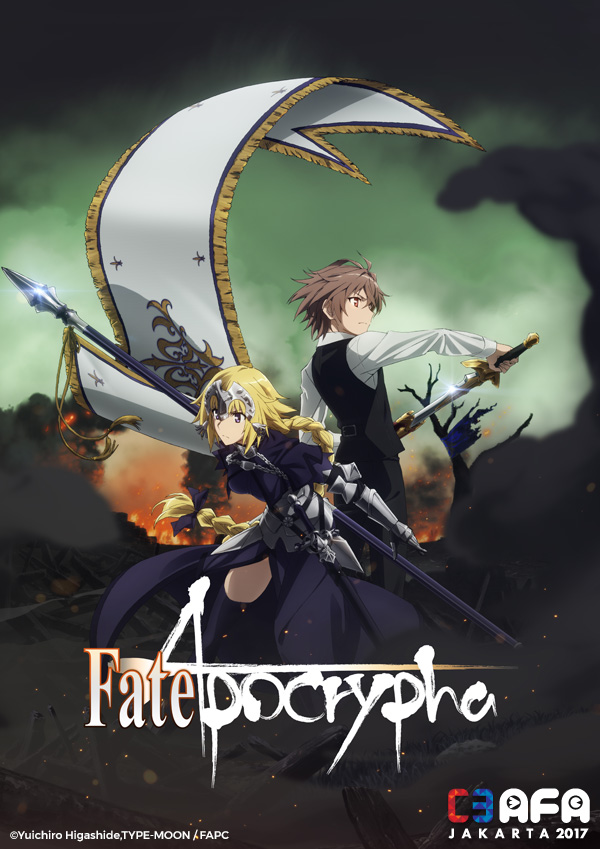 Fate/Apocrypha
• FEATURED ANIME •
In the past, in Fuyuki City, A Holy Grail War broke out amongst seven Masters as well as seven Heroic Spirits. However, taking advantage of the chaos that is the Second World War, a certain Master has plundered the Greater Grail.
 
Many decades have past, the Yggdmillennia, having plundered the Grail, openly declares their secession from the Mage's Association and that they are in possession of it. Angered, the Association dispatches magi, who were defeated by the summoned Servants that they encounted.
 
――Servant against Servant.
 
The system of the Holy Grail War has changed, developing into a war that has never been seen before, with 7 Servants fighting against 7 Servants.
Thus, a war of unprecedented scale, set in Trifas, Romania ―― The Holy Grail War begins.
©Yuichiro Higashide,TYPE-MOON / FAPC
Di masa lalu, di Kota Fuyuki, Perang Cawan Suci pecah diantara 7 Master dan juga 7 Heroic Spirit. Namun, memanfaatkan kekacauan bernama Perang Dunia Kedua, salah satu Master berhasil mencuri Cawan Suci.
Beberapa dekade berlalu, Yggdmilennia, setelah mencuri Cawan, mendeklarasikan perpisahannya dengan Asosiasi Magus dan bahwa mereka memiliki Cawan Suci. Murka, Asosiasi mengirimkan penyihirnya, yang langsung dikalahkan oleh Servant yang mereka temui.
— Servant melawan Servant
Sistem Perang Cawan Suci telah berubah, menjadi perang yang tak pernah dilihat sebelumnya, dengan 7 Servant melawan 7 Servant.
Akhirnya, perang dengan skala yang belum pernah dilihat sebelumnya, pecah di Trifas, Rumania — Perang Cawan Suci dimulai.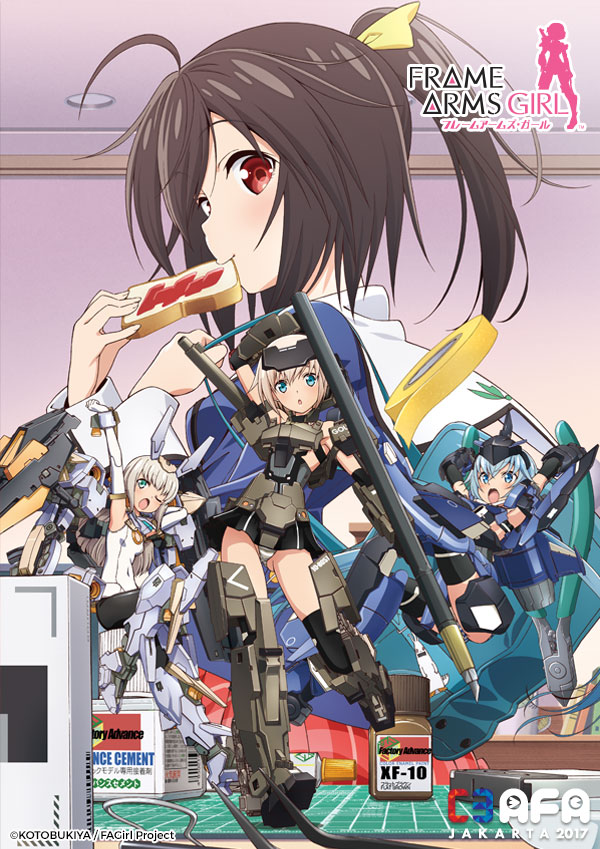 フレームアームズ・ガール
FRAME ARMS GIRL
• FEATURED ANIME •
フレームアームズ・ガール
FRAME ARMS GIRL
• FEATURED ANIME •
19 AUG SAT
12:45PM

FEATURED ANIME SHOWCASE:


フレームアームズ・ガール
FRAME ARMS GIRL
Featuring: 阿部 里果 Rika Abe,
杉山 学 Manabu Sugiyama (Producer)
Join Ao, an ordinary school girl, in her everyday life with the Frame Arms Girls, and watch their bonds deepen
Ao, an ordinary high school girl, receives something mysterious in the mail one day, and upon opening the package, she finds herself with Gourai, a petite autonomous robot called a Frame Arms Girl.
Wow it's a toy! It's a plastic model kit!
But! Gourai isn't just any ordinary Frame Arms Girl.
Unlike normal artificial intelligence programs, Gourai is an experimental prototype model endowed with AS ("Artificial Self"), giving her human-like emotions. Furthermore, this Gourai is the only one in the world to be successfully activated, and by Ao no less!
Together with Ao, who has zero knowledge of the Frame Arms Girls, Gourai gathers battle data and learns about emotions.
And so our heroine begins a curious, yet fun and exciting, lifestyle with Gourai and the other Frame Arms Girls!
©KOTOBUKIYA / FAGirl Project
Bergabunglah bersama Ao, siswi sekolah biasa, di kesehariannya hidup bersama Frame Arms Girls, dan lihat bagaimana hubungan mereka tumbuh.
Ao, siswi sekolah biasa menerima sesuatu yang misterius di dalam paket suatu hari, dan saat membukanya, ia menemukan Gourai, sebuah robot kecil yang disebut Frame Arms Girl.
Wow, ini mainan! Ini sebuah model plastik!
Tapi! Gourai bukan Frame Arms Girl biasa.
Tidak seperti kecerdasan buatan pada umumnya, Gourai adalah model prototype eksperimental yang dibuat dengan AS (Artificial Self) yang memberinya emosi seperti manusia. Terlebih lagi, Gourai ini adalah satu-satunya yang bisa aktif, terlebih lagi oleh Ao!
Bersama dengan Ao, yang tidak tahu menahu tentang Frame Arms Girl, Gourai mengumpulkan data pertempuran dan mempelajari lebih banyak tentang emosi.
Dan dimulailah kehidupan aneh, tapi menyenangkan dan seru bersama Frame Arms Girls lainnya!
©KOTOBUKIYA / FAGirl Project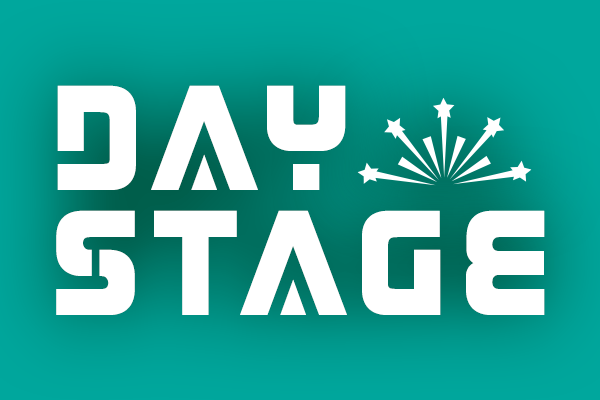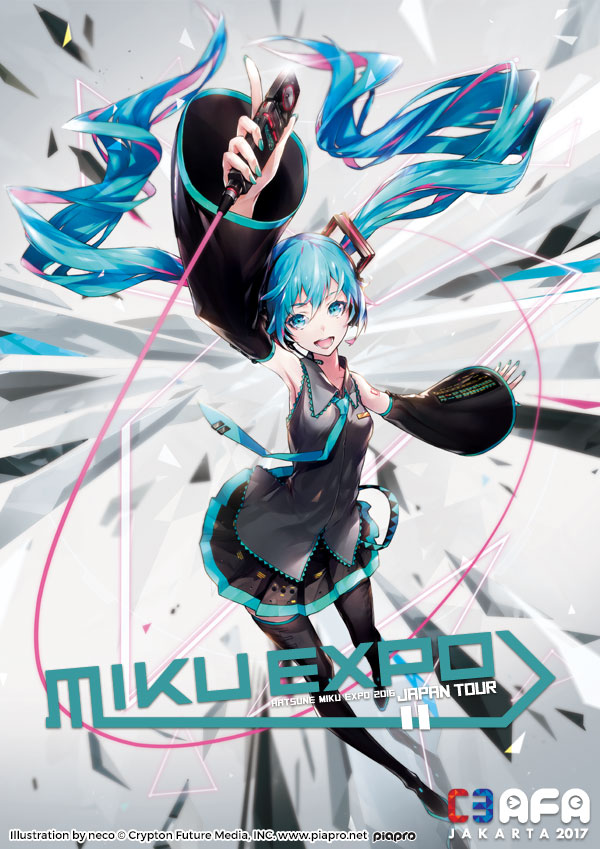 HATSUNE MIKU EXPO 2016 Japan Tour
HATSUNE MIKU EXPO 2016 Japan Tour
• SPECIAL SCREENING •
20 AUG SUN
12:45PM

Special screening:


HATSUNE MIKU EXPO 2016 Japan Tour

We'll be screening an excerpt from the "HATSUNE MIKU EXPO 2016 Japan Tour," the very first full concert tour in Japan by virtual singer Hatsune Miku! Of the 5-city 12-show series, the final Tokyo concert will be shown.
As the symbol for a new era of creative culture, Hatsune Miku has garnered support worldwide, even collaborating with renowned artists such as Lady Gaga, Amuro Namie, and BUMP OF CHICKEN. Experience her live performance on screen!
Illustration by neco © Crypton Future Media, INC. www.piapro.net

Kami akan menayangkan tayangan dari "HATSUNE MIKU EXPO 2016 Japan Tour", tur konser langsung pertama dari penyanyi virtual Hatsune Miku! Dari 12 pertunjukan di 5 kota, konser terakhir di Tokyo akan ditayangkan.
Sebagai simbol dari era baru budaya kreatif, Hatsune Miku telah memiliki suporter dari seluruh dunia, bahkan berkolaborasi dengan artis sekelas Lady Gaga, Amuro Namia, dan BUMP OF CHICKEN. Nikmati pertunjukkannya dari layar!
Illustration by neco © Crypton Future Media, INC. www.piapro.net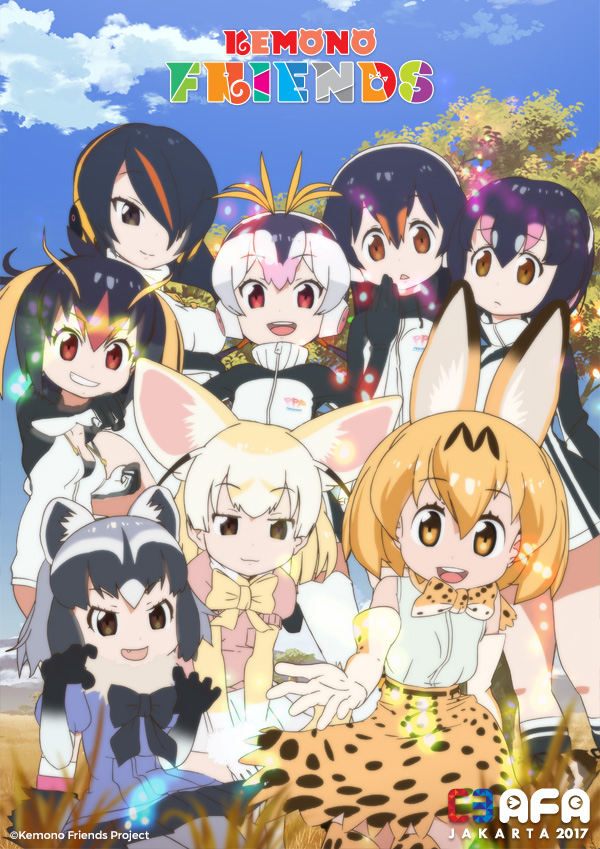 けものフレンズ
KEMONO FRIENDS
• FEATURED ANIME •
けものフレンズ
KEMONO FRIENDS
• FEATURED ANIME •
20 AUG SUN
01:45PM

Featured Anime Showcase:


けものフレンズ
KEMONO FRIENDS
Featuring: 小野 早稀 Saki Ono
The story takes place in Japari Park, an enormous integrated zoo built somewhere in this world.
A mysterious substance found there, called "Sand Star," causes the animals to turn into humanoid beings called "Animal Girls"!
These new creatures spend every day peacefully with the zoo's visitors… but after some time, a lost child turns up in the park.
The child's attempt to find the way home turns into a great adventure with the Animal Girls!
Cerita terjadi di Japari Park, kebun binatang yang terletak di suatu tempat di dunia ini. Zat misterius bernama "Sand Stars" menyebabkan para binatang berubah menjadi "gadis binatang"!
Mahluk baru ini melewati hari-hari dengan damai bersama pengunjung kebun binatang, namun demikian setelah beberapa waktu berlalu… seorang gadis terjebak dalam taman. Dan Ia memulai petualangan untuk mencari jalan pulang bersama para gadis binatang.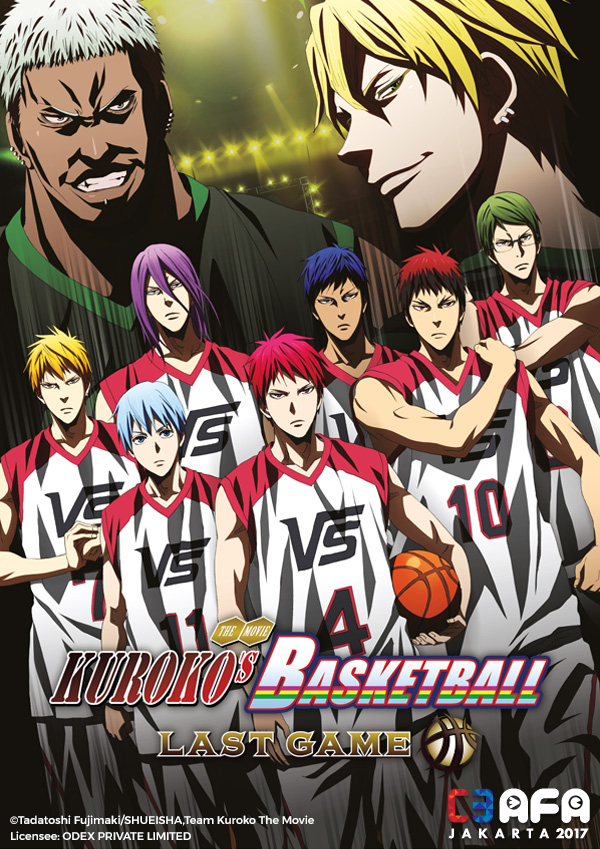 劇場版 黒子のバスケ LAST GAME
Kuroko's Basketball The Movie LAST GAME
• SPECIAL SCREENING •
劇場版 黒子のバスケ LAST GAME
Kuroko's Basketball The Movie LAST GAME
• SPECIAL SCREENING •
20 AUG SUN
11:00AM

Special Screening:


劇場版 黒子のバスケ LAST GAME
Kuroko's Basketball The Movie LAST GAME
The story begins when Tetsuya Kuroko and Taiga Kagami became members of Seirin High School's basketball team. Taiga Kagami showed extraordinary skills, while Kuroko surprised everybody with his innate lack of presence. However, Kuroko was an ex-member of the all-star team known as 'Generation of Miracles' at Teiko Junior High. With Kuroko and Kagami dubbed the 'shadow' and 'light' of the Seirin High School basketball team, they took part in the Winter Cup. After winning the match against the other members of 'Generation of Miracles', Seirin High school's basketball team finally became the Nationwide Champion.
When Kuroko and Kagami became second-year students at Seirin High School, it was around the end of Summer when the American Street Basketball team 'Jabberwock', which was said to be the world's strongest, came to have a friendly match with the Japanese basket ball teams. However, the Japanese teams suffered a crushing defeat at the hands of the American team, who began to mock Japanese Basketball. Riko Aida's father, the coach of Seirin High School's Basketball team was enraged and gathered the members of 'Generation of Miracles', including Kuroko and Kagami, to take revenge on 'Jabberwock'. For this one battle, the new strongest dream team 'VORPAL SWORDS' makes its debut!!
©Tadatoshi Fujimaki/SHUEISHA,Team Kuroko The Movie
Licensee: ODEX PRIVATE LIMITED
Cerita dimulai saat Tetsuya Kuroko dan Taiga Kagami menjadi anggota tim basket SMU Seirin. Taiga Kagami menunjukkan kemampuan hebat, sementara Kuroko mengejutkan orang dengan kehadirannya yang sangat tipis. Tetapi, Kuroko adalah mantan anggota tim all-star yang dijuluki "Generation of Miracles di SMP Teiko. Dengan Kuroko dan Kagami dijuluki "cahaya" dan "bayangan" di tim SMU Seirin, mereka ikut dalam Kejuaraan Musim Dingin. Setelah memenangi pertandingan dengan anggota Generation of Miracle lainnya, tim basket SMU Seirin akhirnya menjadi juara nasional.
Saat Kuroko dan Kagami menjadi murid kelas 2 di SMU Seirin, di sekitar akhir musim panas tim Street Basket Jabberwock dari Amerika, yang dijuluki tim terkuat di dunia, datang untuk melakukan pertandingan persahabatan dengan tim Jepang. Namun, tim Jepang kalah telak dari tim Amerika, yang kemudian mengejek tim jepang. Ayah Riko Aida, pelatih tim basket SMU Seirin marah dan mengumpulkan anggota Generation of Miracle termasuk Kuroko dan Kagami, untuk membalas dendam ke Jabberwock. Untuk satu pertandingan ini, tim terkuat baru bernama Vorpal Swords tampil pertama kalinya!
©Tadatoshi Fujimaki/SHUEISHA,Team Kuroko The Movie
Licensee: ODEX PRIVATE LIMITED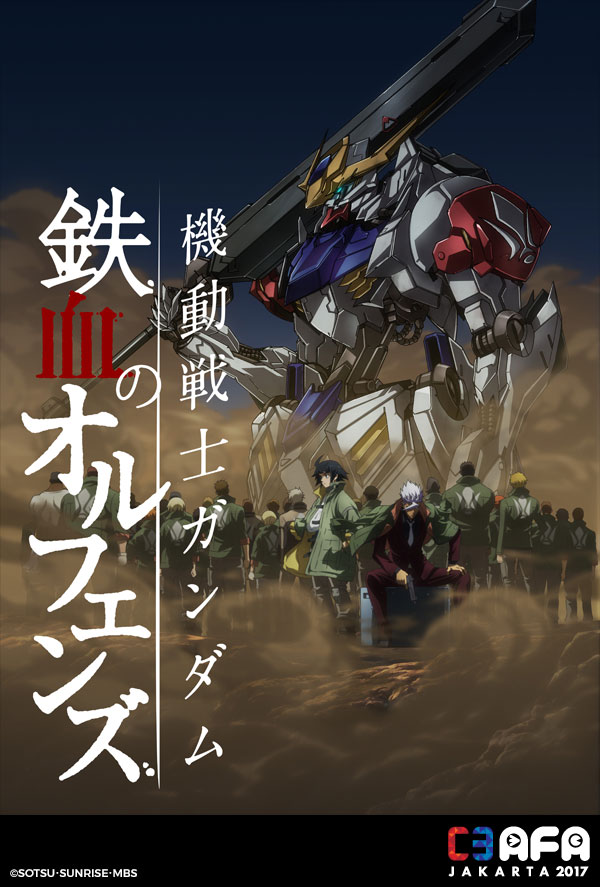 機動戦士ガンダム 鉄血のオルフェンズ
Mobile Suit Gundam: Iron-Blooded Orphans
• FEATURED ANIME •
機動戦士ガンダム
鉄血のオルフェンズ
Mobile Suit Gundam:
Iron-Blooded Orphans
• FEATURED ANIME •
【MOBILE SUIT IRON-BLOODED ORPHANS 1st season】
There was once a great conflict known as the "Calamity War." Roughly 300 years have passed since the end of this war.
The Earth Sphere had lost its previous governing structure, and a new world was created under new systems of government. While a temporary peace had arrived, the seeds of a new conflict were being sown in the Mars Sphere, far away from Earth.
Our hero, a boy named Mikazuki Augus, belongs to a private security company called Chryse Guard Security (CGS). The company accepts a mission to escort Kudelia Aina Bernstein, a girl who seeks to liberate the Martian city of Chryse from the rule of one of Earth's major powers. However, the military organization Gjallarhorn attacks CGS in order to nip this rebellion in the bud. CGS begins an evacuation, using Mikazuki and the other children as decoys.
Orga Itsuka, the leader of the boys, decides to take this opportunity to rise up in revolt and launch a coup d'état against the adults who have been oppressing them. He gives Mikazuki the task of repulsing Gjallarhorn, and Mikazuki enters battle using the Gundam Barbatos, a mobile suit from the Calamity War era which has been serving as CGS's power source.
【MOBILE SUIT IRON-BLOODED ORPHANS 2nd season】
Mikazuki Augus is part of Tekkadan, an organization that jumped to fame from the battles involving the escorting of Kudelia Aina Bernstein to Earth and the Arbrau primary elections. The conflict exposed the corruption of Gjallarhorn as well, and the world was changing slowly but surely.
Tekkadan, with the rights to halfmetal as negotiated with Arbrau, became a direct affiliate of Teiwaz. That resulted in abundant funds and more people interested in joining, growing massively to even have a branch on Earth.
Kudelia, learning about the world from her journey to Earth, founded Admoss Company to strive for the financial independence of Mars both in reality and in practice. However, there are many who do not look favorably about the rise of the youngsters who are trying to start something new.
Admoss Company will be inspecting a mining site of halfmetal, and hired Tekkadan to guard them. There, the leader of Tekkadan, Orga Itsuka, senses an attack from a new enemy. Under Orga's command, Tekkadan, including Mikazuki in the mobile suit Gundam Barbatos Lupus, head out to repel the enemy.
© SOTSU・SUNRISE・MBS
Mobile Suit Gundam Iron Blooded Orphans Season 1
Suatu ketika ada perang besar yang dinamai Calamity War, sekitar 300 tahun sudah berlalu sejak berakhirnya perang ini.
Bumi telah kehilangan semua struktur pemerintahannya, dan dunia baru dibangun diatas sistem pemerintahan baru. Saat dimana kedamaian sementara tiba, bibit konflik baru ditanam di Mars, jauh dari Bumi.
Pahlawan kita, pemuda bernama Mikazuki Augus, tergabung dalam perusahaan keamanan swasta bernama Chryse Guard Security (CGS). Perusahaan ini menerima misi untuk mengantar Kudelia Aina Bernstein, seorang gadis yang ingin membebaskan kota Mars, Chryse dari pendudukan salah satu kekuatan Bumi. Namun, organisasi militer Gjallarhorn menyerang CGS untuk membungkam pemberontakan ini. CGS memulai evakuasi, menggunakan Mikazuki dan anak-anak lain sebagai umpan.
Orga Itsuka, pemimpin dari para pemuda tersebut, memutuskan untuk menggunakan kesempatan ini untuk memberontak dari para orang dewasa yang telah menekan mereka. Ia memberi Mikazuki tugas untuk mengusir Gjallarhorn, dan Mikazuki memasuki pertempuran dengan Gundam Barbatos, mobile suit dari era Calamity War yang dipakai sebagai sumber tenaga CGS.
MOBILE SUIT GUNDAM IRON BLOODED ORPHANS Season 2
Mikazuki Augus adalah bagian dari Tekkadan, organisasi yang menjadi terkenal karena keterlibatannya menjaga Kudelia Aina Bernstein ke Bumi dan pemilu Arbrau. Konflik tersebut menguak korupsi Gjallarhorn, dan pelan tapi pasti dunia mulai berubah.
Tekkadan, dengan haknya dengan halfmetal berdasarkan kesepakatan dengan Arbrau menjadi afiliasi langsung dari Teiwaz. Menyebabkan dana berlimpah dan banyak orang tertarik bergabung dengan mereka. Tumbuh dengan pesat sampai memiliki cabang sendiri di Bumi. Kudelia, mempelajari dunia dari perjalanannya mencapai Bumi, membuat Admoss Company untuk mengejar kemandirian finansial Mars menjadi realita. Namun, banyak yang tidak menyukai anak muda yang mencoba membuat sesuatu yang baru.
Admoss Company akan memeriksa situs tambang halfmetal, dan menyewa Tekkadan untuk menjaga mereka. Disana, pemimpin Tekkadan, Orga Itsuka merasakan ada serangan musuh baru. Dibawah komando Orga, Tekkadan, dengan Mikazuki di Gundam Barbatos Lupus, berusaha untuk mengalahkan musuh.
© SOTSU・SUNRISE・MBS