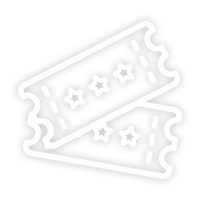 EGOIST SUPER FAN PACKAGE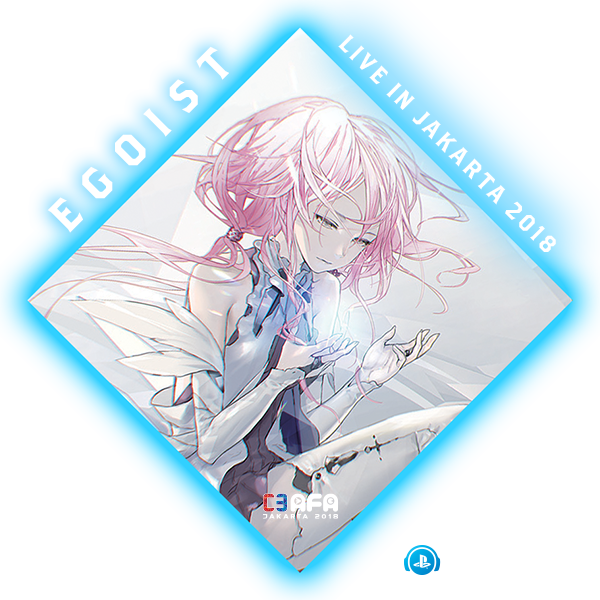 Personalised autographed poster (Personalised with your name!)
Greetings by chelly after the event (chelly will say hi to you!)
Exclusive EGOIST goods (To be announced)
A chance to have your question answered by chelly (Only selected questions may be answered)
Important Note:
Limited Quantity Only / Friday VIP ticket holders only (You will need to present your Friday VIP Ticket for qualification)
The special session will start right after the concert.
Personalisation of your name for the Autograph and your question to be asked, please complete form upon purchase
VIP EXCLUSIVE!
VALID FOR:
1 DAY VIP TICKET (31 AUG ONLY)

2 DAY VIP PACKAGE
STEP 1
After you have purchased your 2-day Early Bird VIP package or 1-day VIP ticket for Aug 31, you will receive your e-ticket via e-mail.
Setelah kamu membeli paket VIP 2 hari early bird atau tiket VIP 1 hari tanggal 31 Agustus, kamu akan menerima e-tiketmu via email.
---
STEP 2
On the e-ticket there will be a barcode, as shown in the image below.
Dalam e-tiketnya akan ada barcode, seperti ditunjukan dalam gambar dibawah.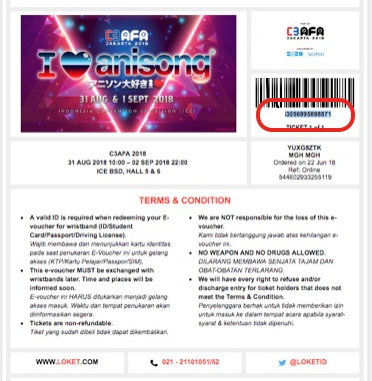 ---
STEP 3
Go to afaid.loket.com and select the EGOIST Superfan package.
Akses afaid.loket.com dan pilih EGOIST Superfan Package.
---
STEP 4
Input the number below the barcode into the code entry area.
Masukan angka dibawah barcode ke dalam kolom kode.


---
STEP 5
Once you have entered the code, you will be able to proceed with the purchase.
Setelah kamu memasukan kodenya, kamu akan bisa membeli paket.
---
STEP 6
You will need to fill up the following form, before the purchase can be completed. You will need to input the name you want to have on the poster and the question you have. Please note that questions will be selected at random.
Kamu diharuskan mengisi form berikut, sebelum pembelian dapat difinalisasi. Kamu perlu mengisi nama yang ingin kamu masukan ke dalam poster dan pertanyaan yang ingin kamu ajukan. Mohon diingat bahwa pertanyaan akan dipilih secara acak.