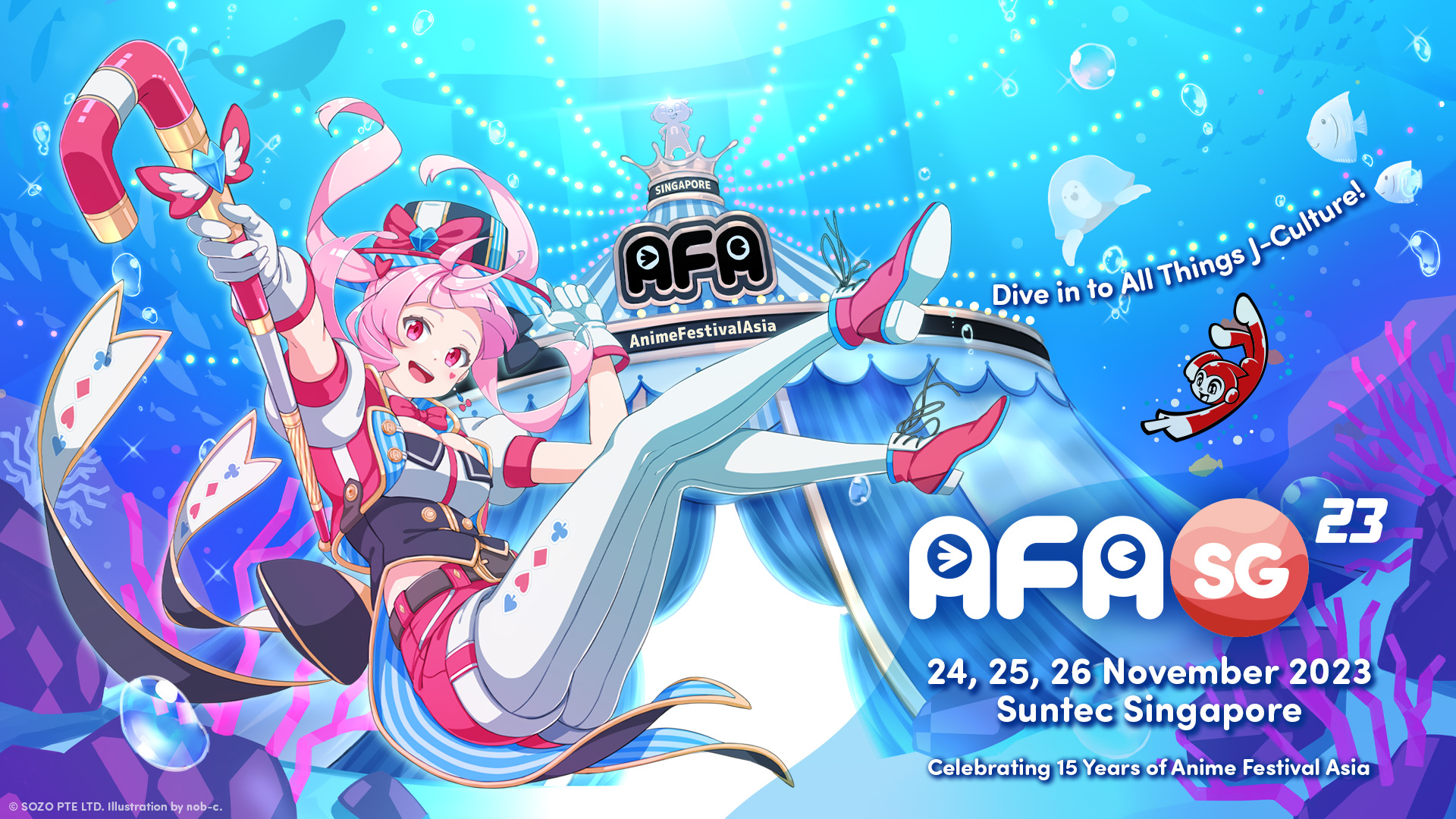 Anime Festival Asia Returns to Suntec Singapore on 24, 25 & 26 November 2023!
After a record-breaking 3-day attendance of over 145,000 attendees in 2022, Anime Festival Asia returns to Suntec this 2023!
We welcome partners, sponsors, and exhibitors who are keen to join in the festivities, and encourage them to confirm their participation early once registration begins, to take advantage of our extensive media networks for in-house promotions.
Please stay tuned to our website and socials for updates!
Southeast Asia's #1 ACG Event
Held across Asia since 2008, AFA – Anime Festival Asia is the largest and most followed J-Culture & ACG (Anime Comics Game) Festival in Southeast Asia.
In 2022, AFA – Anime Festival Asia had a record-breaking attendance of over 145,000 attendees. It has also been honoured as a Finalist for Outstanding Leisure Event by Singapore Tourism Board at the Singapore Tourism Awards 2023.
ANIME FESTIVAL ASIA - HISTORY

AFA SINGAPORE 2022
Organiser: SOZO, HoriPro International, HT Entertainment, JAIC, Exsam Live, PGE
Date: 25, 26, 27 November 2022
Venue: Suntec Singapore Convention & Exhibition Centre
Attendees: 145,000
Exhibitors: 221
AFA SINGAPORE ONLINE 2020
Organiser: SOZO
Date: 5 & 6 December 2020
Venue: Live-streamed on AFA YouTube Channel
Views: 293,850
C3 AFA SINGAPORE 2019
Organiser: SOZO, SOTSU, ZEPP Live Inc., Horipro International, Amuse Entertainment Singapore
Date: 29-30 November, 1 December 2019
Venue: Suntec Singapore Convention & Exhibition Centre
Attendees: 120,000
Exhibitors: 168
Sponsors:
C3 AFA SINGAPORE 2018
Organiser: SOZO, SOTSU, ZEPP Live Inc., Horipro International, Amuse Entertainment Singapore
Date: 30 November, 1-2 December 2018
Venue: Suntec Singapore Convention & Exhibition Centre
Attendees: 105,000
Exhibitors: 211
Sponsors: 
C3 AFA SINGAPORE 2017
Organiser: SOZO, dentsu, ZEPP Live, SOTSU, Amuse Singapore, ASATSU-DK INC, avex asia
Date: 24, 25, 26 November 2017
Venue: Suntec Singapore Convention & Exhibition Centre
Attendees: 96,000
Exhibitors: 170
Sponsors: 8
AFA 2016
Organiser: SOZO, Dentsu Inc, Zepp Live, Amuse Entertainment Singapore
Date: 25, 26, 27 November 2016
Venue: Suntec Singapore Convention & Exhibition Centre
Attendees: 94,270
Exhibitors: 147
Sponsors: 9
Media Value: S$3,664,927
AFA 2015
Organiser: SOZO, Zepp Live Inc., Dentsu Inc
Date: 27, 28, 29 Nov 2015
Venue: Suntec Singapore
Attendees: 90,669
Exhibitors: 161
Sponsors: 17
B2B Event: –
Media Value: S$1,843,529
AFA 2014
Organiser: SOZO, Zepp Live Inc., Dentsu Inc
Date: 5, 6, 7 Dec 2014
Venue: Suntec Singapore
Attendees: 90,000
Exhibitors: Over 150
Sponsors: 27
B2B Event: Japan Pop Culture Now! (with JETRO)
Media Value: S$2,400,000
 AFA 2013
Organiser: SOZO, Zepp Live Ent., Dentsu Inc
Date: 8, 9, 10 Nov 2013
Venue: Suntec Singapore
Attendees: 85,000
Exhibitors: 144
Sponsors: 12
B2B Event: N/A
Media Value: S$3,000,000
AFA 2012
Organiser: SOZO, Dentsu Singapore
Date: 9, 12, 11 Nov 2012
Venue: Singapore Expo
Attendees: 83,000
Exhibitors: 93
Sponsors: 12
B2B Event: N/A
Media Value: S$2,750,000
AFA 2011
Organiser: SOZO, Dentsu Singapore
Date: 11,12,13 Nov 2011
Venue: Suntec Singapore
Attendees: 82,000
Exhibitors: 93
Sponsors: 7
B2B Event: Cool Japan Forum
Media Value: S$2,500,000
AFAX (2010)
Organiser: SOZO, Dentsu Singapore
Date: 12, 13, 14 Nov 2010
Venue: Suntec Singapore
Attendees: 71,000
Exhibitors: 45
Sponsors: 4
B2B Event: Cool Japan Forum
Media Value: S$2,500,000
AFA 2009
Organiser: SOZO, Dentsu Singapore & I-Promo
Date: 21, 22 & 23 Nov 2009
Venue: Suntec Singapore
Attendees: 52,000
Exhibitors: 50
Sponsors: 3
B2B Event: Animation Asia Conference
Media Value: S$1,500,000
AFA 2008
Organiser: Dentsu Singapore & I-Promo
Date: 22 & 23 Nov 2008
Venue: Suntec Singapore
Attendees: 29,000
Exhibitors: 30
Sponsors: 2
B2B Event: Anime Industry Seminar
Media Value: S$1,000,000

C3 AFA Jakarta 2018
Organiser: SOZO, SOTSU, HORIPRO International
Date: 31 Aug, 1 Sep, 2 Sep 2018
Venue: Indonesia Convention Exhibition (ICE)
Attendees: 57,528
Exhibitors: 173
Sponsors: 
Media Value: TBC
C3 AFA Jakarta 2017
Organiser: SOZO, SOTSU, Zepp Live Ent, Dentsu Inc, Megindo, avex asia
Date: 18,19,20 Aug 2017
Venue: Jakarta International Expo
Attendees: 50,080
Exhibitors: 142
Sponsors: 5
Media Value: TBC
AFAID 2016
Organiser: SOZO, Zepp Live, PK Entertainment, Megindo Group
Date: 16,17,18 September 2016
Venue: Jakarta International Expo
Attendees: 61,953
Exhibitors: 116
Sponsors: 5
Media Value: Rp 952,900,000
AFAID 2015
Organiser: SOZO, Zepp Live Ent., PK entertainment, Megindo
Date: 25,26,27 September 2015
Venue: JI Expo
Attendees: 60,558
Exhibitors: 127
Sponsors: 12
B2B Event: N/A
Media Value: S$310,775
AFAID 2014
Organiser: SOZO, Zepp Live Ent., Marygops Studio, Megindo
Date: 15, 16, 17 Aug 2014
Venue:Jakarta Convention Centre
Attendees: 55,000
Exhibitors: 123
Sponsors: 16
B2B Event: N/A
Media Value: S$1,500,000
AFAID 2013
Organiser: SOZO, Zepp Live Ent., Marygops Studio, Megindo
Date: 6, 7, 8 Sep 2013
Venue: Jakarta Convention Centre
Attendees: 53,000
Exhibitors: 80
Sponsors: 5
B2B Event: N/A
Media Value: S$2,000,000
AFAID 2012
Organiser: SOZO, Dentsu Indonesia, Trilogy
Date: 1,2,3 Sep 2012
Venue: JI Expo
Attendees: 40,000
Exhibitors: 40
Sponsors:6
B2B Event: N/A
Media Value: S$1,500,000

AFAMY 2012
Organiser: SOZO
Date: 9, 10 Jun 2012
Venue: Putra World Trade Centre
Attendees: 40,000
Exhibitors: 32
Sponsors: 6
B2B Event: N/A
Media Value: S$1,500,000

C3 AFA Bangkok 2017
Organiser: SOZO, SOTSU, ASATSU-DK INC, Dentsu Inc
Date: 10 & 11 Jun 2017
Venue: Royal Paragon Hall, 5th Floor, Siam Paragon Shopping Center
Attendees: 30,000
Exhibitors: 51
Sponsors: 9
Media Value: THB18,655,562
AFATH 2016
Organiser: SOZO, avex asia, Dentsu Inc, Cos Com, DEX
Date: 19,20,21 August 2016
Venue: Royal Paragon Hall, 5th Floor, Siam Paragon Shopping Center
Visitors:55,000
Exhibitors: 77
Sponsors: 1
Media Value: 17,452,014 THB
AFATH 2015
Date: 30 April, 1, 2, 3 May 2015
Venue:Bangkok International Trade and Exhibition Centre
Attendees:75,000
Exhibitors: 77
Sponsors: 7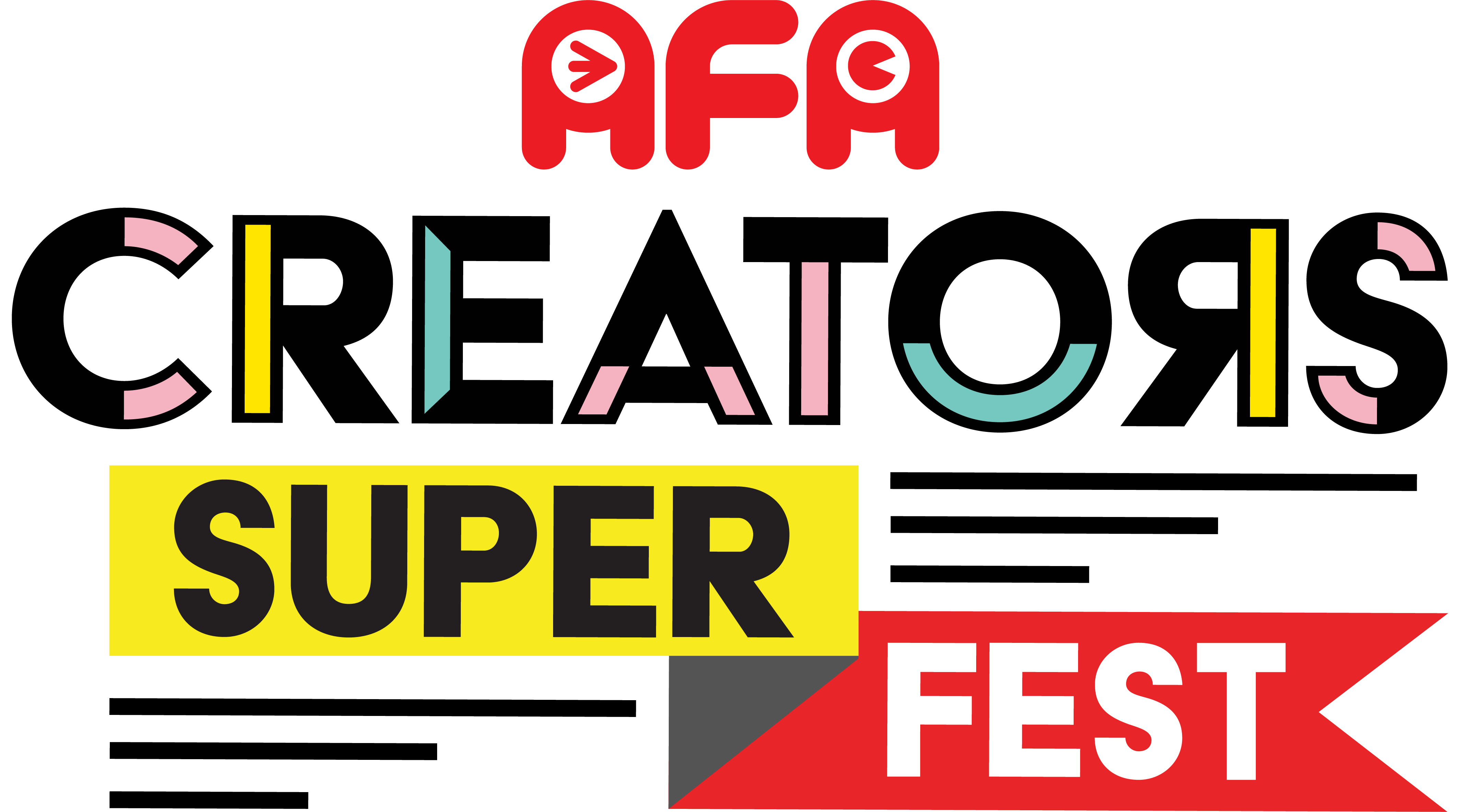 AFA Creators Super Fest Singapore 2023
Date: 22 & 23 July 2023
Venue: Singapore Expo Hall 5
Creators Super Fest Jakarta 2019
Organiser: SOZO
Date: 26 & 27 October 2019
Venue: SMESCO Exhibition Hall
Creators Super Fest Jakarta 2018
Organiser: SOZO
Date: 12 & 13 May 2018
Venue: Grand Ballroom Pullman Central Park Jakarta