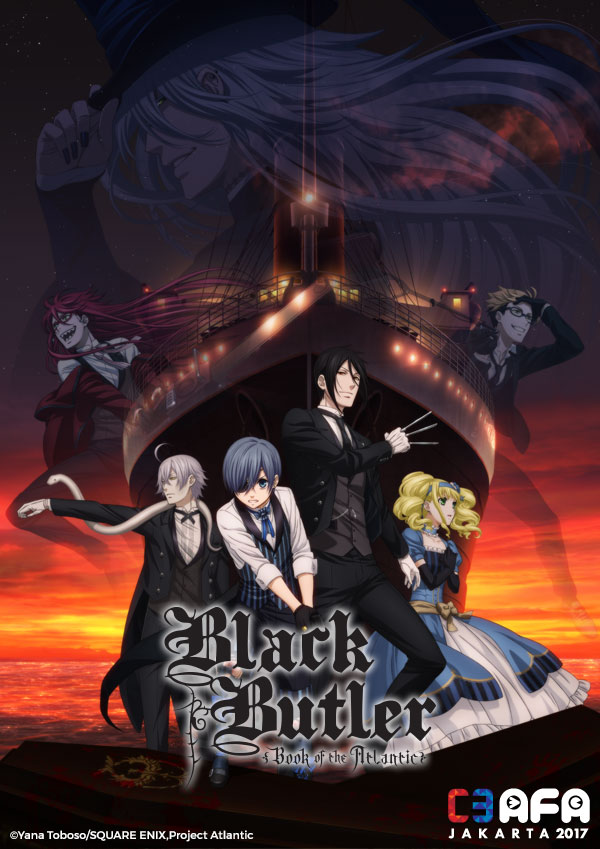 劇場版「黒執事 Book of the Atlantic」
Black Butler: Book of the Atlantic
• SPECIAL SCREENING •
劇場版「黒執事 Book of the Atlantic」
Black Butler: Book of the Atlantic
• SPECIAL SCREENING •
19th Century England—
Sebastian Michaelis is the butler of the 13-year old master of the noble Phantomhive Family, Ciel Phantomhive. As the "Queen's Guard Dog", both Sebastian and Ciel are tasked with solving corrupt crimes in the underworld.
Investigating a case of rumoured "corpse revivals" occurring onboard a ship, Ciel and Sebastian boards the luxury passenger ship, "Campania", however they could have never imagined what was waiting for them there
©Yana Toboso/SQUARE ENIX,Project Atlantic
Inggris abad ke-19—
Sebastian Michaelis adalah butler dari tuan rumah keluarga bangsawan Phantomhive yang berusia 13 tahun, Ciel Phantomhive. Sebagai "Anjing Penjaga Ratu", Sebastian dan Ciel ditugaskan untuk mengungkap kasus korup di dunia gelap.
Menyelidiki kasus "mayat hidup" yang terjadi di atas kapal, Ciel dan Sebastian menaiki kapal pesiar mewah "Campania", namun mereka tak pernah mengira akan menemukan apa yang menunggu mereka disana—
©Yana Toboso/SQUARE ENIX,Project Atlantic
フレームアームズ・ガール
FRAME ARMS GIRL
• FEATURED ANIME •
フレームアームズ・ガール
FRAME ARMS GIRL
• FEATURED ANIME •
Join Ao, an ordinary school girl, in her everyday life with the Frame Arms Girls, and watch their bonds deepen
Ao, an ordinary high school girl, receives something mysterious in the mail one day, and upon opening the package, she finds herself with Gourai, a petite autonomous robot called a Frame Arms Girl.
Wow it's a toy! It's a plastic model kit!
But! Gourai isn't just any ordinary Frame Arms Girl.
Unlike normal artificial intelligence programs, Gourai is an experimental prototype model endowed with AS ("Artificial Self"), giving her human-like emotions. Furthermore, this Gourai is the only one in the world to be successfully activated, and by Ao no less!
Together with Ao, who has zero knowledge of the Frame Arms Girls, Gourai gathers battle data and learns about emotions.
And so our heroine begins a curious, yet fun and exciting, lifestyle with Gourai and the other Frame Arms Girls!
©KOTOBUKIYA / FAGirl Project
Bergabunglah bersama Ao, siswi sekolah biasa, di kesehariannya hidup bersama Frame Arms Girls, dan lihat bagaimana hubungan mereka tumbuh.
Ao, siswi sekolah biasa menerima sesuatu yang misterius di dalam paket suatu hari, dan saat membukanya, ia menemukan Gourai, sebuah robot kecil yang disebut Frame Arms Girl.
Wow, ini mainan! Ini sebuah model plastik!
Tapi! Gourai bukan Frame Arms Girl biasa.
Tidak seperti kecerdasan buatan pada umumnya, Gourai adalah model prototype eksperimental yang dibuat dengan AS (Artificial Self) yang memberinya emosi seperti manusia. Terlebih lagi, Gourai ini adalah satu-satunya yang bisa aktif, terlebih lagi oleh Ao!
Bersama dengan Ao, yang tidak tahu menahu tentang Frame Arms Girl, Gourai mengumpulkan data pertempuran dan mempelajari lebih banyak tentang emosi.
Dan dimulailah kehidupan aneh, tapi menyenangkan dan seru bersama Frame Arms Girls lainnya!
©KOTOBUKIYA / FAGirl Project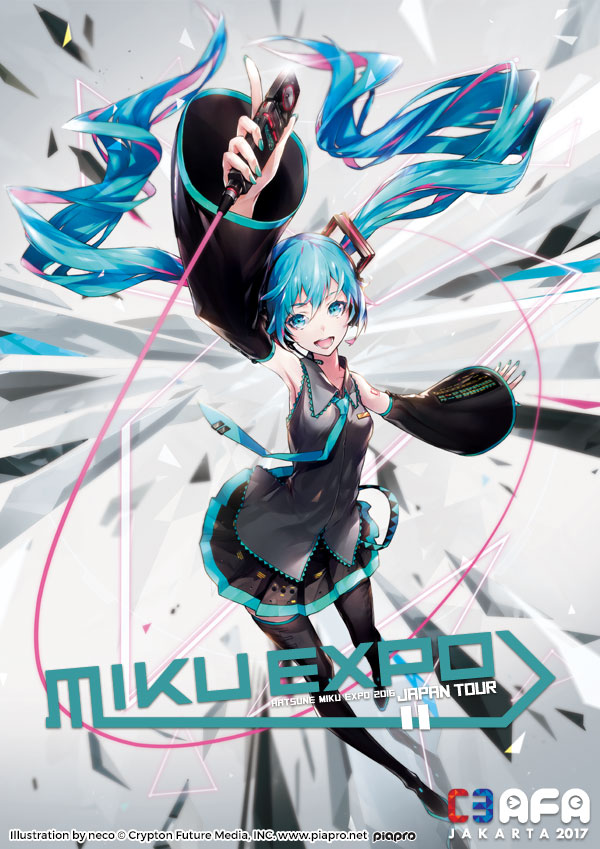 HATSUNE MIKU EXPO 2016 Japan Tour
• SPECIAL SCREENING •
HATSUNE MIKU EXPO 2016 Japan Tour
• SPECIAL SCREENING •
We'll be screening an excerpt from the "HATSUNE MIKU EXPO 2016 Japan Tour," the very first full concert tour in Japan by virtual singer Hatsune Miku! Of the 5-city 12-show series, the final Tokyo concert will be shown.
As the symbol for a new era of creative culture, Hatsune Miku has garnered support worldwide, even collaborating with renowned artists such as Lady Gaga, Amuro Namie, and BUMP OF CHICKEN. Experience her live performance on screen!
Illustration by neco © Crypton Future Media, INC. www.piapro.net

Kami akan menayangkan tayangan dari "HATSUNE MIKU EXPO 2016 Japan Tour", tur konser langsung pertama dari penyanyi virtual Hatsune Miku! Dari 12 pertunjukan di 5 kota, konser terakhir di Tokyo akan ditayangkan.
Sebagai simbol dari era baru budaya kreatif, Hatsune Miku telah memiliki suporter dari seluruh dunia, bahkan berkolaborasi dengan artis sekelas Lady Gaga, Amuro Namia, dan BUMP OF CHICKEN. Nikmati pertunjukkannya dari layar!
Illustration by neco © Crypton Future Media, INC. www.piapro.net