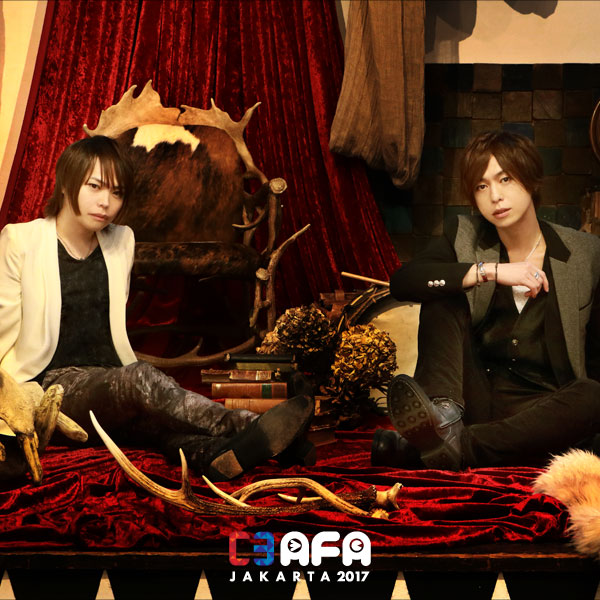 CLEANERO
• SPECIAL GUESTS •
CLEANERO
• SPECIAL GUESTS •
CLEANERO is a unit group of two childhood friends, clear and nero. They were both born in Kumamoto prefecture, Japan, and has been active on the internet, getting a total of more than 30 million views on their videos. They've successfully completed 2 one man live, cleanero LIVE TOUR 2013 ~Change of Color~, and cleanero LIVE TOUR 2014 Ready to Go! They also performed in the EXIT TUNES ACADEMY FINAL SPECIAL 2014 in Saitama Arena Japan. Their first video upload as CLEANERO got an astonishing 1 million 800 thousand views (as of July 2017).
CLEANERO adalah unit yang dibentuk oleh 2 sahabat sejak kecil, clear dan nero. Mereka berdua dilahirkan di prefektur Kumamoto, Jepang, dan telah aktif di Internet, mendapatkan total lebih dari 30 juta view di video-video mereka. Mereka telah sukses mengadakan konser duo, cleanero LIVE TOUR 2013 -Change of Color-, dan cleanero LIVE TOUR 2014 Ready to Go!. Mereka juga tampil di EXIT TUNES ACADEMY FINAL SPECIAL 2014 di Saitama Arena Jepang. Video pertama mereka sebagai CLEANERO mendapatkan 1 juta 800 ribu (data terakhir bulan Juli 2017)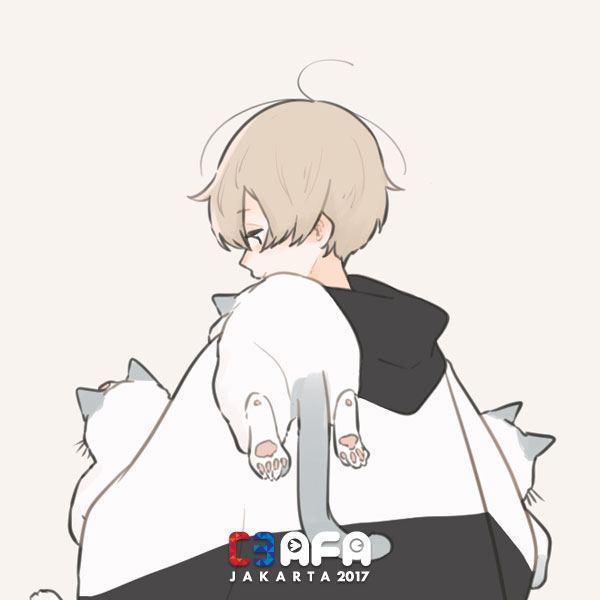 Singer-Songwriter, Designer.
Having independently released two albums so far, on 19th October 2016 Eve launched the first nationwide release "OFFICIAL NUMBER". All songs were composed and all lyrics were written by Eve.
In the same year, Eve launched the "harapeco" line of apparel. "harapeco" held a pop up shop in Harajuku, and featured a line of clothing with a multifaceted perspective that has music at its centre.
Penyanyi-Penulis lagu, Desainer.
Setelah selama ini merilis 2 album secara mandiri, di 19 oktober 2016 akhirnya Eve meluncurkan perilisan nasional "OFFICIAL NUMBER". Semua lagu dibuat dan ditulis liriknya oleh Eve.
Di tahun yang sama, Eve meluncurkan jajaran aksesori "harapeco". "Harapeco" memiliki toko pop up di Harajuku, dan diisi dengan jajaran pakaian dengan perspeksi multi faset yang memiliki musik di pusatnya.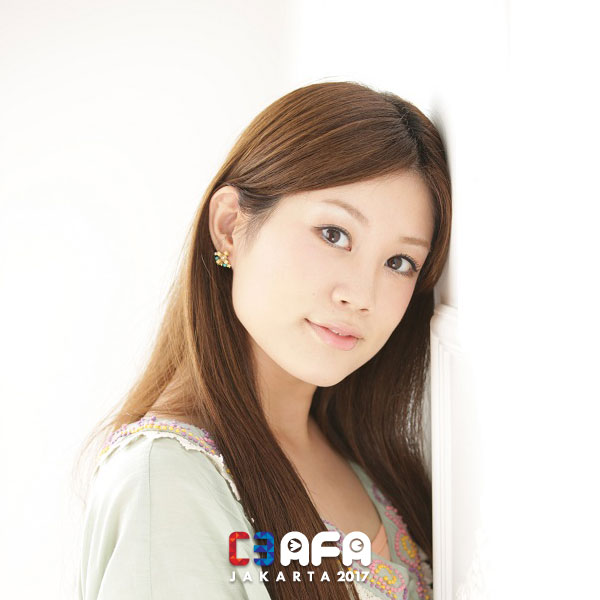 Rika Abe 阿部 里果
• Special Guest •
Rika Abe 阿部 里果
• SPECIAL GUEST •
Born 20 September in Mie prefecture. Interests include treating her friends to her cooking. She's also good at giving nicknames to people. She is credited for several TV anime, including Hresvelgr of Frame Arms Girl, and roles in Riddle Story of Devil and The Pilot's Love Song.
Other non-anime related credits include the titular character in Summer Lesson: Allison Snow Seven Days Garden as well as Mizuki Makabe in THE iDOLM@STER: Million Live! She also reprises the same role as Makabe in cross-media releases like drama CDs, image songs and live performances.
Catch her on stage during the Frame Arms Girl featured anime stage event at C3 AFA Jakarta!
Lahir tanggal 20 September di Prefektur Mie. Hobinya antara lain memberi teman-temannya masakannya sendiri. Ia juga ahli memberi nama julukan ke orang-orang.
Ia terlibat di beberapa anime TC, seperti Hersvelgr di Frame Arms Girl, dan peran di Riddle Story of Devil dan The Pilot's Love Song.
Keterlibatan di karya non anime antara lain karakter di Summer Lesson: Allison Snow Seven Days Garden dan juga sebagai Mizuki Makabe di THE iDOLM@STER: Million Live! Ia juga berperan sebagai Makabe di cross media seperti drama CD, image song dan pertunjukkan live.
Lihat dia di stage saat sesi Frame Arms Girls featured anime stage di C3 AFA Jakarta!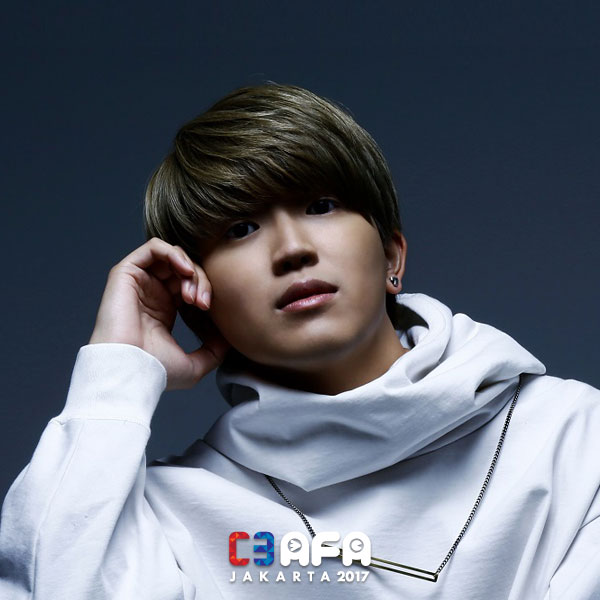 夏代孝明 Takaaki Natsushiro
• SPECIAL GUEST •
夏代孝明 Takaaki Natsushiro
• SPECIAL GUEST •
Singer-songwriter. Born in Osaka on 25th February.
He has been playing in a band since junior high, covering 00s rock in small live houses.
In 2015, he released his debut album, which featured a single "Fill Light Message", which included the lyrics, "when performing onstage and under a spotlight, a person would fall into the shadows. This is a song that would gently bring light to the shadows". This lyric brought attention to many ears, allowing Takaaki to sing the tie up song "Chronograph" of TV Tokyo Network "Buddy Fight", in 2016.
In February 2017, during a joint concert with fellow singer Eve at ZEPP Tokyo, it was announced that his song "Cadence" will be the opening theme of the TV anime "Yowamushi Pedal NEW GENERATION".
In May 2017, his third single "Transit" was again chosen as the theme for the second cour of"Yowamushi Pedal NEW GENERATION".
He has consistently topped the Villevan Daily Rankings, with all three of his singles have topped the ranking consecutively.
With a natural talent that exists solely to create music, Takaaki Natsushiro's goal is make the best songs ever.
Penyanyi dan Penulis lagu. Lahir di Osaka tanggal 25 Februari.
Ia telah bermain di band sejak SMP, menyanyikan lagu cover lagu rock 00s di live house kecil.
Di tahun 2015, ia merilis album debut, yang termasuk didalamnya single "Fill Light Message", yang di dalam liriknya berbunyi "saat tampil di panggung dan dibawah penerangan panggung, seseorang akan jatuh ke dalam bayangan. Ini adalah lagi yang akan membawakan cahaya lembut ke bayangan tersebut." Lirik ini terdengar ke berbagai orang, dan menjadikan Takaaki sebagai penyanyi lagu "Chronograph" di "Buddy Fight" TV Tokyo Network tahun 2016.
Di Februari 2017, di dalam konser kolaborasi dengan sesama penyanyi Eve di ZEPP Tokyo, diumumkan bahwa lagunya "Cadence" akan menjadi lagu pembuka anime TV "Yowamushi Pedal NEW GENERATION".
Di Mei 2017, single ketiganya "Transit kembali terpilih sebagai lagu pembuka bagian kedua "Yowamushi Pedal NEW GENERATION".
Ia senantiasa memuncaki Ranking Villevan Daily, dengan ketiga single-nya terus menerus menempati posisi puncak rangking.
Dengan bakat alaminya yang ada untuk membuat musik, cita-cita Takaaki Natsushiro adalah untuk membuat lagu terbaik.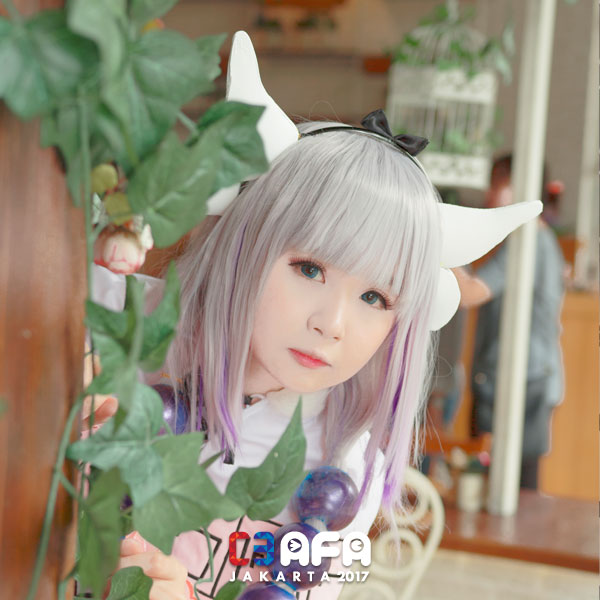 Clarissa Punipun
• Star Cosplayer •
INDONESIA
Clarissa Punipun
• STAR COSPLAYER : INDONESIA
Japanese-Chinese-Indian born in Indonesia.
Cosplaying since 2006.
Loves to craft cosplay props and make Anisong covers using Piano, Drum, and Cello.
re:ON Comics Official Cosplayer
Kurate Gakuen Moe Ambassador
Has been invited as a Guest for more than 60 conventions in Indonesia, Thailand, Singapore, and Japan.
Blasteran Jepang-China-India kelahiran Indonesia
Cosplay sejak 2006
Suka membuat props cosplay dan membuat cover lagu Anisong dengan Piano, Drum dan Cello
Cosplayer official re:ON Comics
Moe Ambassador dari Kurate Gakuen
Telah diundang sebagai guest ke lebih dari 60 event di Indonesia, Thailand, Singapura dan Jepang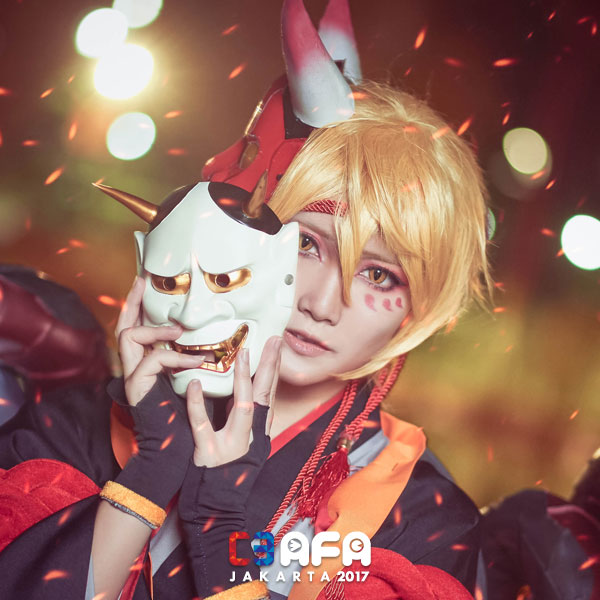 DD-Tenka
• Star Cosplayer •
CHINA
DD-Tenka
• STAR COSPLAYER : CHINA
Tenka, or DD-Tenka, is a familiar face and name amongst the local Singaporean cosplay scene. Currently residing in the sunny island of Singapore, this Chinese cosplayer is blessed with both looks and talents that allow her to seamlessly and accurately portray both male and female characters from favourite and popular manga, anime and games. With more than 10 years of experience in cosplay, DD-Tenka has been invited as a guest for many events around the region over the years, including:
• Anicult 2015 (Surabaya, Indonesia)
• Funan Anime Matsuri 2015 (Singapore)
• CosplayMania 2016 (Manila, Philippines)
• Otakufest 2017 (Cebu, Philippines)
Tenka, atau DD-Tenka, adalah wajah dan nama yang familiar di kalangan cosplay Singapura. Saat ini tinggal di Singapura, cosplayer dari China ini diberkati dengan wajah dan bakat yang membuatnya dapat menggambarkan karakter wanita atau pria dengan akurat dari berbagai anime, manga dan game. Dengan lebih dari 10 tahun pengalaman di dunia cosplay, DD-Tenka telah diundang ke banyak event di berbagai negara antara lain:
• Anicult 2015 (Surabaya, Indonesia)
• Funan Anime Matsuri 2015 (Singapura)
• CosplayMania 2016 (Manila, Filipina)
• Otakufest 2017 (Cebu, Filipina)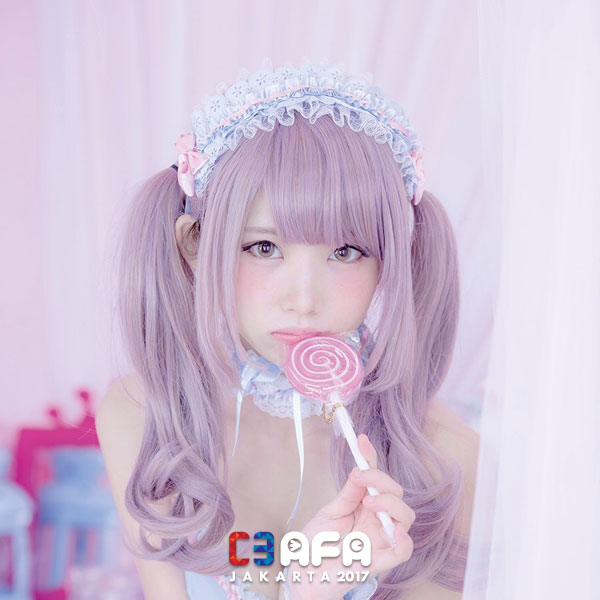 Enako
• Star Cosplayer •
JAPAN
Enako
• STAR COSPLAYER : JAPAN
Born on 22nd January 1994 in Nagoya, Enako is a charismatic cosplayer from Japan who is expanding her activities worldwide! Having fans all over the world, her Twitter and Instagram accounts have exceeded over 220,000 and 125,000 followers respectively.
Enako is widely known to be one of the top layers in Japan's cosplay scene. Aside from cosplay, she does a whole range of other activities including TV appearances, magazine features and voice acting. Aiming to become the best in her field across Japan, the West and Asia, it's the charismatic cosplayer Enako!
Her current activities include:
• Assistant for TV Aichi's "Seiji Chihara's BUZZ☆DOL with Rena Matsui"
• Voice Actress of Takatsuki Hime and Official Cosplayer for mobile game "Shinkukan Dolls"
• Regular feature on Fashion Magazine "IMADOKI!!"
Lahir tanggal 22 Januari 1994 di Nagoya, Enako adalah cosplayer karismatik dari Jepang yang telah mengembangkan aktifitasnya ke berbagai negara! Memiliki fans dari seluruh dunia, Twitter dan Instagramnya telah memiliki lebih dari 220.00 dan 125.000 followers.
Enako telah dikenal sebagai salah satu elite di lingkup cosplay Jepang. Selain cosplay, ia juga memiliki berbagai aktifitas antara lain TV, majalah dan sulih suara. Bercita-cita ingin menjadi yang terbaik di bidangnya, inilah cosplayer karismatik Enako!
Aktifitasnya sekarang antara lain:
• Asisten untuk program "Seiji Chihara's BUZZ☆DOL with Rena Matsui" di TV Aichi
• Seiyuu daru Takatsuki Hime dan cosplayer resmi dari mobile game Shinkukan Dolls
• Figur reguler di majalah fashion "IMADOKI!!"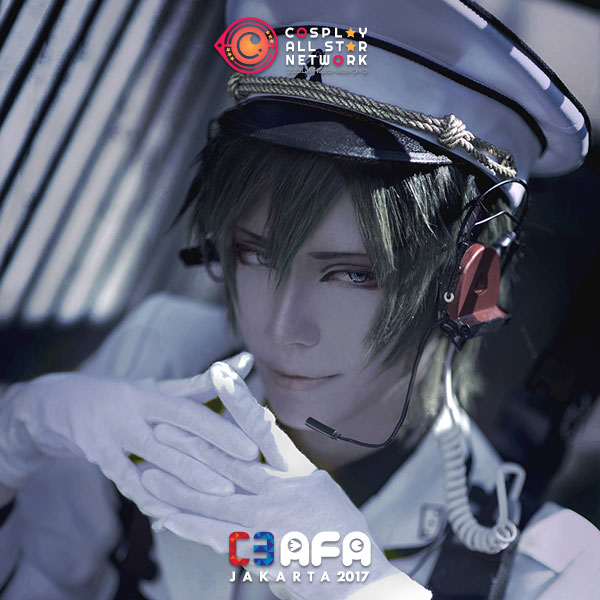 M.G.
• Star Cosplayer •
HONG KONG
M.G.
• STAR COSPLAYER : HONG KONG
M.G. is a cosplayer based in Hong Kong / Sydney who is active in the cosplay and doujin community. Usually doing guy characters for cosplay, always striving for perfection.
M.G. adalah cosplayer dari Hong Kong/Sydney yang aktif di komunitas cosplay dan doujin, terbiasa menampilkan karakter pria untuk cosplaynya, ia selalu berkeingingin untuk tampil sempurna.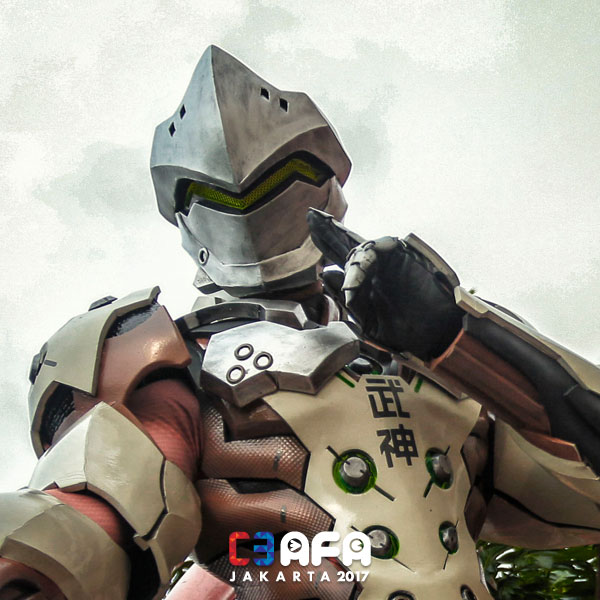 Naru
• Star Cosplayer •
INDONESIA
Naru
• STAR COSPLAYER : INDONESIA
Naru is an avid anime, manga and tokusatsu fan. costume-making enthusiast especially armor part, he began doing cosplay since 2008.With dreams of travelling around the world, he has also participated in international cosplay cons and made many new friends! Till today, he has made a lot of costumes from various genres, including anime, manga, tokusatsu and comic books.
International Achievement:
• Represented Indonesia at WCS 2013, Japan
• Champion at Anime Festival Asia Championships 2015, Singapore
• 1st Place and Public Choice Award at Polymanga 2017, Switzerland
Naru adalah fans dari anime, manga dan tokusatsu. Pembuat kostum ahli terutama kostum armor, ia mulai cosplay sejak 2008. Dengan mimpi berkeliling ke seluruh dunia, ia juga telah berpartisipasi di berbagai acara cosplay internasional dan memiliki banyak teman! Hingga hari ini, ia telah membuat kostum dari berbagai genre termasuk anime, manga, tokusatsu dan komik.
Pencapaian internasional:
• Perwakilan Indonesia di WCS 2013, Jepang
• Juara di Anime Festival Asia Championship 2015, Singapura
• Juara 1 dan Pilihan Publik di Polymanga 2017, Swiss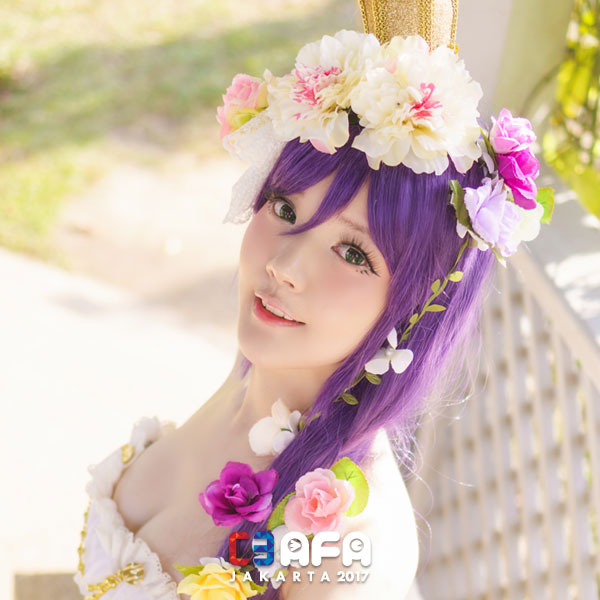 Ying Tze
• Star Cosplayer •
MALAYSIA
Ying Tze
• STAR COSPLAYER : MALAYSIA
Gaining a legion of fans all over South East Asia, Malaysian cosplayer Ying Tze never fails to stun her fans with her cosplay creations. Utilising her fashion design background, every costume she made are tailored to fit.
She will be attending C3AFA Jakarta this year to meet all her fans! Stunning hand-crafting costume, YingTze graduated from a lead fashion design school in Malaysia.
Mempunyai banyak fans dari Asia Tenggara, Cosplayer Malaysia Ying Tze tak pernah berhenti membuat para penggemarnya berdecak kagum dengan kreasi cosplaynya. Memanfaatkan latar fashion design-nya, ia membuat sendiri semua kostumnya.
Ia akan menghadiri C3AFA Jakarta tahun ini untuk menemui semua fansnya! Kostum yang dibuat sendiri, Ying Tze lulus dari sekolah desain fashion ternama di Malaysia.