Kabaneri of the Iron Fortress
FEATURED CONTENT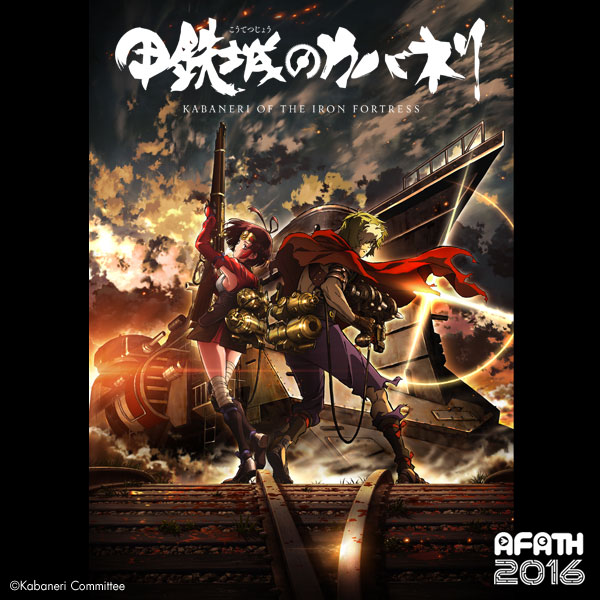 Kabaneri of the Iron Fortress
Introduction:
The world is in the middle of the industrial revolution. Just when technology advancements have begun to show their results, hordes of undead monsters called Kabane suddenly appeared from nowhere. These monsters can only be killed if the iron cage surrounding their glowing hearts are pierced, and humans who get bitten by them get turned into Kabane as well. Soon enough, their numbers grew and spread across the whole world.
The people of a far-eastern island nation called Hinomoto thrived by confining themselves in strongholds known as 'Stations' and defending themselves against the Kabane invasion. The only way for people to travel between Stations is on specially-equipped steam trains known as 'Hayajiro'. Capable of transporting goods and wares across long distances, the Hayajiro were key to the people's survival.
A young male blacksmith called Ikoma lives in Aragane Station, which specialises in the production of steel and steam engines. Wanting to defeat the Kabane, he has been developing a solo weapon called the "Piercing Gun Barrel" while waiting for the day he gets to prove his strength on the battlefield.
One fateful day, a single armoured train pulled into Aragane station. Ikoma who was helping with the maintainence of the train cars met with the the extraordinary girl Mumei, whose sole mission was defeating Kabane. That very night, a train hijacked by Kabane crashed into the station and the city was overrun by chaos!
The Kabane soon overwhelmed the city from within. Running against the flow of panic was young Ikoma. "I'm not going to run away this time. I…I'll defeat the Kabane with the Piercing Gun Barrel!"
–With that, carrying the determination to shine the young man began his battle.
Guests:
AFA Thailand is excited to welcome the voice actor of the protagonist Ikoma, Tasuku Hatanaka to tell us more about this popular anime series! Don't miss the Kabaneri of the Iron Fortress stage!
Kabaneri of the Iron Fortress
SPECIAL GUESTS
Tasuku Hatanaka
SPECIAL GUEST : Kabaneri of the Iron Fortress
Voice Actor of Ikoma (Kabaneri of the Iron Fortress)
Tasuku Hatanaka was born on 17 August in the Kanagawa Prefecture.
Since his debut in 2006, he is best known for being the original Japanese voice actor of Yuma Tsukumo in the Yu-Gi-Oh! Zexal series. Aside from being well-versed in movie and game dubbing roles, he has played the protagonist's role in many popular anime series over the years.
Some of his notable voice acting roles include:
– Ikoma (Kabaneri of the Iron Fortress)
– Go Nagakura (Battery: The Animation)
– Denki Kaminari (My Hero Academia)
– Hisato Sasamori (World Trigger)
– Ushio Aotsuki (Ushio and Tora)
– Yuma Tsukumo (Yu-Gi-Oh! Zexal/ Yu-Gi-Oh! Zexal II)
His special skills include karate, basketball, singing and dancing.
Don't miss the chance to meet Tasuku Hatanaka at the Kabaneri of the Iron Fortress stage this AFATH!