Workshops
More activities announcing soon!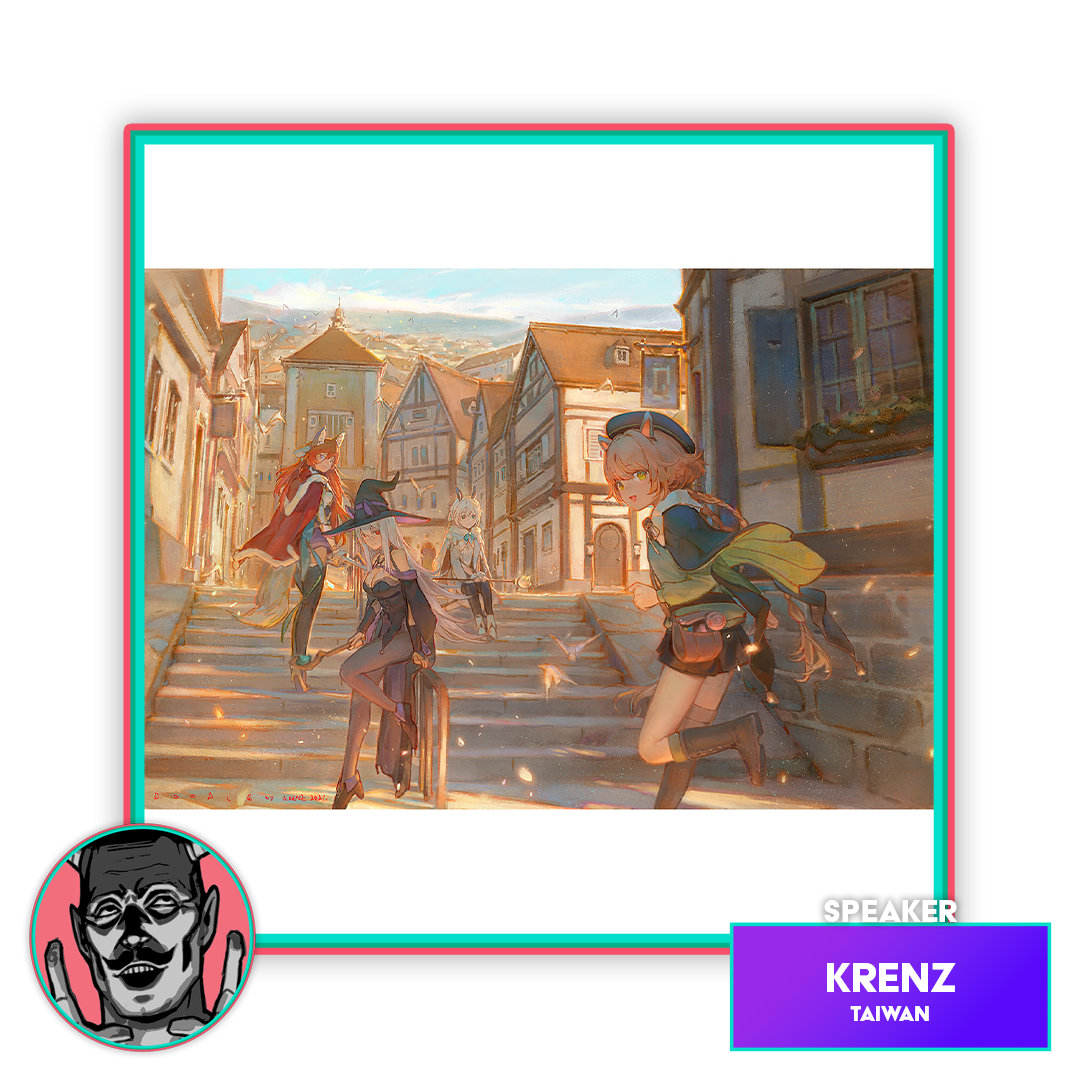 "Developing a Unique Style"
Featuring Krenz, Illustrator
Krenz is a master of painting beautiful girls with melancholic eyes, having developed a unique style recognised all over the world. In this demo, Krenz will introduce a stripped-down lecture teaching art fundamentals such as perspective, gesture and colour, as well as introduce some of his representative works.
About Krenz
Having studied 2D ACGN illustration techniques, Krenz has been working as a freelance artist since 2009. While Krenz is often invited to speak all over Taiwan at schools and game companies, he is also asked to share his experiences with art at panels all over the world.
In 2018, Krenz assembled a team of teaching assistants and began teaching online with the aim of spreading digital art techniques and concepts to a wider audience, thus raising the standards of professional artists as a whole.
Visit Krenz's website here: https://www.krenzartwork.com/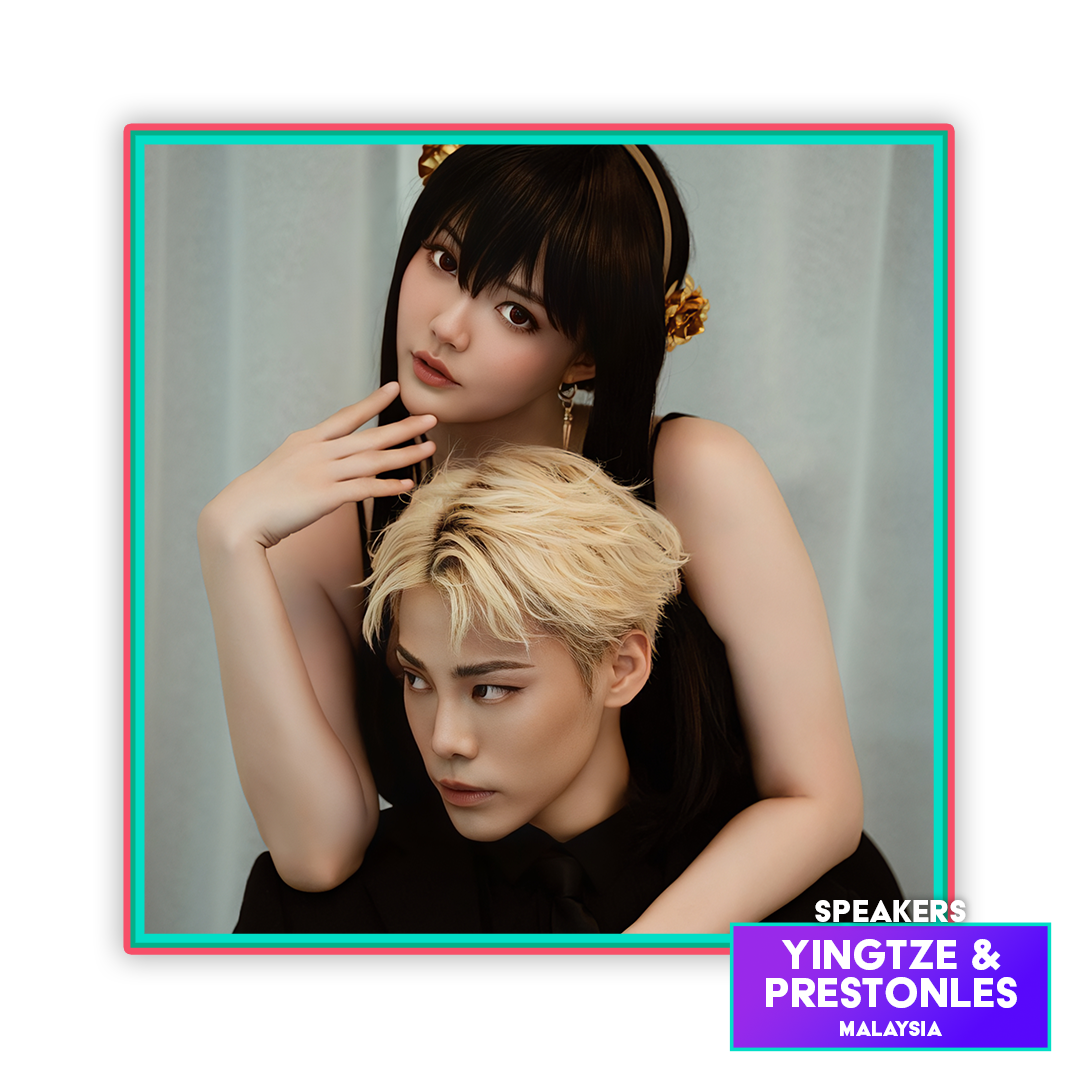 "Basic Cosplay Photography With Your Mobile Phone"
Featuring YingTze & Prestonles, Guest Cosplayers
Ying Tze & Prestonles 朴顿 will be holding a cosplay photography workshop at AFA Creators Super Fest Singapore 2023! Learn how to shoot beautiful cosplay photos using a mobile phone or entry-level camera, pick up lighting tricks using what you have at home, and more!
Get the chance to have the one and only Ying Tze as your cosplay model, plus receive hands-on instruction from highly respected photographer Prestonles 朴顿. Don't miss this opportunity and get started on cosplay photography!
About YingTze & Prestonles 朴顿
YingTze is a highly popular International Cosplayer from Malaysia, who has been cosplaying since 2005. She is also a Gamer, Streamer and Brand Ambassador. Ying Tze is a frequent cosplayer guest at Anime Festival Asia events all over the region.
Prestonles 朴顿 is a multitalented and highly regarded photographer, art director, and digital content creator. With more than 10 years of experience, he has established himself as one of the most sought-after photographers in the business. Prestonles 朴顿 is also dedicated to sharing his knowledge and experience with others, and he teaches photography classes to aspiring photographers and students. In 2022, Prestonles embraced a new creative outlet and began cosplaying, showcasing his skills in costume design, makeup artistry, and performance. He quickly became one of the most sought-after cosplayers in the region, and his vibrant and dynamic performances have thrilled audiences around the world.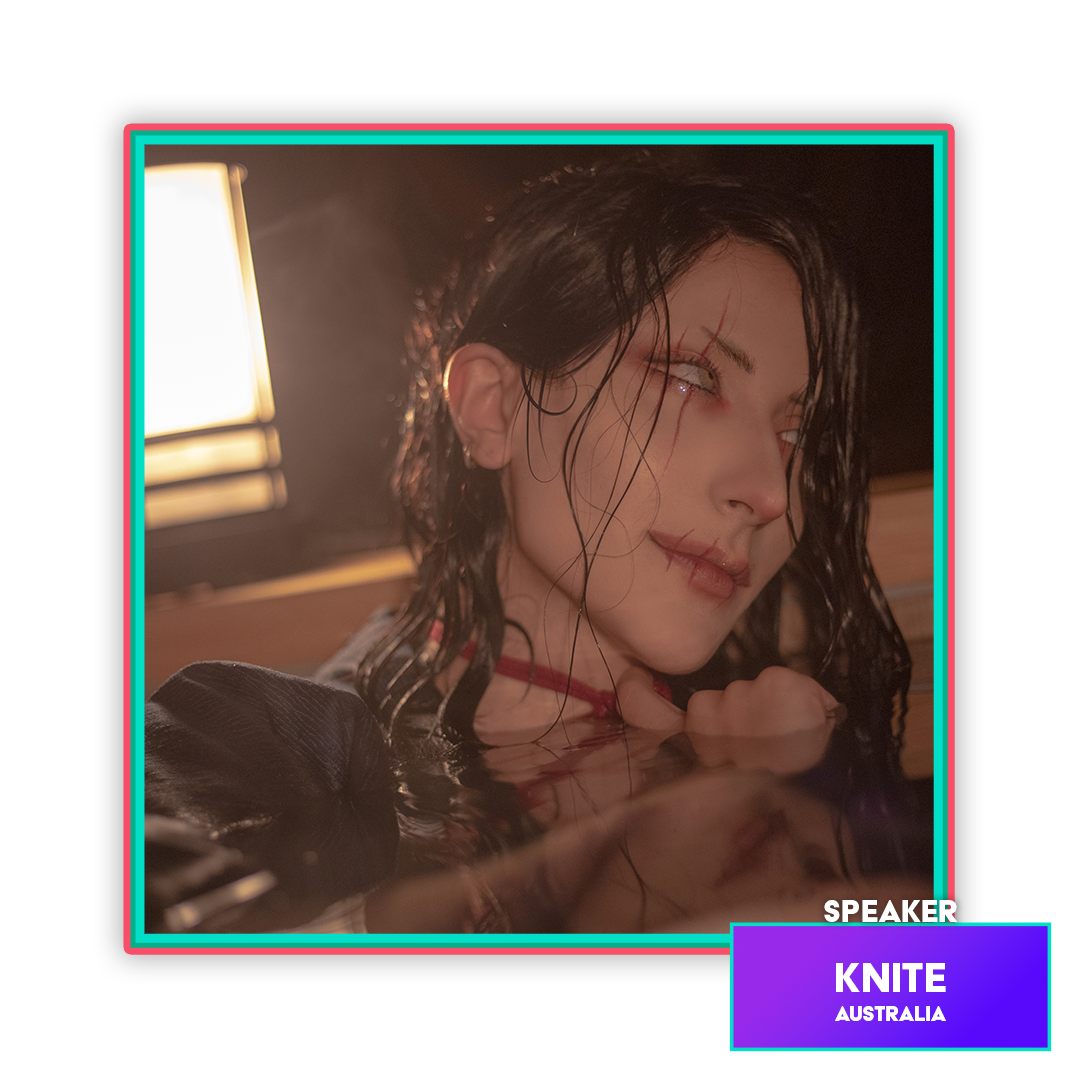 "Fiction into Reality: A Characterisation Panel"
Featuring KNITE, Guest Cosplayer
Presented by KNITE, this panel will teach you the different methods of making your photo become more alive and interesting through posing, characterisation and concepts. Pick up insider skills to make your cosplay photos stand out, from one of the best in the business!
About KNITE
Knite is a Professional Cosplayer, Model and Streamer from Greece, currently living in Australia. With 13 years of experience in the field of costume making, wig styling and make-up, they have had the opportunity to guest all over the world sharing their love and passion for their craft. Some of their notable work includes being the official character actor of Kaito Kid (Detective Conan) at Universal Studios Japan, Persona 5's Joker, Howl from Howl's Moving Castle and Kishibe Rohan from JOJO's Bizarre Adventure.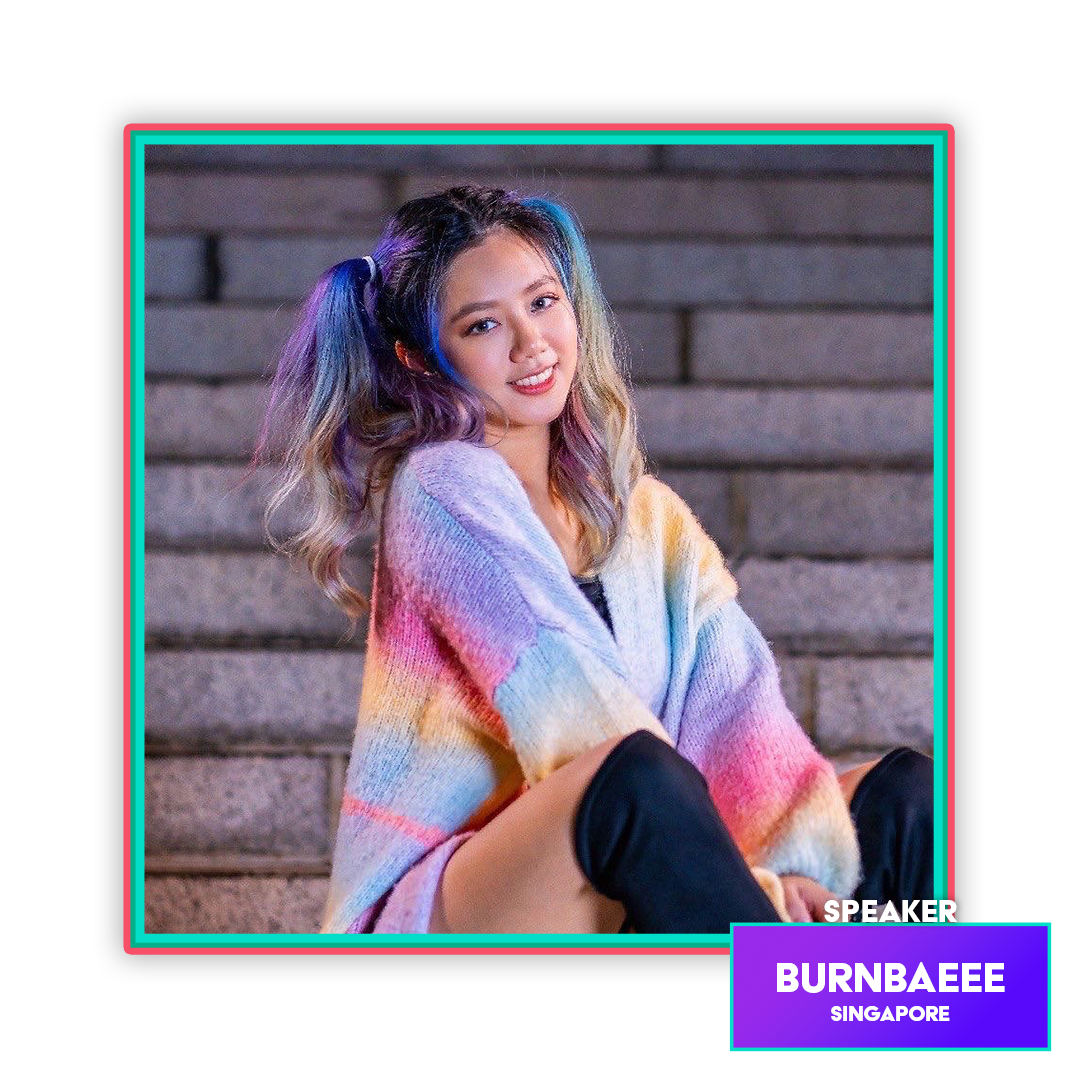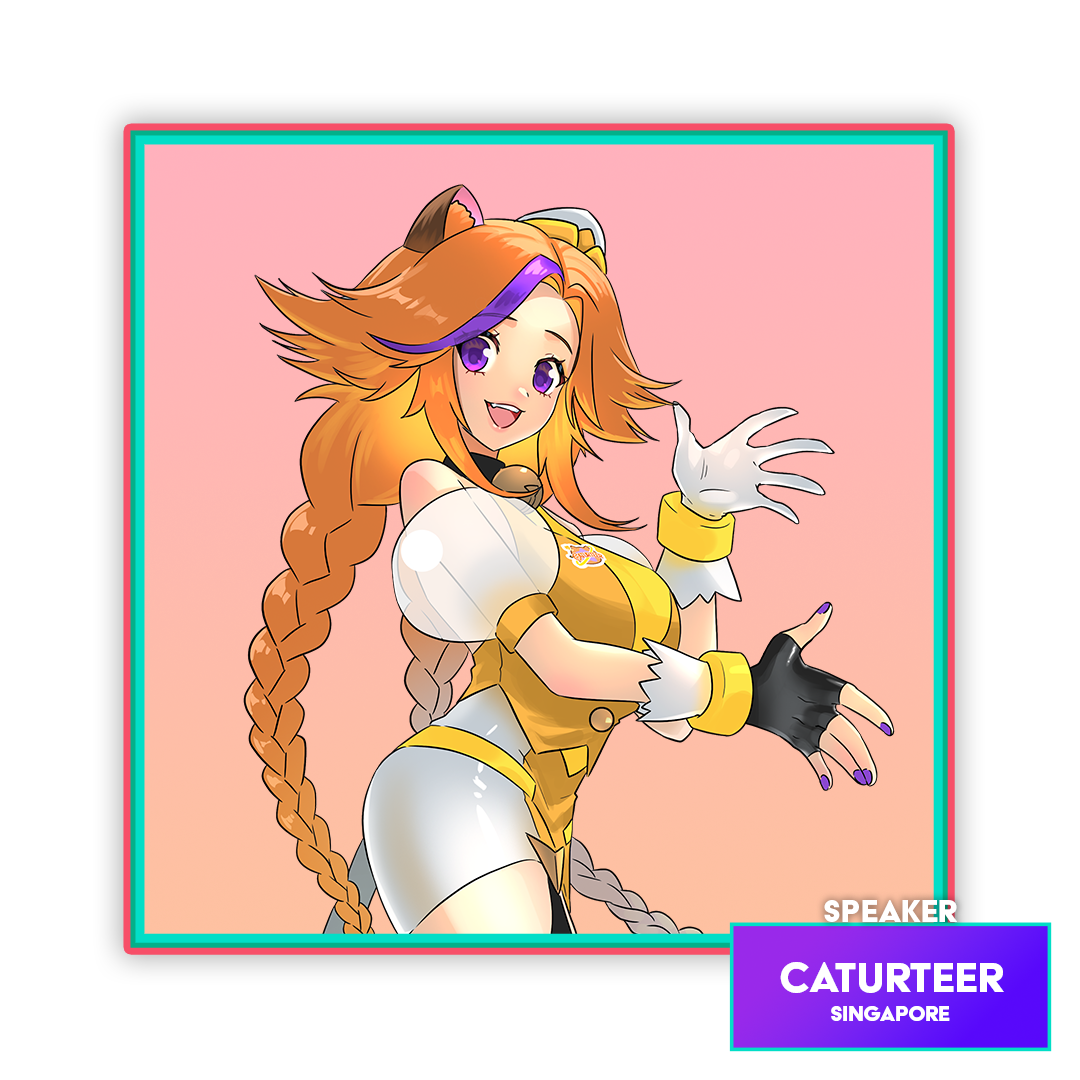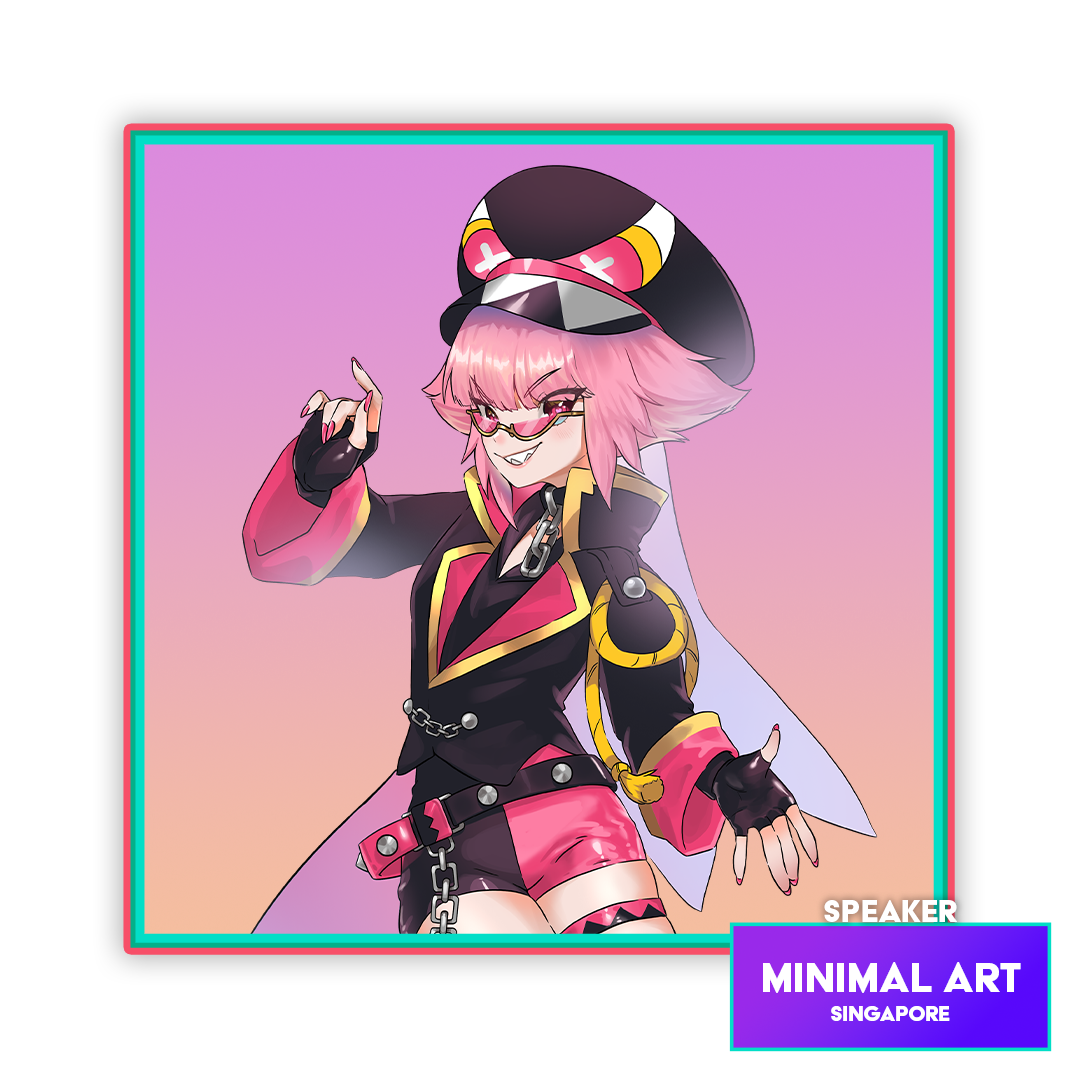 "Streaming & Vtubing Basics" Presented by AVERNATIVE PRODUCTION
Featuring Burnbaeee, Twitch Streamer, Caturteer, VTuber & Minimal Art, VTuber
AVERNATIVE PRODUCTION brings together video contents specialists Burnbaeee, Caturteer, and Minimal_Art to tackle diverse topics about today's hot topic: streaming!
This talk will cover the basics of streaming, recommending equipment and software for prospective streamers to use, research tips and brainstorming ideas for VTuber designs and personas, and even Live2D rigging.
A must-attend for streaming fans and prospective streamers alike!
About Burnbaee
Burnbaeee is a Variety Twitch streamer and content creator in Singapore and Malaysia. She enjoys First-Person Shooter (FPS) games, In-Real Life (IRL) exploring and filming short transition reels on Instagram.
About Caturteer
Caturteer is a Live2D Rigger and Animator, who brings various VTubers to life. She also creates a wide variety of effects for her stream overlays as well.
About Minimal Art
An Artist Vtuber who is well rounded in various art styles. She also designs for various VTubers and prepares their models' artwork.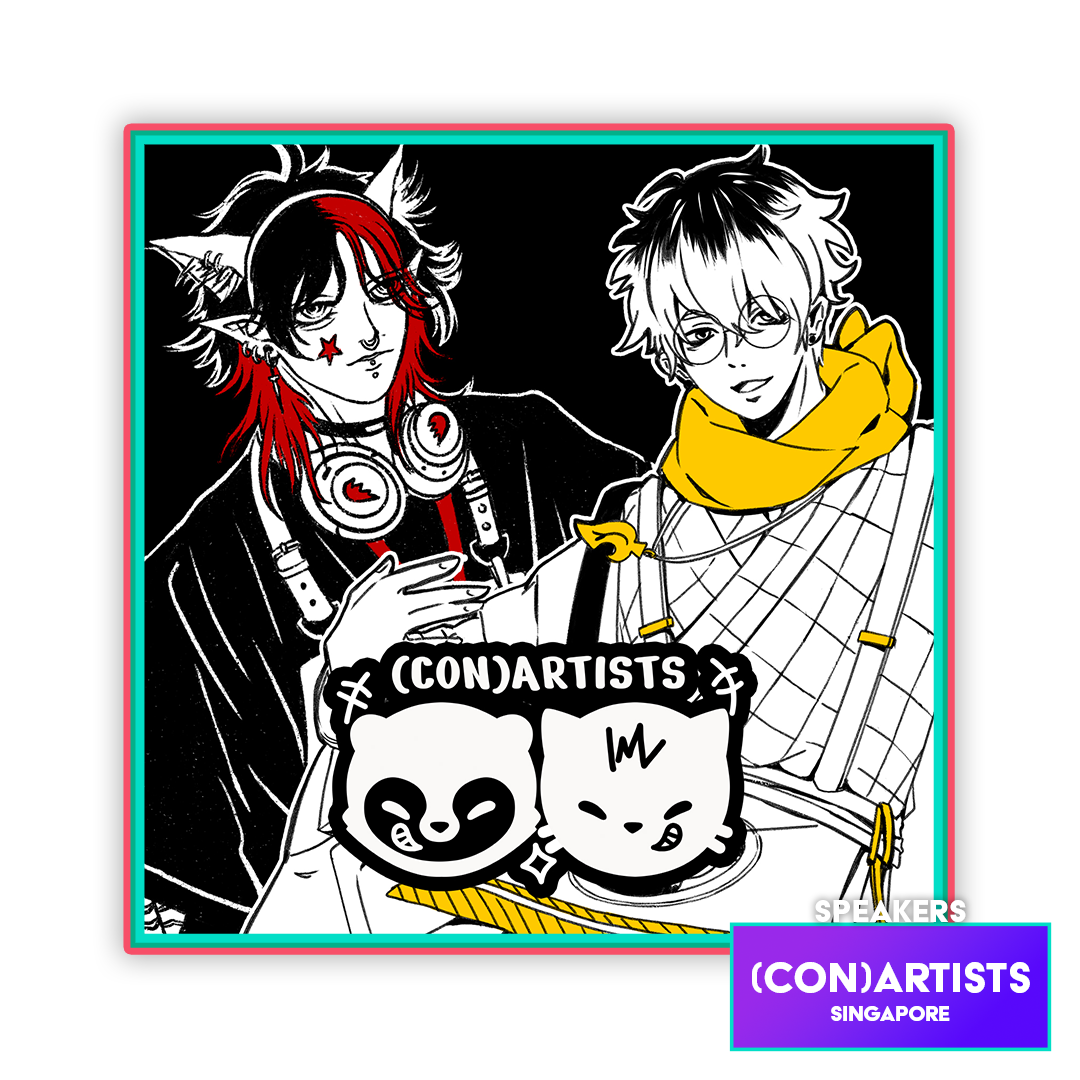 "So You Want To Be A Con Artist"
Featuring (CON)ARTISTS – Sarah Thursday & Sherms, Illustrators
Hosted by (CON)ARTISTS, a podcast by 2 full-time artists living in Singapore – Sarah Thursday and Sherms, the workshop will cover the pair's boothing experiences, advice for newbies, discussions on doing art full-time, online selling pros and cons, and more!
(CON)ARTISTS will also be entertaining questions from the crowd, as well as giving away their bespoke Con Survival Kit, which will help you hold your loots from your favourite artists!
About (CON)ARTISTS
(CON)ARTISTS is a podcast by 2 full-time artists living in Singapore. We started this podcast in hopes of sharing our creative journey and experiences, as well as tips on running a small business. Our passion lies in creating unique merch with our own illustrations and we really love boothing at Anime Conventions.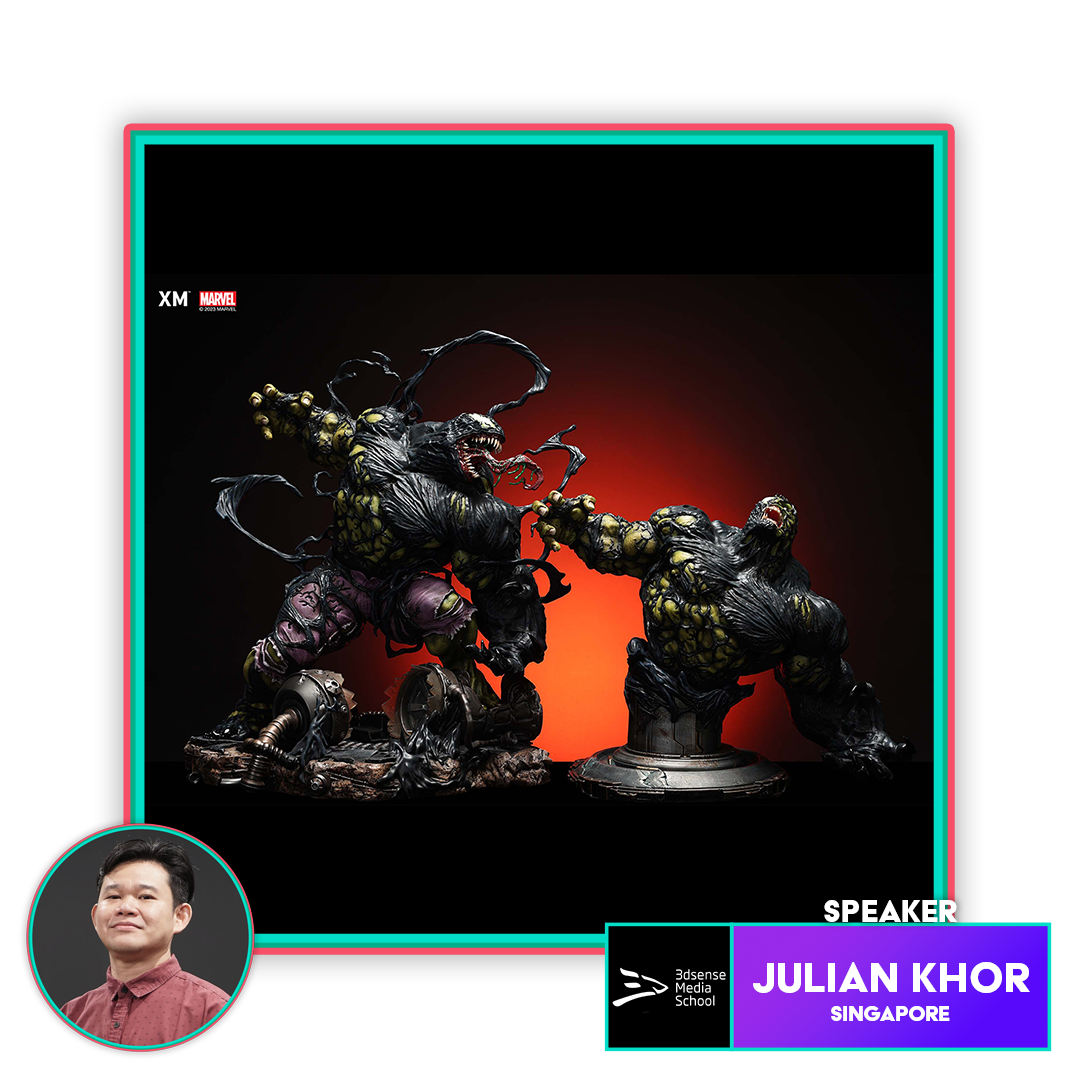 "Sculpting Collectable Figurines in 3D"
Featuring Julian Khor, Senior Lecturer at 3dsense Media School
Learn from Julian's experiences in sculpting collectable figurines for production in the 3D software zbrush. From the pre-production stages of reading 2D concept art to the 3D sculpting process and how to prepare it for prototyping and casting, Julian shows the in and outs of working in the collectable figures industry.
About Julian Khor
Julian is a veteran in the game industry well-known for his sculpting and 3D modelling skills with over 20 years of experience working as a game artist, senior game artist, art director and sculpting mentor. Before joining 3dsense Media School as a lecturer, he was most recently a senior game artist at UBISOFT where he was in charge of teams that worked on worldbuilding and character designs. He is also currently consulting for Red Door Digital.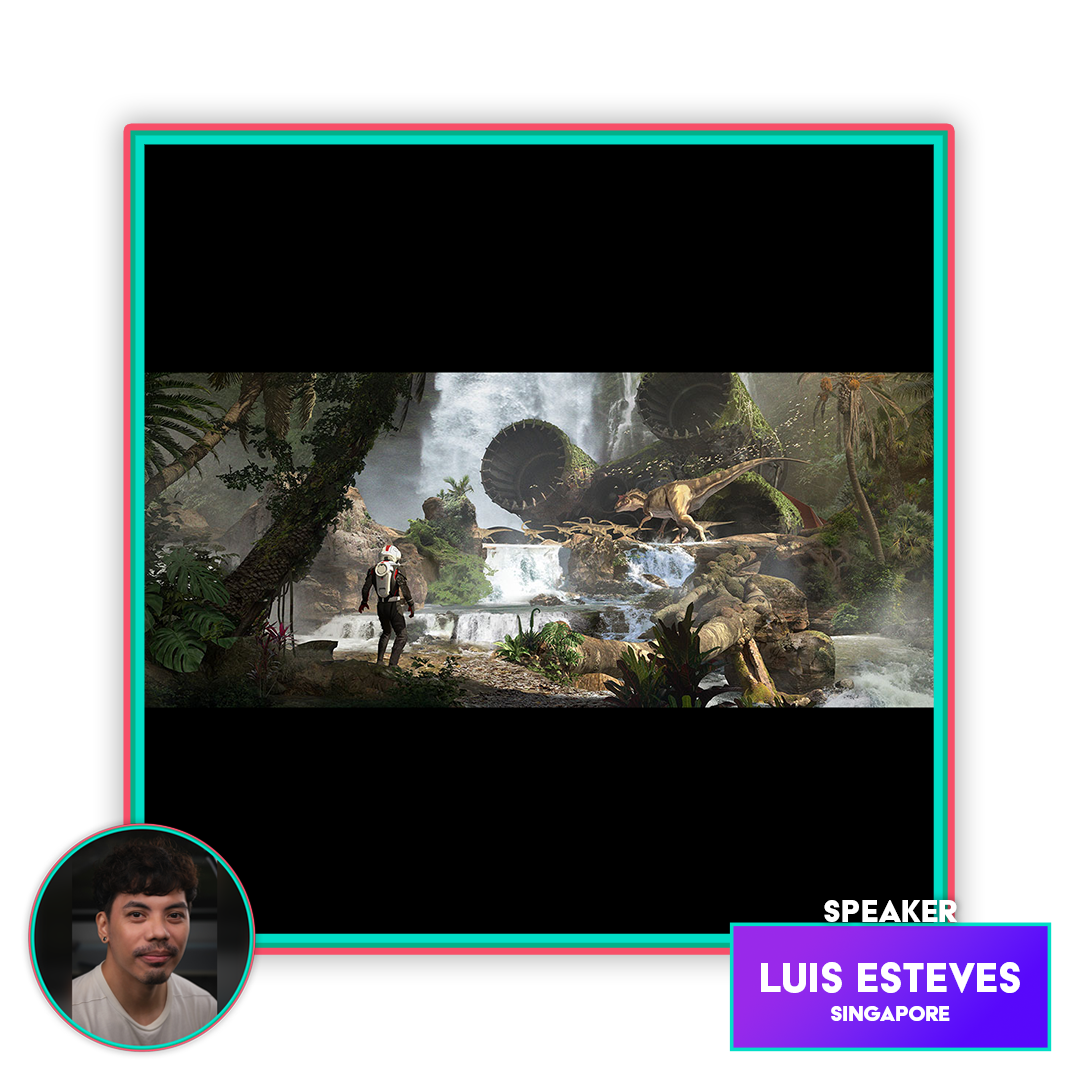 "Worldbuilding in Art"
Featuring Luis Esteves, Senior Concept Artist at BANDAI NAMCO Studios
Learn from Luis as he speaks about artistic worldbuilding from environmental scenery to character development.
About Luis Esteves
Luis Esteves is a Senior Concept Artist at BANDAI NAMCO Studios with a decade of experience in the gaming and movie industry. Some of his most notable projects are Splatoon 3 and Mobile Suit Gundam Hathaway.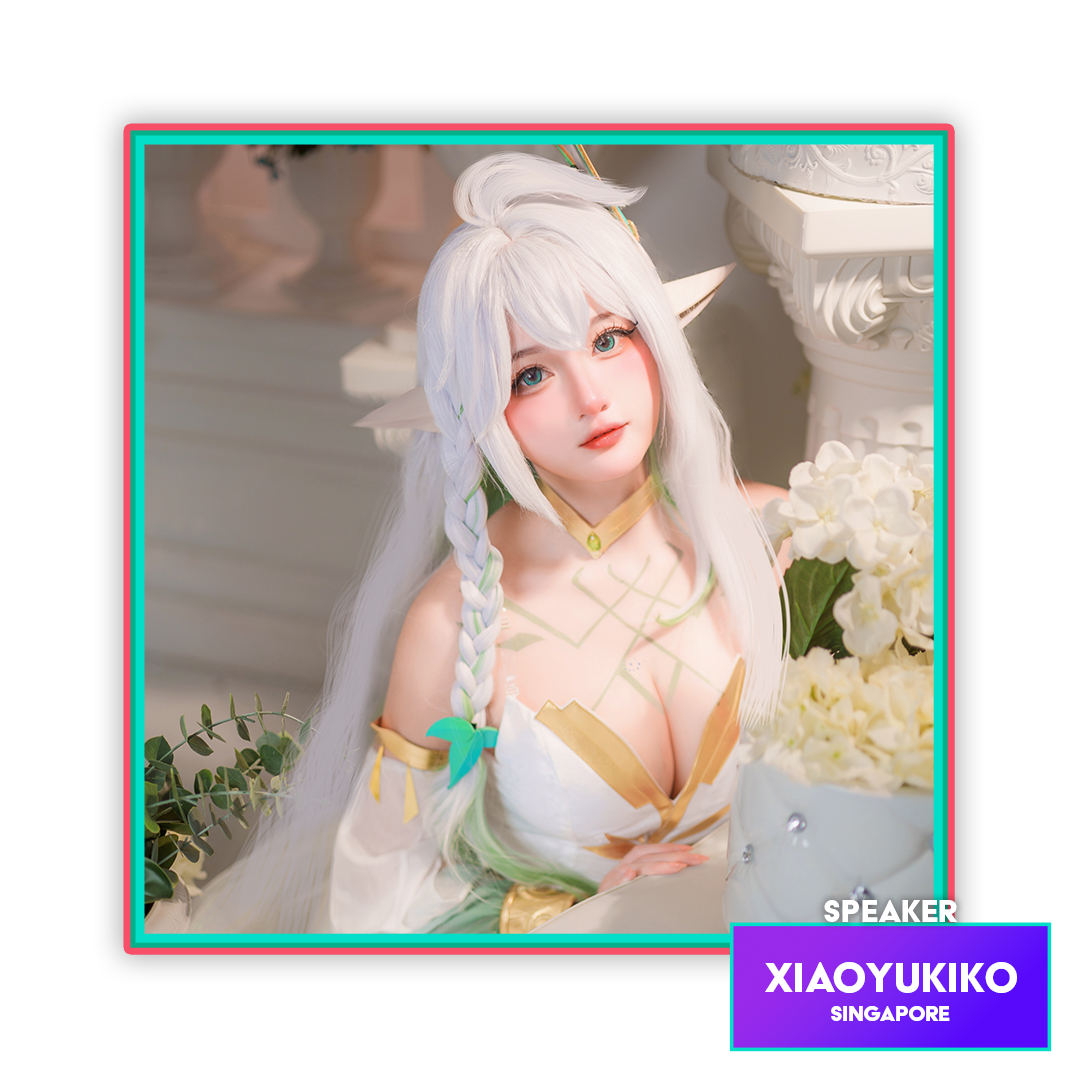 "Wig Styling Tricks & Cosplay Hacks"
Featuring Xiaoyukiko, Guest Cosplayer
Learn cosplay tricks and hacks from Xiaoyukiko that can be used without too much experience! Pick up Wig Styling basics from her using common and some unexpected household tools!
You can also learn how to quickly alter store-bought costumes, and secure your wig to prevent slippage. Last but not least, win some amazing prizes that would help you in your cosplay from Xiaoyukiko herself, just by joining her workshop. See you there!
About Xiaoyukiko
Based in Singapore, Xiaoyukiko only started cosplaying in 2017, but she has already taken the internet by storm with her adorable cosplays. As of now, she has a massive following of over 1.4 million fans across the world on social media, making her one of the most influential cosplayers in Singapore and the SEA region. Xiaoyukiko has also worked with many popular ACG-related companies and is a frequent international guest cosplayer, with her latest appearance having been at Anime Festival Asia Singapore 2022.
"A Live Art and Kawaii Journaling Workshop with Rainbowholic Team"
Featuring Kaila, founder of Rainbowholic & Taz, main artist of Rainbowholic
Join Team Rainbowholic as they explore the whimsical world of Kawaii Journaling! Kaila and Taz – the founder and main artist of Rainbowholic respectively, will embark on a live-drawing session and journaling demo.
The pair will be using the actual products they created, photos, ephemera from the trip, stamps, and more! Pick up inspiration for your next journal spread with a flip-through of some of their favourite pages from their completed journals. See you all there!
About Rainbowholic
Meet Kaila, the founder of Rainbowholic, a Japan-based Flipino content creator with a fervor for sharing the colorful Japanese life, travel, and the kawaii culture.
Rainbowholic's mission is to bring the kawaii culture of Japan to people worldwide. In pursuit of this goal, the brand offers over 100 adorable stationery items, including original washi tapes and stickers, created in collaboration with artists from across the globe. With regular appearances at Bungu Joshi Haku, one of Japan's biggest stationery events, and pop-up shops in Loft Shibuya and Ginza, Rainbowholic is committed to spreading joy through its products and services.
At this special event, the Rainbowholic team aims to inspire attendees with creative ideas on how to enjoy life with stationery and kawaii culture.
Visit Rainbowholic's website here: https://rainbowholicshop.com/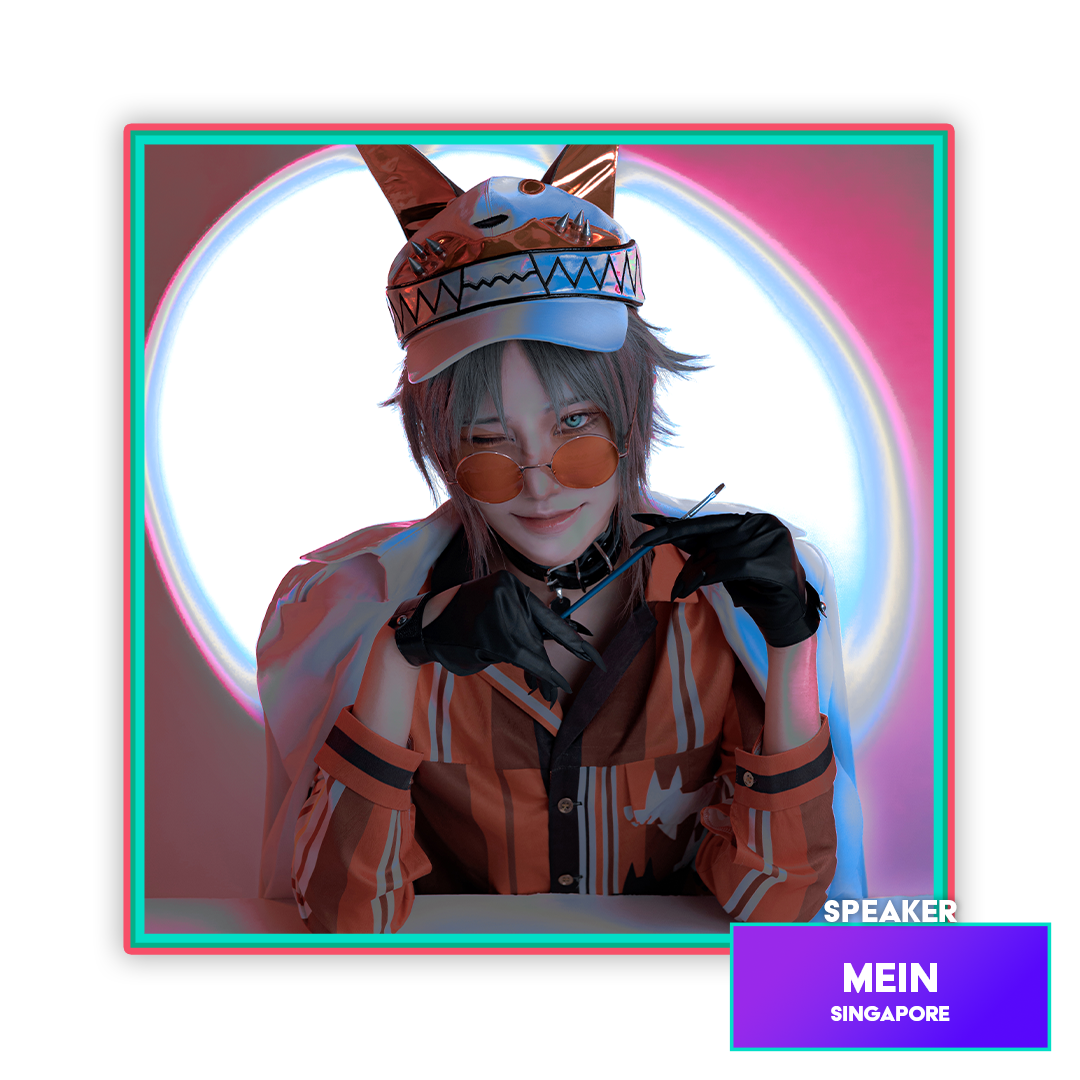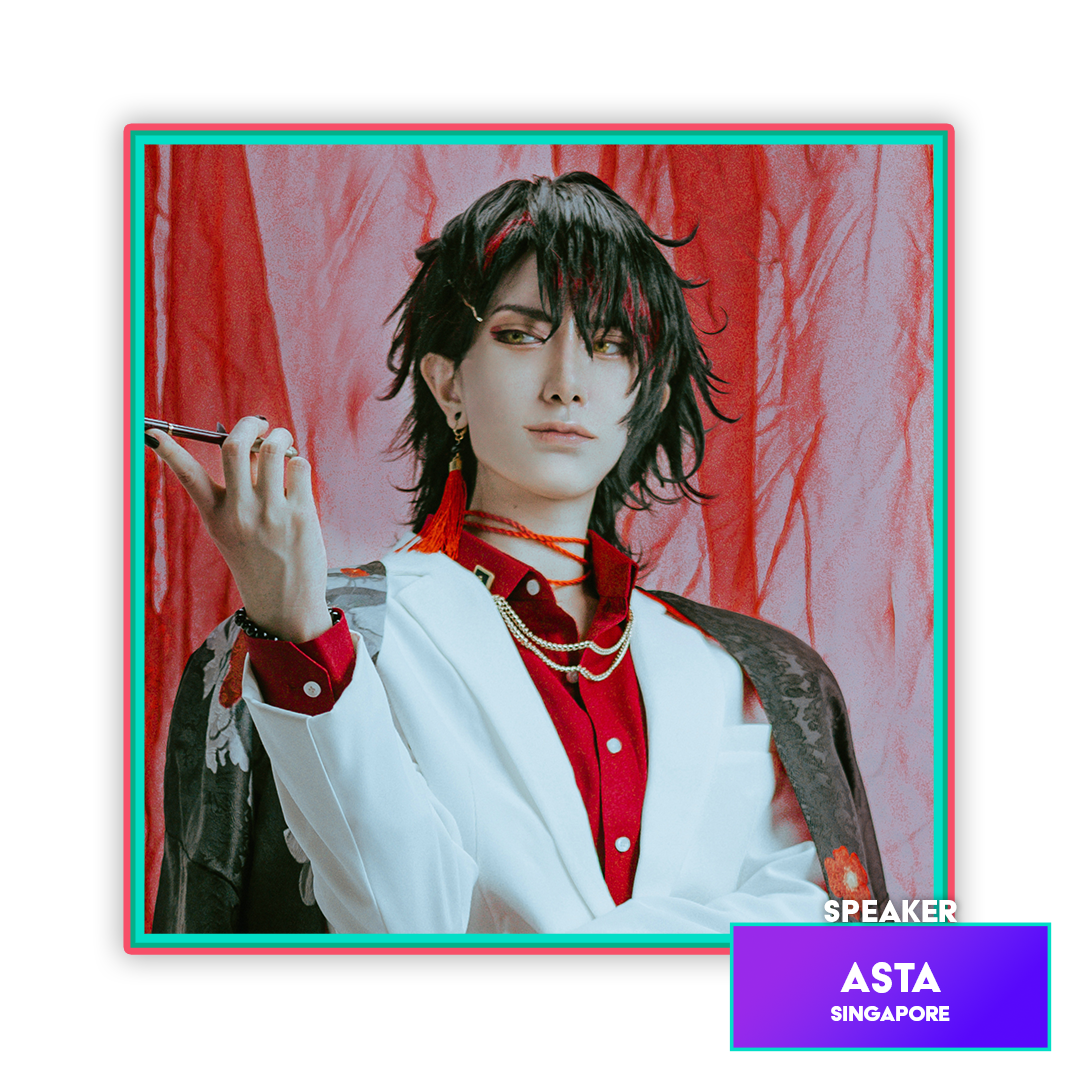 "Leveling Up Your Male Cosplays"
Featuring MEIN & Asta, Hobbyist Cosplayers
This informal sharing session will cover often-overlooked areas of cosplay, such as how to choose a wig, fabrics/modifications for costumes, creating a male body silhouette, and many others!
The talk is aimed at bringing awareness to minute details that will level up one's cosplay game. The session will end with a Q&A portion where the audience can ask just about anything!
About MEIN & Asta
MEIN and Asta are avid hobbyist cosplayers and cosplay photographers who have been active for almost 18 years. The pair share a common belief that cosplay is a multi-dimensional craft, with various layers of skills to hone. These include the basics such as wig and fabric choices, styling and tailoring, photoshoot planning, and more.
MEIN and Asta often work together to use their skills and bring their creative visions to life. Through their cosplay and photographs, they form meaningful relationships with many fellow cosplayers and ACG fans in Singapore and Japan.
Over the years, they have received numerous invitations to collaborate with various events and brands, and have lent a hand to several non-profit events behind the scenes. With cosplay as a hobby and passion, they prioritise creative freedom and enjoyment with friends.
Visit MEIN's website here: https://mein-krk.carrd.co/
Visit Asta's website here: https://astamon.carrd.co/
"Cosplay Make-Up Tips & Tricks"
Featuring Miho, Guest Cosplayer
Have you ever wanted to improve your cosplay make- up, but don't know where to start? Let the cute and talented Miho be your new bestie and guide you on your way! Learn make-up basics, tips and tricks specifically meant for cosplay make-up, and more!
About Miho
Miho is one of the top cosplayers from the Philippines, who is also a content creator and an artist. She is known for her aesthetically cute cosplays, for winning various cosplay competitions, and for appearing as a guest at local and international events. She loves to sing, dance, and play games as her pastime.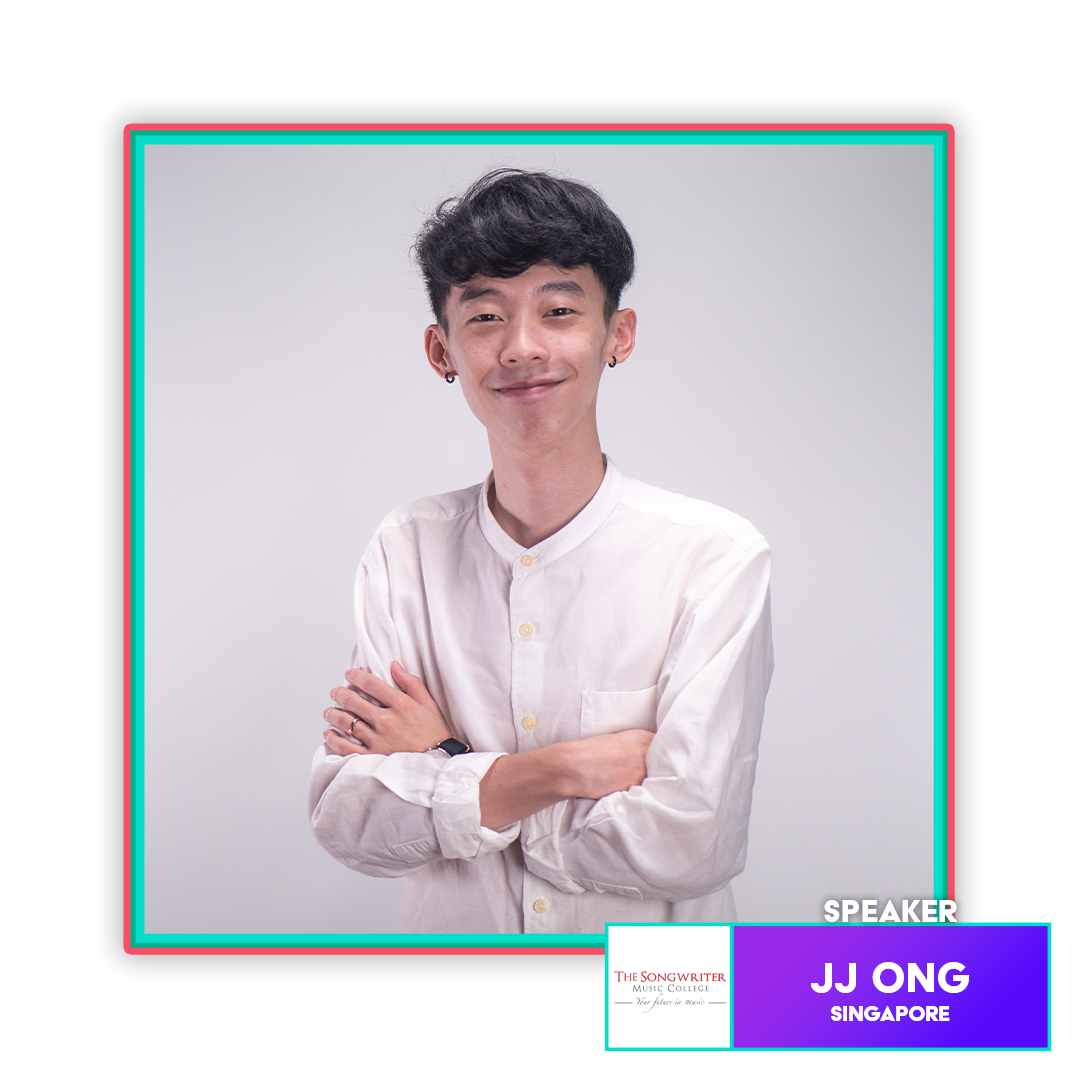 "How to Turn your Passion into a Career for Creators and Creatives"
Featuring
Eric Ng, Award-Winning Producer & Principal of TSMC &
JJ Ong, Communications & Marketing Specialist, Musician and Lecturer at TSMC.
With the ever changing landscape of digital media, more people have found a way to make a living from creative work such as being an online content creator, author, musician, actor, animator, game designer and more! Even though a career as a creative is no longer a pipe dream due to the endless opportunities digital media has created, it is still a challenging one.
Eric and JJ from The Songwriter Music College (TSMC) hope to share their experience and mindset behind carving a career in the creative industry, and how anybody can start chasing their dreams!
Visit The Songwriter Music College's website here: https://tsmcollege.edu.sg/
About Eric Ng
Since launching his career in the late 90s, Eric Ng 黄韵仁 has become a chart-topping staple within the Asian pop-scene, establishing himself as a highly acclaimed songwriter, producer and music arranger.
Having written a multitude of chart topping hits in the Asian Pop industry, Mr Eric Ng has worked with the likes of Sung Min (Super Junior), A-Mei 阿妹, Sandy Lam 林忆莲, Tanya Chua 蔡健雅, Hebe Tien, Fish Leong 梁静茹, Power Station 动力火车, Wakin Chau 周华健 and many others. In 2021 he produced the album "Deserve Better" 《 值得更好的》 for Jason Zhang 张杰, which became the second most streamed album for that year on NetEase(China). That led him to be invited to write and produce the theme song "Everlasting Light" 《 不熄的光》 performed by Jason Zhang 张杰 for the Naruto mobile game by Bandai Namco, Ten Cent Games and Sony Music.
His global success is only overshadowed by an unprecedented level of creative energy that has fuelled him daily for more than two decades straight. His involvement with Xiaohan as composer for musicals such as Liao Zhai Rocks, Lao Jiu and Nanyang the musical had always received rousing appraisals by the media.
As music director, he ventured into movies such as 881 and 12 Lotus, directed by Royston Tan and Turn you around – the Voice of China, directed by Chai Yee Wei. The original movie soundtrack of 881 earned the honor of being the highest selling movie soundtrack in Singapore history. His unique talent has been stamped across both the commercial and indie spirit of music making, forging catchy jingles for Macdonald's, Super, Samsung and other high profile brands.
Apart from being an active songwriter and music producer, Mr Eric Ng who runs Funkie Monkies Pop Music School and The Songwriter Music College with a mission to discover, groom and train the next generation of hit makers. He has trained thousands of songwriters, singer-songwriters and music producers who went on to have their own chart topping hits in regions like Greater China, Taiwan, Hong Kong and other parts of Asia.
About JJ Ong
With a passion for digital communications and a penchant for telling engaging stories, JJ specialises in working with companies and individuals within the music and entertainment sectors, being actively involved in a plethora of local and international campaigns.
As an independent musician under the name "Falling Feathers" and a songwriter for over a decade, JJ has written music for various platforms with placements on Local Media (Channel 5, MeWatch, Advertisement jingles for Kikkoman, Yakult and More), Korean Media (TVN, KBS, MNET), American Media (TLC, Univision), European Media (Channel 6play), Riot Game's League Of Legends WORLDS and many others.
Also an adjunct educator at The Songwriter Music College, Singapore Polytechnic and Nanyang Polytechnic, JJ hopes to nurture the new generation of creatives, guiding them toward growth and sustainability.
Creators Lab Schedule
Coming Soon!