AFA is a specialised business unit of SOZO:
Born in 2008, AFA is one the largest J-pop culture events in the world, covering Singapore, Indonesia, Thailand, Malaysia, Hong Kong, and Japan with close to 30 festivals in the past 10 years, and welcoming over 1.7M attendees in total. Celebrating its 10th anniversary in 2018, the event was attended by 105,000 visitors from around the world
Total engaged audience since 2008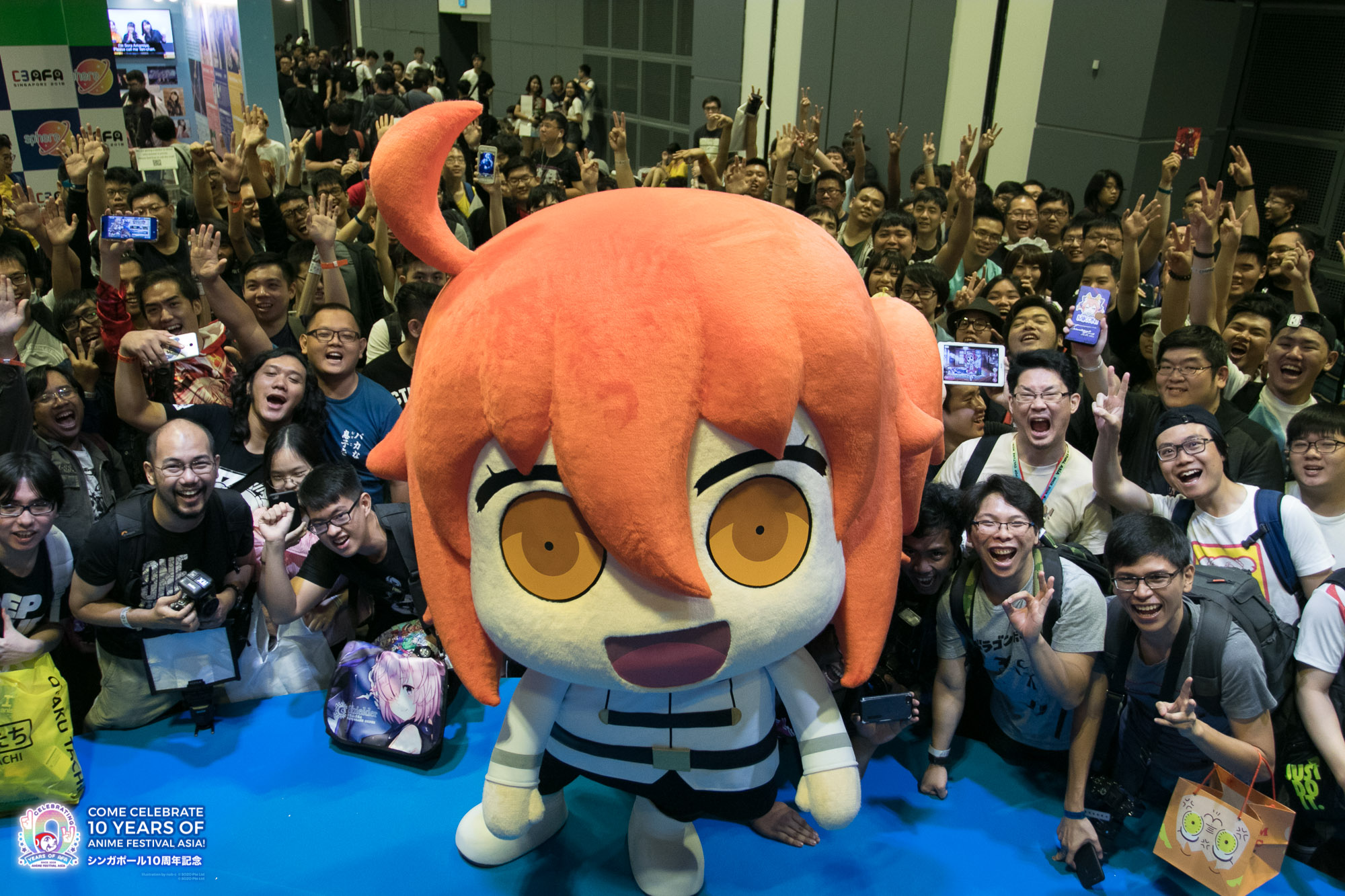 Singapore Tourism Board Award
C3 Anime Festival Asia Singapore 2018 (C3AFA Singapore) has won the Best Leisure Event award at the Singapore Tourism Awards 2019. C3AFA Singapore has bested other nominees which included Singapore Zoo's "Rainforest Lumina", Resorts World Sentosa's "Universal Studios Singapore – A Universal Christmas", Chinatown Food Street's "The 50 Cents Fest", and SPACElogics' "Marvel Studios: Ten Years of Heroes".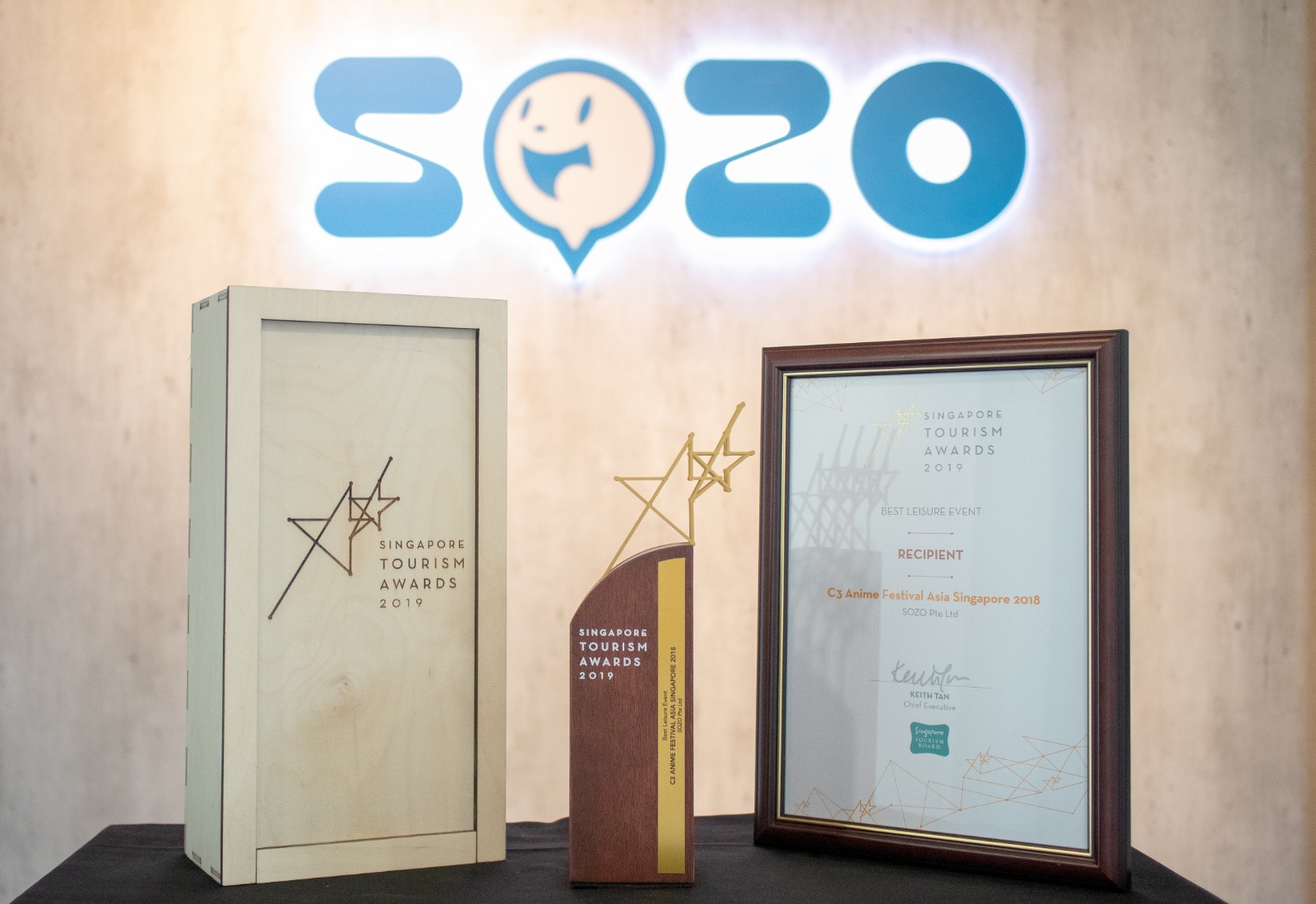 Highlights: 10th Anniversary Red Carpet

Highlights: New Venue ICE BSD
ANIME FESTIVAL ASIA - HISTORY

C3 AFA SINGAPORE 2018
Organiser: SOZO, SOTSU, ZEPP Live Inc., Horipro International, Amuse Entertainment Singapore
Date: 30 November, 1-2 December 2018
Venue: Suntec Singapore Convention & Exhibition Centre
Attendees: 105,000
Exhibitors: 211
Sponsors: 
C3 AFA SINGAPORE 2017
Organiser: SOZO, dentsu, ZEPP Live, SOTSU, Amuse Singapore, ASATSU-DK INC, avex asia
Date: 24, 25, 26 November 2017
Venue: Suntec Singapore Convention & Exhibition Centre
Attendees: 96,000
Exhibitors: 170
Sponsors: 8
AFA 2016
Organiser: SOZO, Dentsu Inc, Zepp Live, Amuse Entertainment Singapore
Date: 25, 26, 27 November 2016
Venue: Suntec Singapore Convention & Exhibition Centre
Attendees: 94,270
Exhibitors: 147
Sponsors: 9
Media Value: S$3,664,927
AFA 2015
Organiser: SOZO, Zepp Live Inc., Dentsu Inc
Date: 27, 28, 29 Nov 2015
Venue: Suntec Singapore
Attendees: 90,669
Exhibitors: 161
Sponsors: 17
B2B Event: –
Media Value: S$1,843,529
 AFA 2013
Organiser: SOZO, Zepp Live Ent., Dentsu Inc
Date: 8, 9, 10 Nov 2013
Venue: Suntec Singapore
Attendees: 85,000
Exhibitors: 144
Sponsors: 12
B2B Event: N/A
Media Value: S$3,000,000
AFA 2012
Organiser: SOZO, Dentsu Singapore
Date: 9, 12, 11 Nov 2012
Venue: Singapore Expo
Attendees: 83,000
Exhibitors: 93
Sponsors: 12
B2B Event: N/A
Media Value: S$2,750,000
AFAX (2010)
Organiser: SOZO, Dentsu Singapore
Date: 12, 13, 14 Nov 2010
Venue: Suntec Singapore
Attendees: 71,000
Exhibitors: 45
Sponsors: 4
B2B Event: Cool Japan Forum
Media Value: S$2,500,000
AFA 2009
Organiser: SOZO, Dentsu Singapore & I-Promo
Date: 21, 22 & 23 Nov 2009
Venue: Suntec Singapore
Attendees: 52,000
Exhibitors: 50
Sponsors: 3
B2B Event: Animation Asia Conference
Media Value: S$1,500,000
AFA 2008
Organiser: Dentsu Singapore & I-Promo
Date: 22 & 23 Nov 2008
Venue: Suntec Singapore
Attendees: 29,000
Exhibitors: 30
Sponsors: 2
B2B Event: Anime Industry Seminar
Media Value: S$1,000,000

C3 AFA Jakarta 2018
Organiser: SOZO, SOTSU, HORIPRO International
Date: 31 Aug, 1 Sep, 2 Sep 2018
Venue: Indonesia Convention Exhibition (ICE)
Attendees: 57,528
Exhibitors: 173
Sponsors: 
Media Value: TBC
C3 AFA Jakarta 2017
Organiser: SOZO, SOTSU, Zepp Live Ent, Dentsu Inc, Megindo, avex asia
Date: 18,19,20 Aug 2017
Venue: Jakarta International Expo
Attendees: 50,080
Exhibitors: 142
Sponsors: 5
Media Value: TBC
AFAID 2016
Organiser: SOZO, Zepp Live, PK Entertainment, Megindo Group
Date: 16,17,18 September 2016
Venue: Jakarta International Expo
Attendees: 61,953
Exhibitors: 116
Sponsors: 5
Media Value: Rp 952,900,000
AFAID 2014
Organiser: SOZO, Zepp Live Ent., Marygops Studio, Megindo
Date: 15, 16, 17 Aug 2014
Venue:Jakarta Convention Centre
Attendees: 55,000
Exhibitors: 123
Sponsors: 16
B2B Event: N/A
Media Value: S$1,500,000
AFAID 2013
Organiser: SOZO, Zepp Live Ent., Marygops Studio, Megindo
Date: 6, 7, 8 Sep 2013
Venue: Jakarta Convention Centre
Attendees: 53,000
Exhibitors: 80
Sponsors: 5
B2B Event: N/A
Media Value: S$2,000,000

AFAMY 2012
Organiser: SOZO
Date: 9, 10 Jun 2012
Venue: Putra World Trade Centre
Attendees: 40,000
Exhibitors: 32
Sponsors: 6
B2B Event: N/A
Media Value: S$1,500,000

C3 AFA Bangkok 2017
Organiser: SOZO, SOTSU, ASATSU-DK INC, Dentsu Inc
Date: 10 & 11 Jun 2017
Venue: Royal Paragon Hall, 5th Floor, Siam Paragon Shopping Center
Attendees: 30,000
Exhibitors: 51
Sponsors: 9
Media Value: THB18,655,562
AFATH 2016
Organiser: SOZO, avex asia, Dentsu Inc, Cos Com, DEX
Date: 19,20,21 August 2016
Venue: Royal Paragon Hall, 5th Floor, Siam Paragon Shopping Center
Visitors:55,000
Exhibitors: 77
Sponsors: 1
Media Value: 17,452,014 THB