Cosplayers
Schedule coming soon!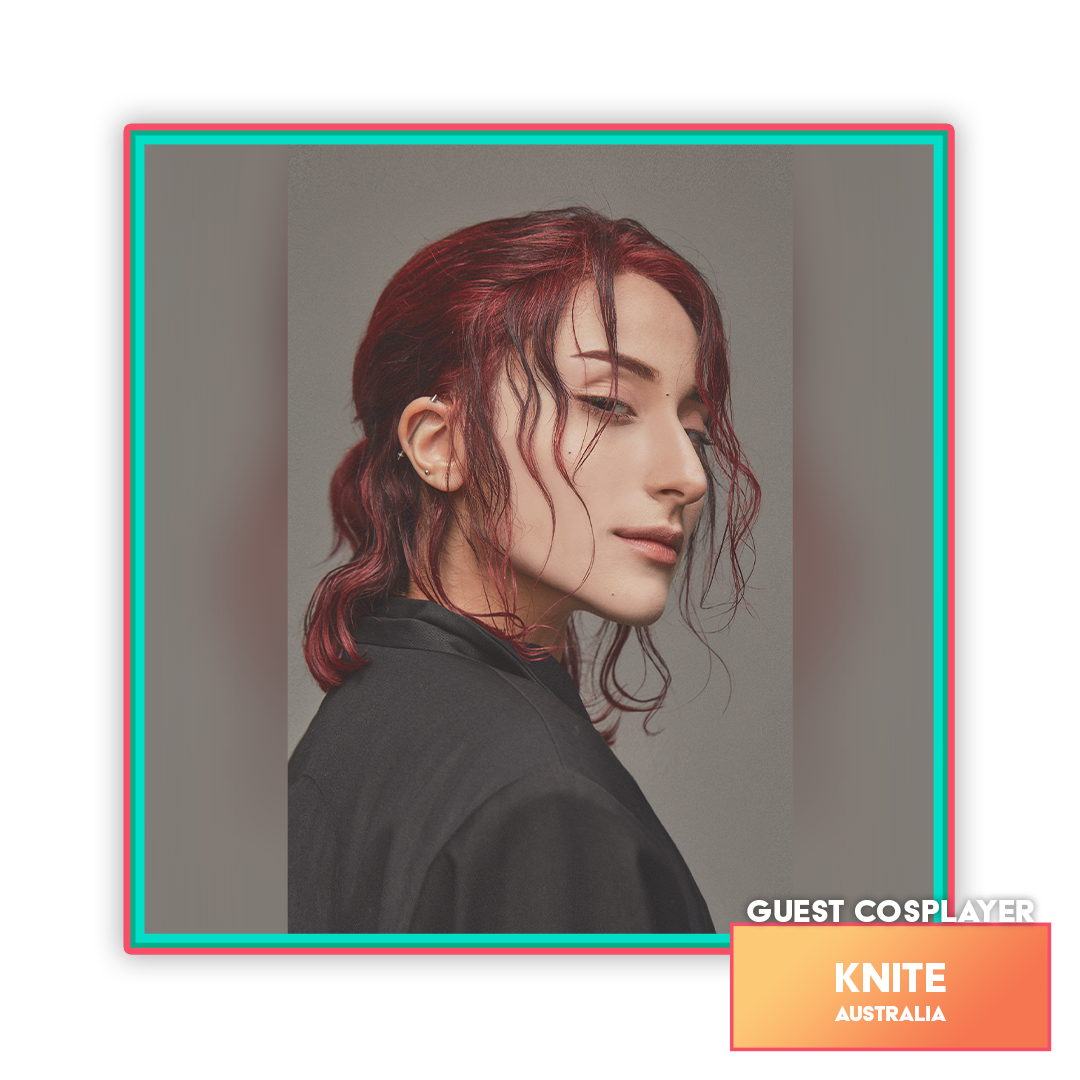 KNITE
from Australia
KNITE is a Professional Cosplayer, Model and Streamer from Greece, currently living in Australia. With 13 years of experience in the field of costume making, wig styling and make-up, they have had the opportunity to guest all over the world sharing their love and passion for their craft. Some of their notable work includes being the official character actor of Kaito Kid (Detective Conan) at Universal Studios Japan, Persona 5's Joker, Howl from Howl's Moving Castle and Kishibe Rohan from JOJO's Bizarre Adventure.
Visit KNITE's website here: https://www.andreknite.com/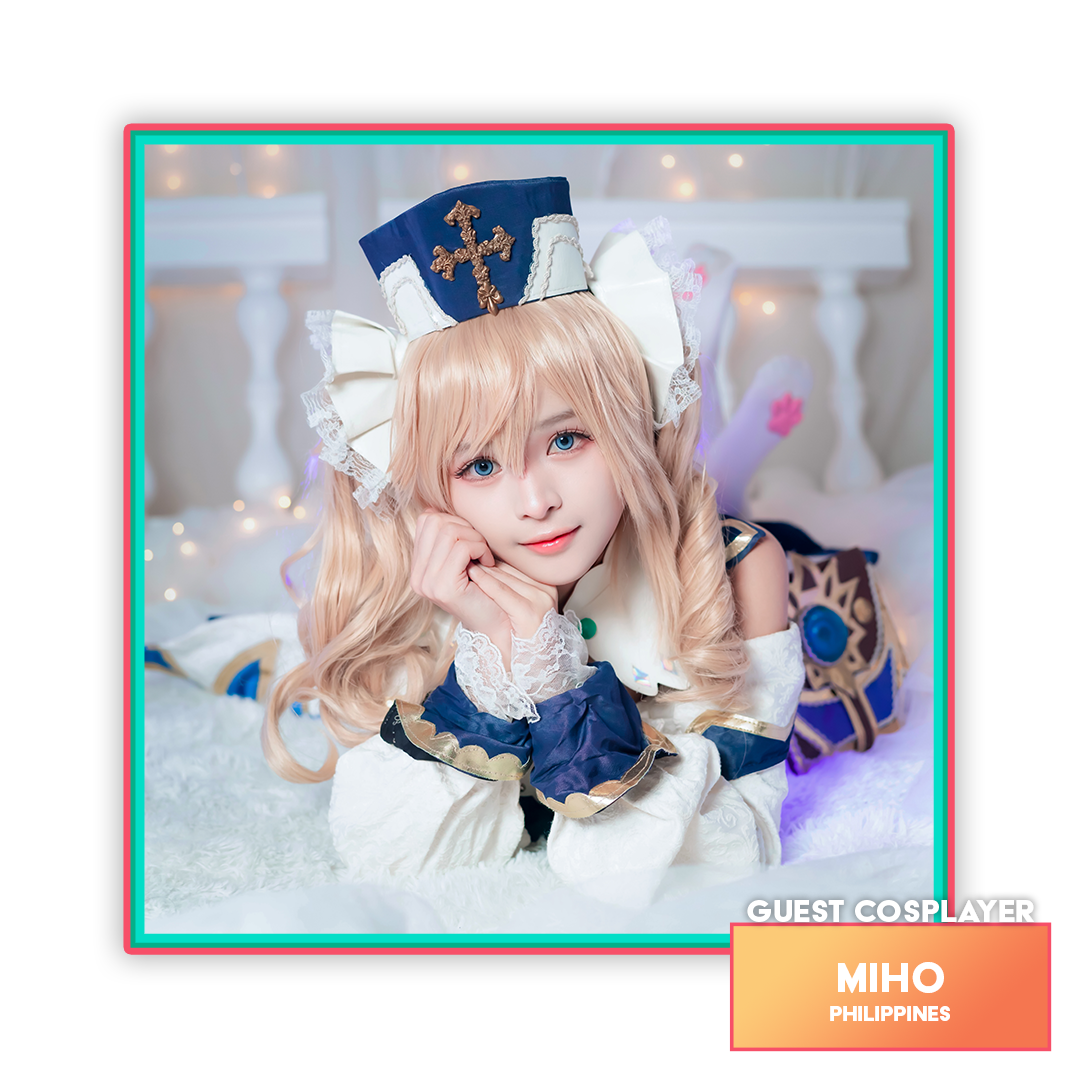 Miho
from Philippines
Miho — also known as Ming Miho — is one of the top cosplayers from the Philippines, who is also a content creator and an artist. She is known for her aesthetically cute cosplays, for winning various cosplay competitions, and for appearing as a guest at local and international events. She loves to sing, dance, and play games in her pastime.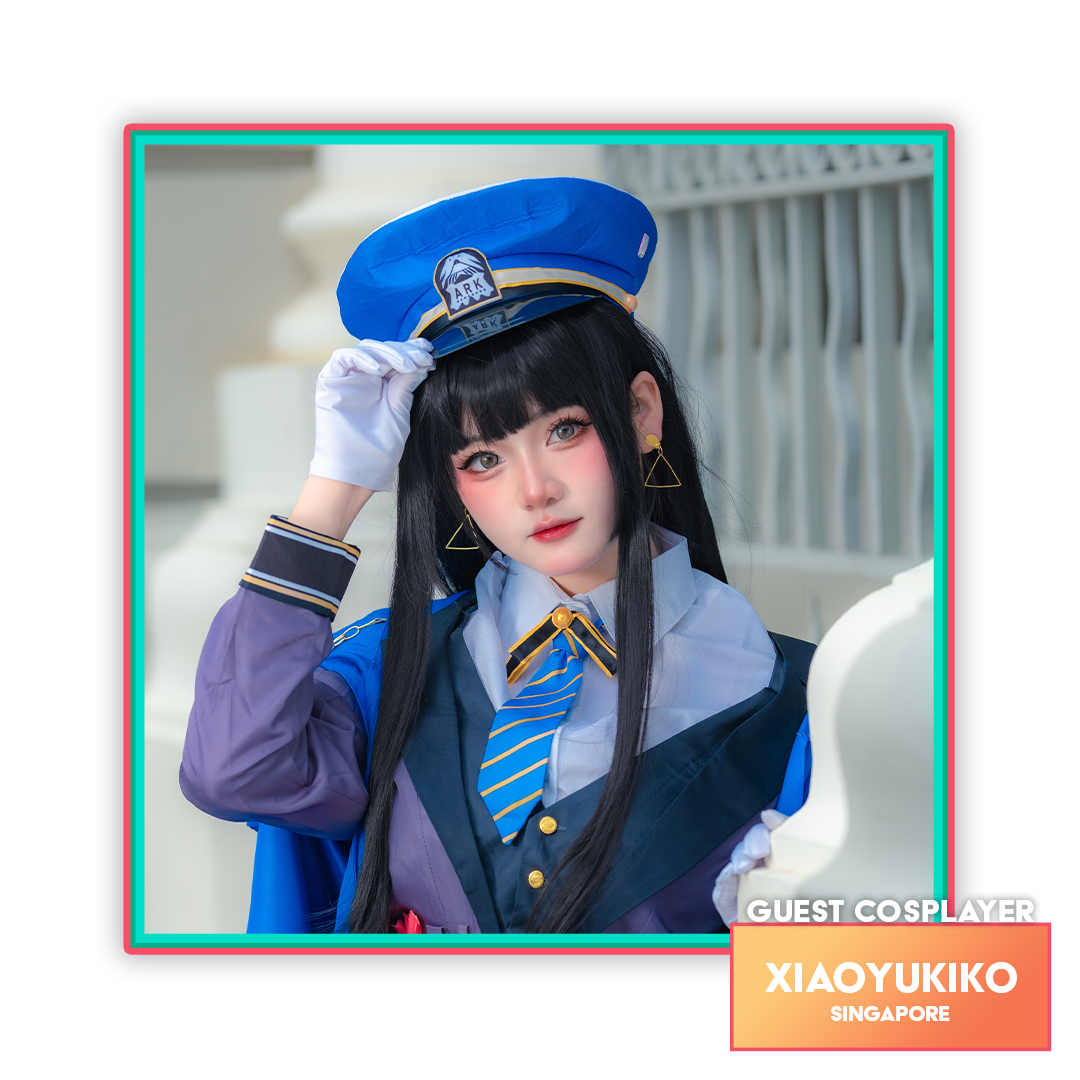 Xiaoyukiko
from Singapore
Based in Singapore, Xiaoyukiko — also known as Xiaoyu or Yukiko — only started cosplaying in 2017, but has already taken the internet by storm with her adorable cosplays. As of now, Yukiko has a massive following of over 1.4 million fans across the world on social media, making her one of the most influential cosplayers in Singapore and the SEA region. Xiaoyu has also worked with many popular ACG-related companies and is a frequent international guest cosplayer, having been a guest at many international conventions including Anime Festival Asia Singapore 2022.
Visit Xiaoyu's website here: https://xiaoyukiko.com/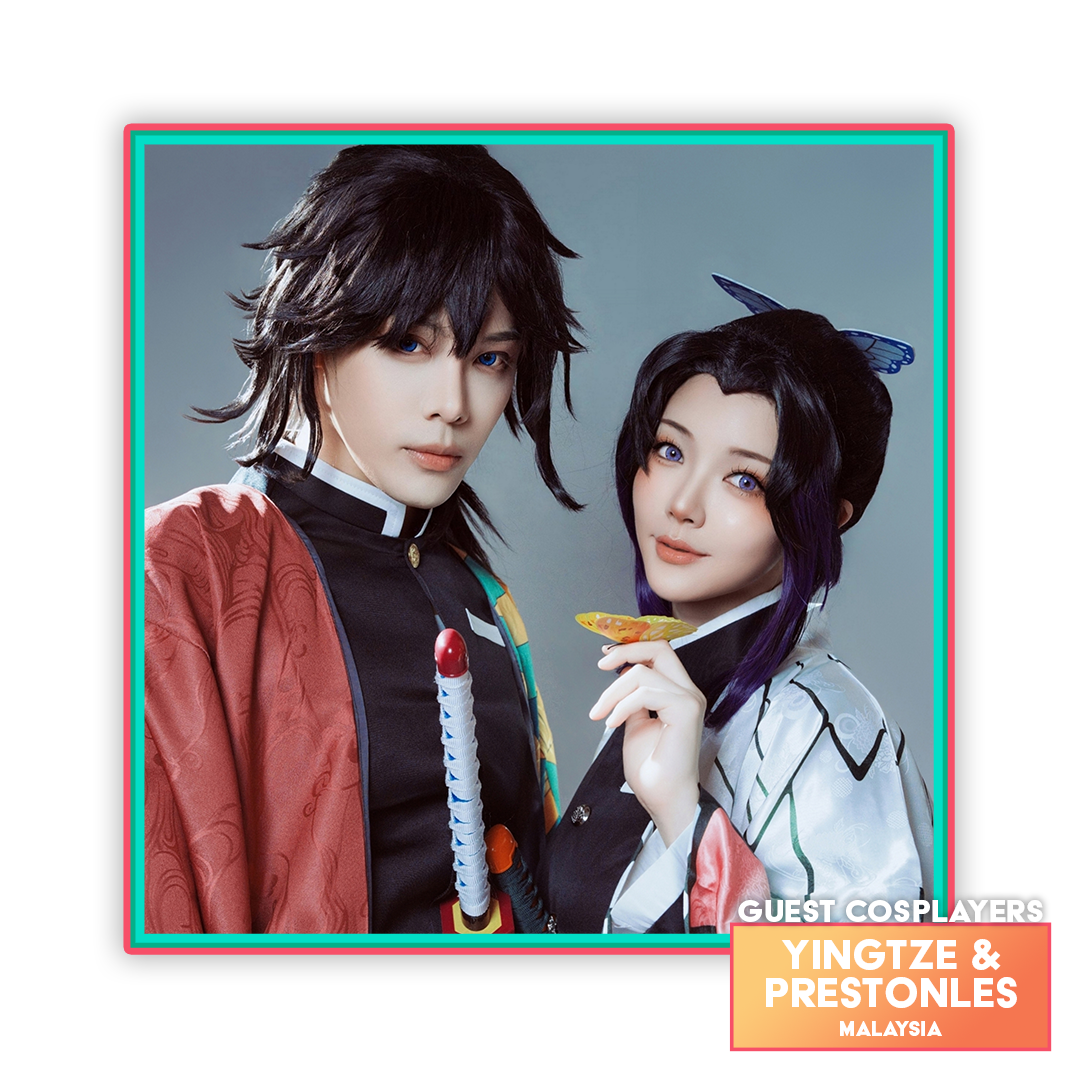 YingTze & Prestonles
from Malaysia
YingTze is a highly popular International Cosplayer who has been cosplaying since 2005. She is also a Gamer, Streamer and Brand Ambassador. Ying Tze is a frequent cosplayer guest at Anime Festival Asia events all over the region, with her most recent appearance being TOFF Anime Matsuri 2022 in Singapore.
Visit YingTze's website here: https://yingtze.com/
Prestonles 朴顿 is a multi-talented and highly regarded photographer, art director, digital content creator, and founder of Peoplegraphy Studio. With more than 10 years of experience, he has established himself as one of the most sought-after photographers in the business. Prestonles 朴顿 is also dedicated to sharing his knowledge and experience with others, and he teaches photography classes to aspiring photographers and students. In 2022, Prestonles embraced a new creative outlet and began cosplaying, showcasing his skills in costume design, makeup artistry, and performance. He quickly became one of the most sought-after cosplayers in the region, and his vibrant and dynamic performances have thrilled audiences around the world.
Visit Prestonles's website here: https://www.prestonles.com/
Illustrators
More to be announced!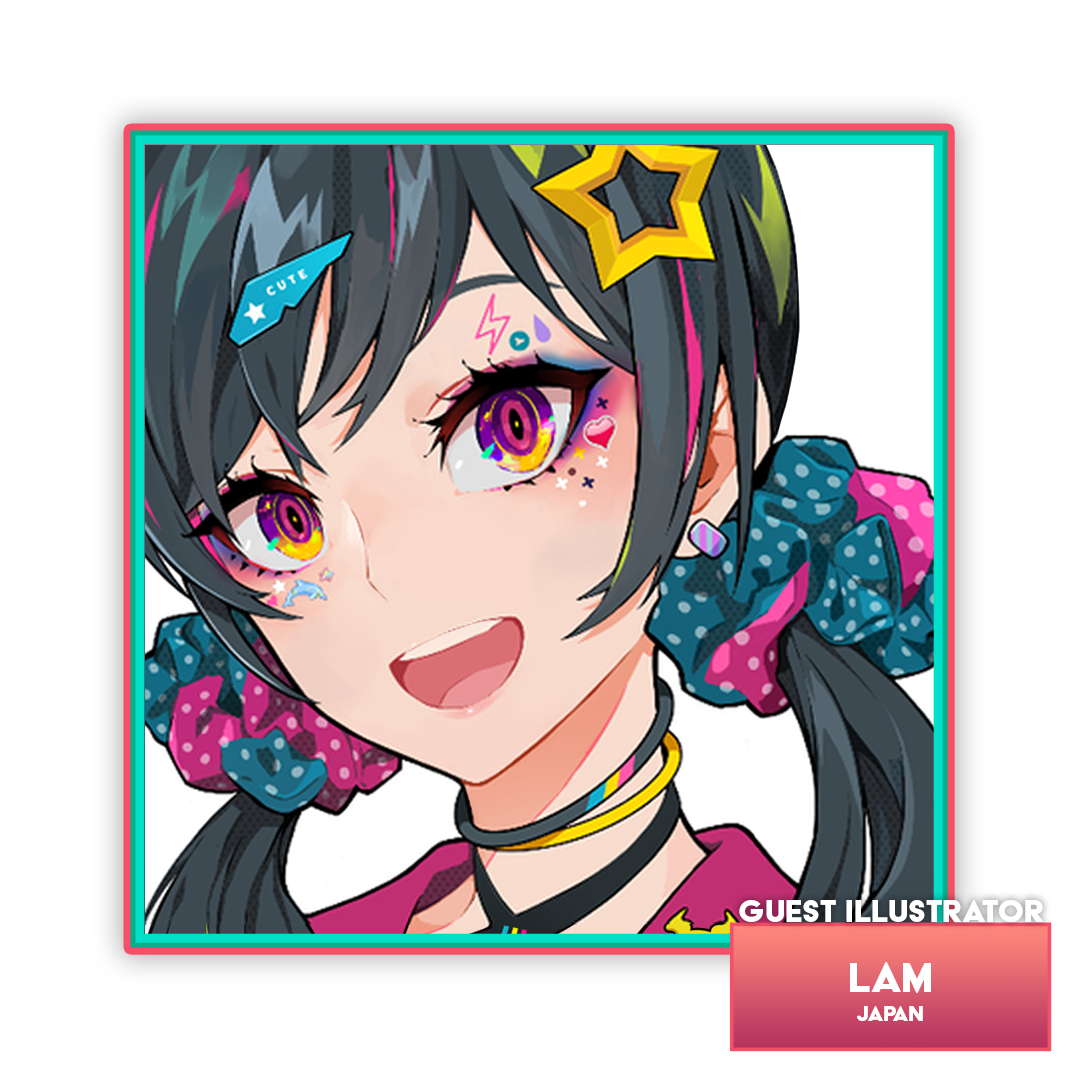 LAM
from Japan
LAM is an illustrator whose cool and catchy style has become immensely popular.
LAM works extensively on character design, visual works, and book illustrations.
LAM's representative works include the arcade rhythm game "WACCA", the TV animation and mobile game series "takt op.", and is the character designer of hololive Indonesia member Kureiji Ollie.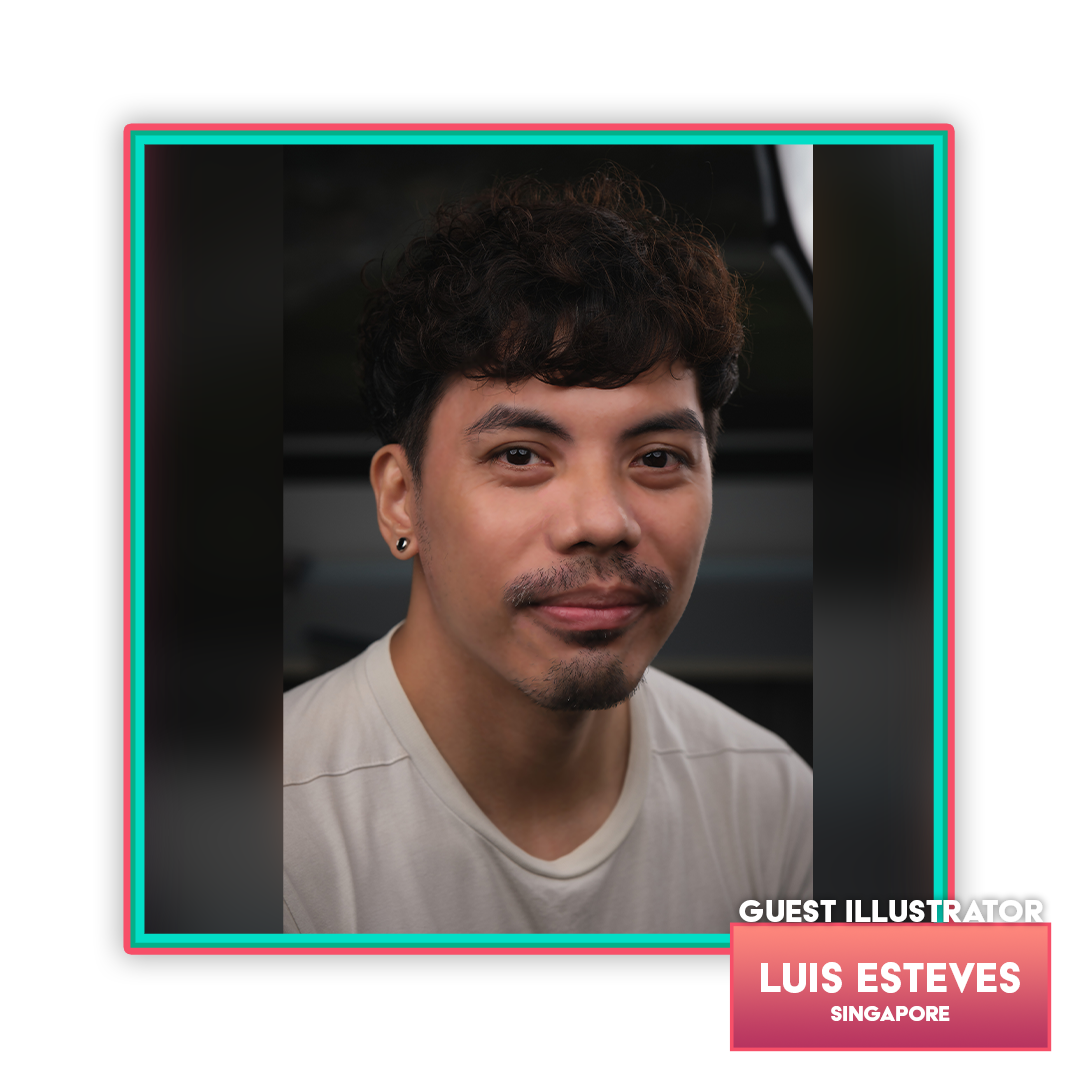 Performers
More to be announced!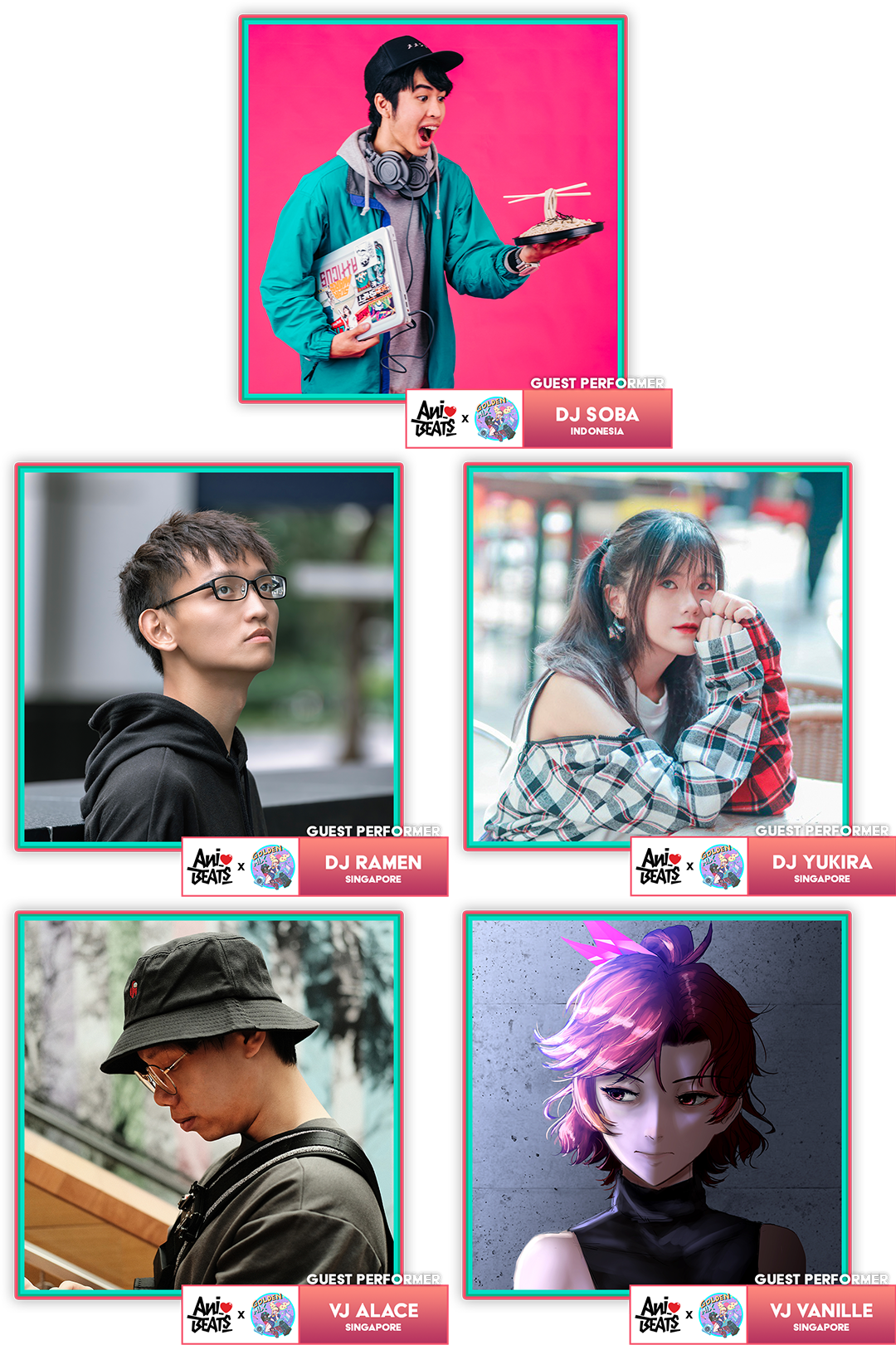 ANiBEATS x Golden Mix
ANiBEATS — the AFA after-party event that brings anisong fans closer to their favourite anime songs with prominent DJs from the region — makes its comeback in this special stage collaboration with Golden Mix! Golden Mix is an anime music party event, where people gather to rave to their favourite Anisongs and remixes, or simply to chill with friends while enjoying good music. In case you were wondering, yes they were that Donki song party event!
Featuring DJ Ramen, DJ Soba, DJ Yukira, VJ Alace & VJ Vanille, come jam out at the creator's kitchen as they cook up some delicious tunes!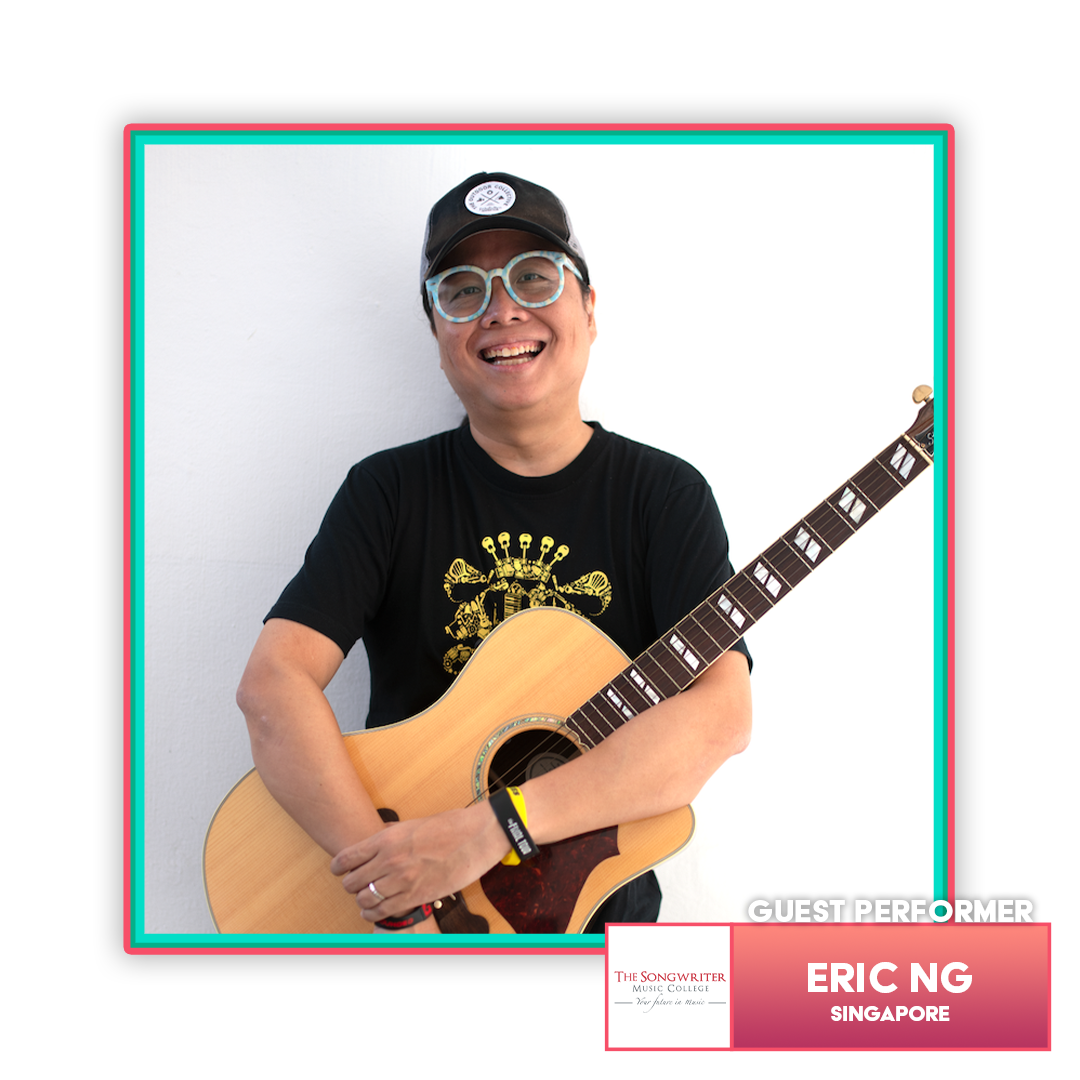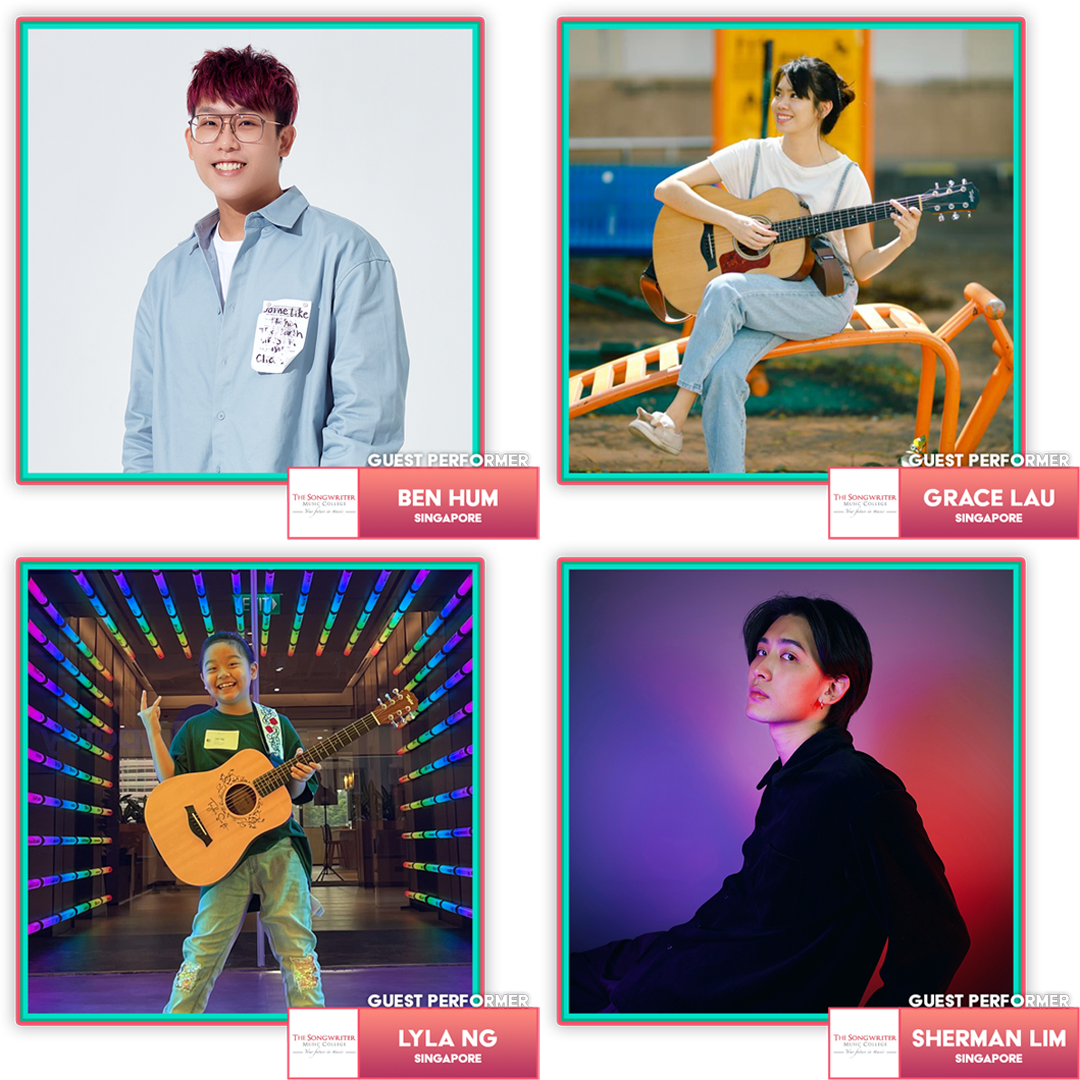 Eric Ng & Students
from Singapore
Eric Ng 黄韵仁 is a chart-topping staple within the Asian pop-scene, establishing himself as a highly acclaimed songwriter, producer and music arranger.
Having written a multitude of chart topping hits in the Asian Pop industry, Mr Eric Ng has worked with the likes of Sung Min (Super Junior), A-Mei 阿妹, Sandy Lam 林忆莲, Tanya Chua 蔡健雅, Hebe Tien, Fish Leong 梁静茹, Power Station 动力火车, Wakin Chau 周华健 and many others. In 2021 he produced the album "Deserve Better" 《 值得更好的》 for Jason Zhang 张杰, which became the second most streamed album for that year on NetEase(China). That led him to be invited to write and produce the theme song "Everlasting Light" 《 不熄的光》 performed by Jason Zhang 张杰 for the Naruto mobile game by Bandai Namco, Ten Cent Games and Sony Music.
Led by Eric Ng, students and graduates of The Songwriter Music College will be performing covers and original songs alongside him and his 10-year old musician daughter, Lyla Ng.
Performers consist of Ben Hum 范平庚, the first Singaporean to collaborate with Warner Bros. to sing on the Movie "DC League of Super-Pets"; Sherman Lim 林盛文, who wrote and sang the theme song for Golden Horse nominated local film "Geylang"《芽笼》 as well as Local Cosplayer, Busker and Content Creator Grace Lau.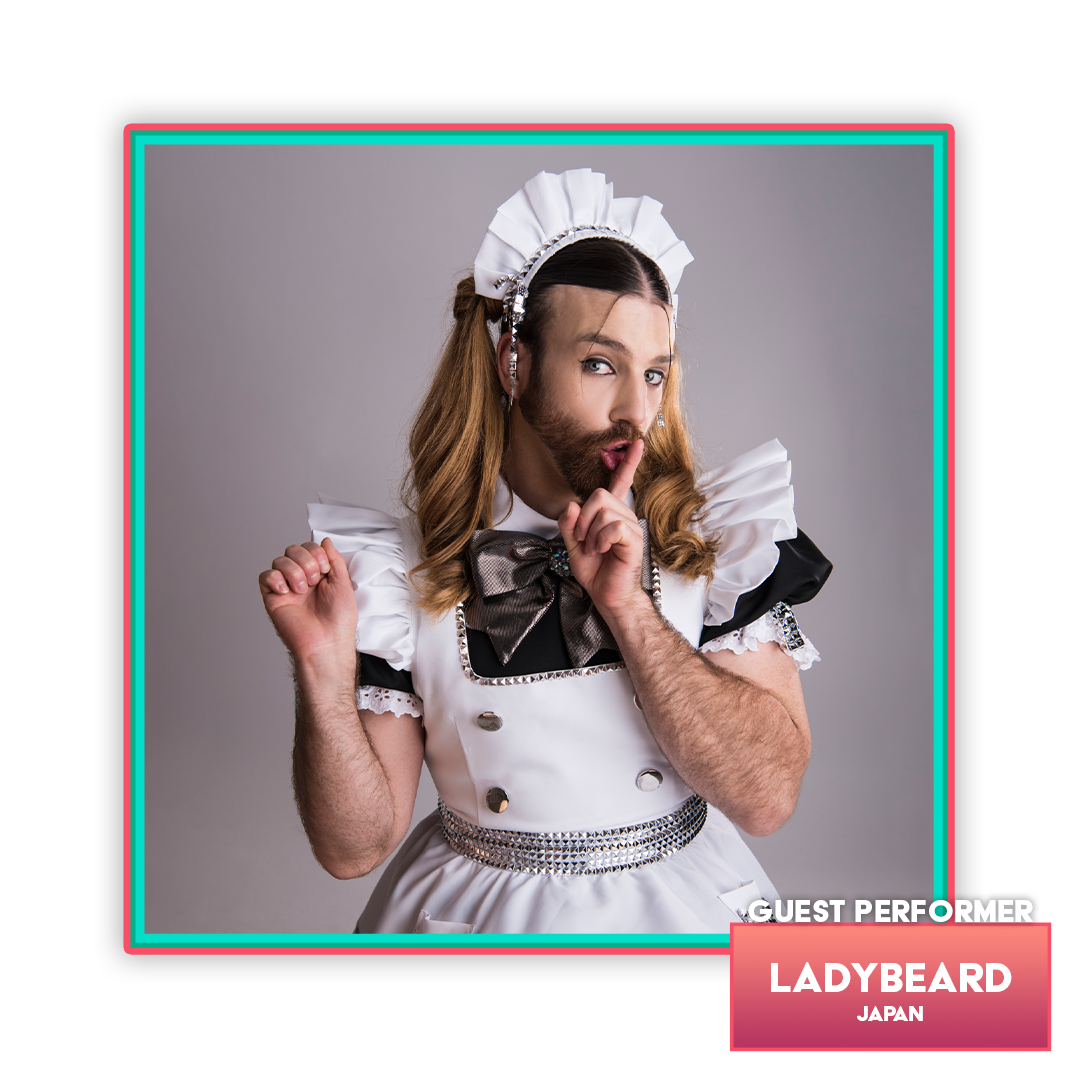 Ladybeard
from Australia
Ladybeard is the super cute force of Australian performance destruction who has taken Japan, and the world, by storm. Pro-wrestler, actor, voice actor, stuntman, heavy metal screamer, cutesey cute J-pop singer and speaker of 5 languages (English, Japanese, Mandarin Chinese, Cantonese, German), Ladybeard is an international idol and global sensation unlike any other.
Having trained in performance arts from a young age and being a consumate martial artist all through high school and University (Flinders University of South Australia Drama Centre), Ladybeard lived in Hong Kong from 2006 to 2012, working as an actor, voice actor and stuntman. His voice acting reel features the English voices of many characters from beloved Japanese and Chinese anime series, including roles in "Ge-ge-ge no Kitaro", "Chibi Maruko", "Pleasant Goat and Big Big Wolf" plus many more. Ladybeard also performed in the feature films "Flashpoint", "Deep Gold"(in the Philippines) and "The Fortune Buddies" amongst others.
Ladybeard moved his base of operations to Tokyo late in 2013, from where his global performance activities are currently based. With a striking image that is hard to forget, Ladybeard`s performances are super high energy and super high impact. He is often referred to as "One who gives others energy" and "strange but also cute". Ladybeard has not only performed in his own shows, but has also been hired by various companies and institutions to advertise and PR their products. He has even been given promotional roles in the public sector, being featured in city council events, vocational school promotional campaigns and Japan tourism videos.
From 2015 to 2016 Ladybeard was the frontman of the globally popular idol group LADYBABY, whose debut single "Nippon Manju" was viewed over 35 million times. After leaving that group in 2016, Ladybeard began the world`s physically strongest idol group, DEADLIFT LOLITA, teaming up with bodbybuilding idol/pro-wrestler Reika Saiki in March 2017. Ladybeard is also a force to be reckoned with in China, where his fans number in the millions and where he makes frequent appearances.
In 2021 Ladybeard has formed a new J-pop-metal idol group BABYBEARD with Japanese idols KOTOMI and SUZU, a return to the group formation that produced Nippon Manju, and is determined to give the world a reason to smile again after the events of 2020.
Ladybeard. Sing… Dance…DESTROY!!
Visit Ladybeard's website here: https://www.ladybeard.com/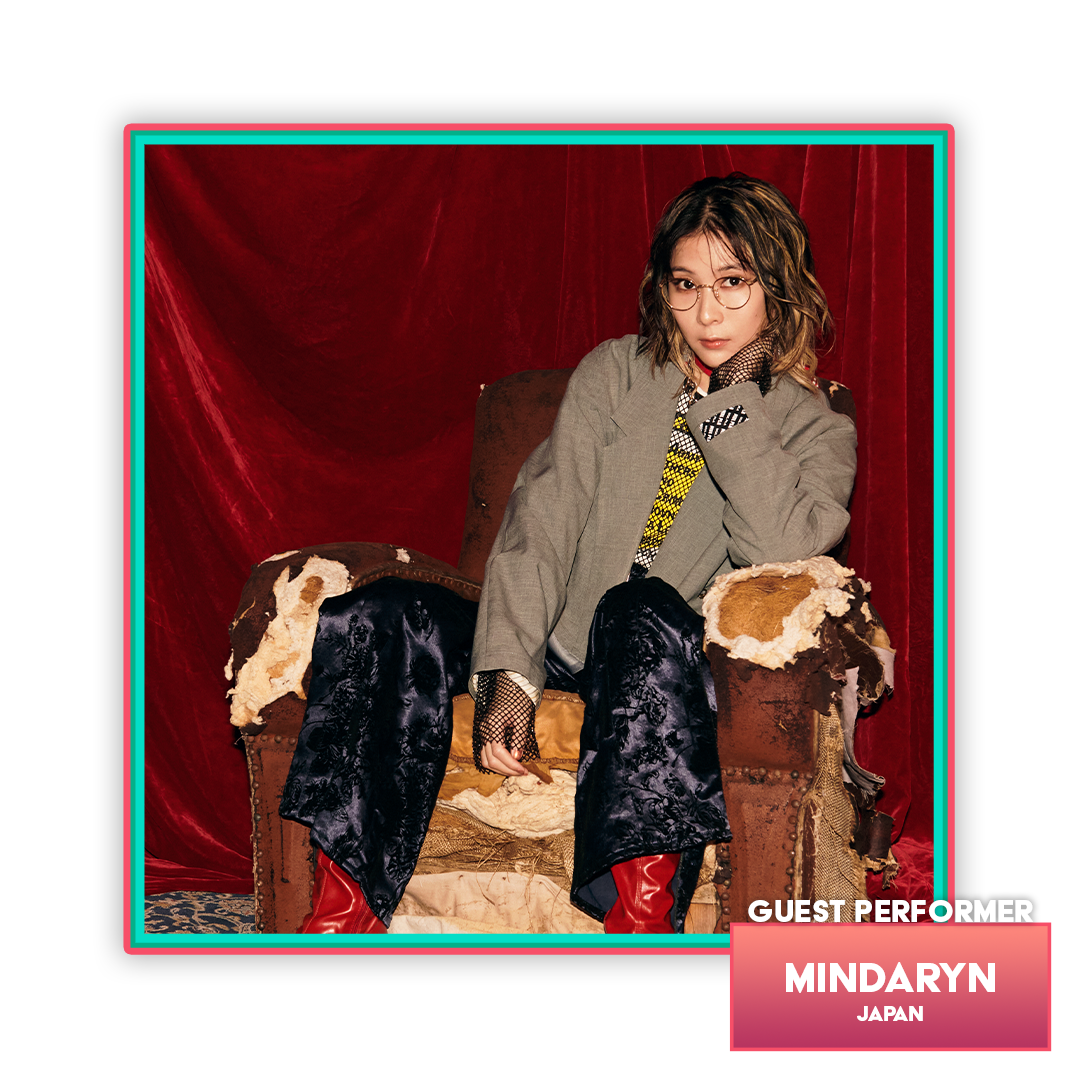 MindaRyn
from Thailand
From childhood, MindaRyn was exposed to Japanese anime through her father's influence, and since she also loved to sing, she gradually learned anime theme songs and started singing them.
As a university student, she started her career as a YouTuber focusing on anime song cover videos. Currently, she has over 1 million registered users and her videos have been viewed approximately 100 million times. She is fluent in Thai, English, and Japanese, and her high language skills have earned her support not only in Thailand, but also in Japan, Indonesia, Taiwan, the United States, and other countries around the world.
In November 2020, she made her debut as an artist from Lantis with "BLUE ROSE knows," the ending theme song for the TV anime "By the Grace of the Gods". Since then, she has sung theme songs for many popular anime such as "That Time I Got Reincarnated as a Slime" and "Arifureta: From Commonplace to World's Strongest". She is an Anisong singer gaining more and more popularity.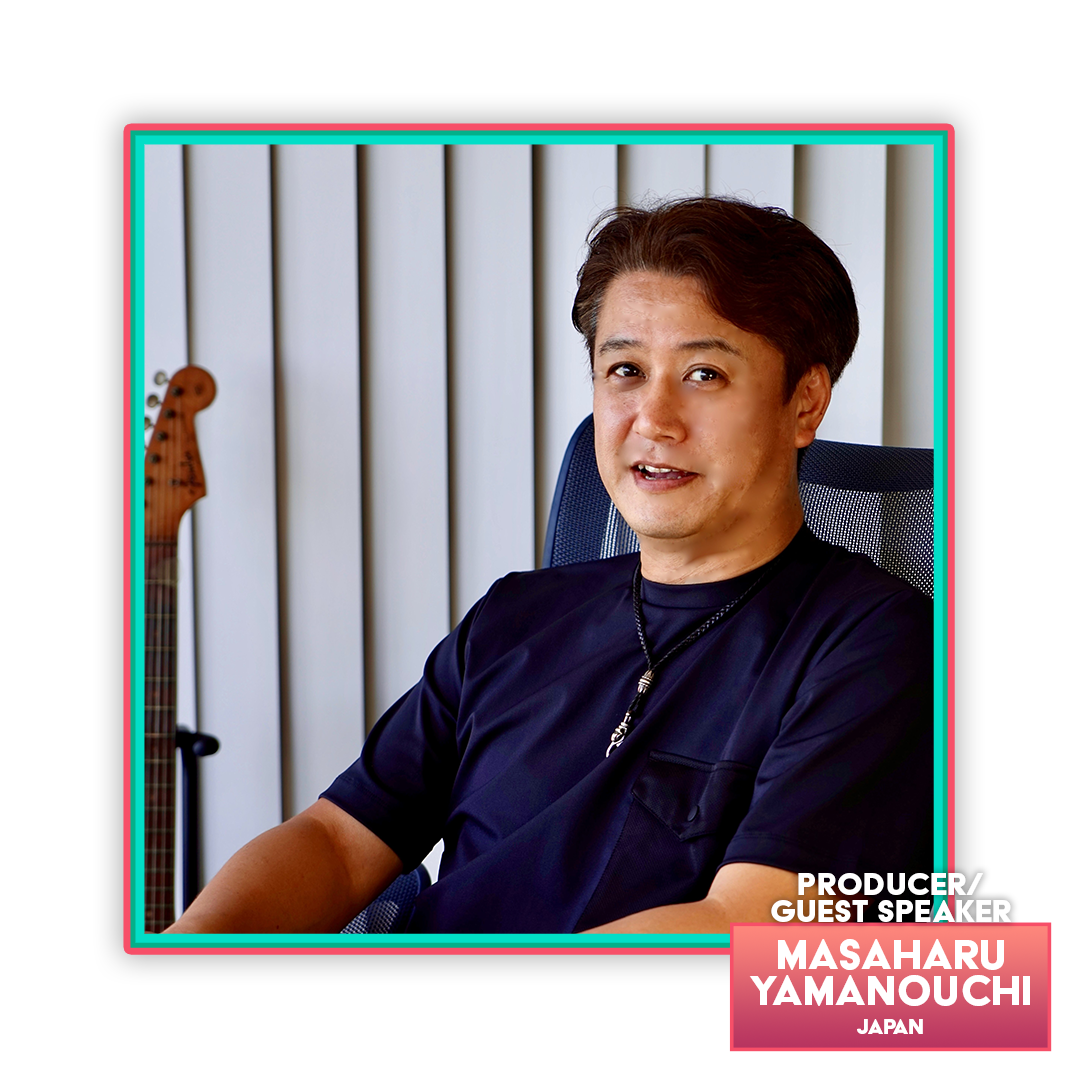 Masaharu Yamanouchi
from Japan
Masaharu Yamanouchi joined Sony Music Entertainment Inc. in 1993. After working in advertising at Sony Records, he transitioned to music production and A&R at Sony Music Associated Records and SME Records. He is currently the Chief Producer of the Planning and Production Group SS Team at Aniplex.
Yamanouchi has produced major artists including LiSA, Kalafina, Kana Hanazawa, Souma Saito, HIGH and MIGHTY COLOR, SIAM SHADE, I WiSH, among others.
He has also produced major animation works such as theme songs, character songs, and play accompaniments for Mobile Suit Gundam SEED Destiny, BLEACH, Code Geass: Lelouch of the Rebellion, the Garden of Sinners, Monogatari Series, Fate series, Sword Art Online series, OREIMO, anohana The Flower We Saw That Day, March comes in like a lion, Saekano -How to Raise a Boring Girlfriend-, DARLING in the FRANXX, Cells at Work!, Rascal Does Not Dream series, Kaguya-sama: Love Is War, The Promised Neverland, Vivy -Fluorite Eye's Song-, Ranking of Kings, and more.
Additionally, Yamanouchi has produced major game titles such as Fate/Grand Order, Magia Record, Kirara Fantasia, <Monogatari> Series Puc Puc, among others.
Yamanouchi has been an invited lecturer at Waseda University and has also given lectures at Yokohama National University, Rikkyo University, Kansai University, Kyoto Seika University, Meiji University, Japan Educational Foundation, Nihon Kogakuin, Sonic Academy, and other institutions.
He has also appeared on Nippon Television's "Utasta!", TV Asahi's "Kanjam", and Animax's "Animation Song Grand Prix". Yamanouchi has been interviewed by Nikkei Entertainment, Lis-Ani!, Nikkei Shimbun, Asahi Shimbun, Oricon, and other media outlets in the past.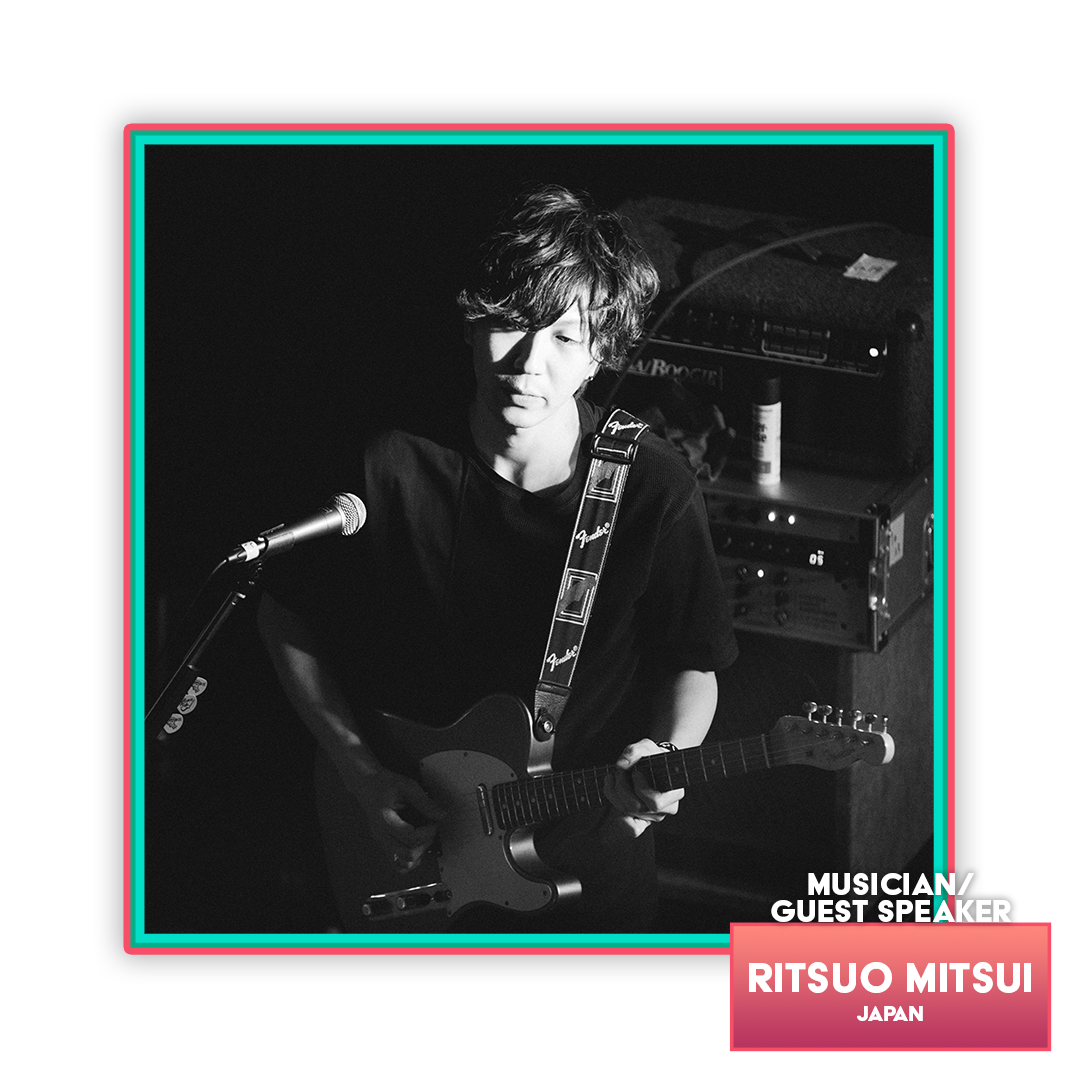 Ritsuo Mitsui
from Japan
Mitsui is a guitarist and music arranger who made his major debut in 2002 as a member of the rock band THE YOUTH, and in 2007, he joined LOST IN TIME and started recording for various artistes.
Concurrently he is also active as part of the band, la la larks. In 2022, he arranged and played guitar for most of the songs by Kessoku Band from the anime "BOCCHI THE ROCK!"
He has supported live performances and recordings by Aimer, Kazuyoshi Nakamura, Keina Suda, and many others.
VTubers
Guest list coming soon!
About Anime Festival Asia (AFA)