JAPAN MUSIC FESTIVAL
24
to

26 NOV
6PM
doors open

· 7PM

concert starts

SUNTEC SINGAPORE CONVENTION & EXHIBITON CENTRE, HALL 406
FLOW
•

Artiste •
Vocal: KOHSHI · Vocal: KEIGO · Guitar: TAKE · Bass: GOT'S · Drum: IWASAKI
FLOW is the 5 piece mixture rock band with twin vocals, guitar, bass and drums. Originally formed in 1993 by TAKE and his older brother/vocalist KOHSHI, the band was named FLOW in 1998 and evolved into its current line-up in 2000, after bassist GOT'S, another vocalist KEIGO and drummer IWASAKI joined the group.
FLOW released an indie debut album in 2001, and the 5-piece band's fast ascent to the top of the mainstream J-Pop scene has been virtually unstoppable since then. In 2003, they released their last indie single "Okuru Kotoba", a punk rock cover of a well-known 70s Japanese tune, and sold 270,000 units. That same year, they signed with Ki/oon Records and followed up the single's success with their first major-label album release SPLASH!!!, which reached number two on the Oricon chart.
By the spring of 2004, FLOW had become a household name with 7 of their records picked up to be theme songs for commercials and TV shows. Then, in April 2004, "GO!!!" was chosen as the opening song for the popular anime series Naruto. The song became an instant hit and the first of over 20 anime theme songs that FLOW would create, including Beelzebub, Code Geass, Dragon Ball Z: Battle of Gods, Durarara!!x2 Ketsu, Eureka SeveN, Heroman, Naruto: Shippuuden, Persona Trinity Soul, Samurai Flamenco, and Tales of Zestiria the X.
FLOW ANIME BEST was released in April 2011 in Japan and in May 2011 in the U.S. Their second anime best album, FLOW ANIME BEST -KIWAMI- was released in 2015, followed by their first-ever world tour which included Japan and seven other countries.
In July 2017, FLOW began their 15th anniversary year with the release of a new mini-album Fighting Dreamers. This 15th anniversary commemorative album features 11 anime voice actors taking part in the lead song's chorus, and each of the 5 band members writing a new song, coming together to create an album representing FLOW's new era.
FLOW recently finished the first round of their celebration tour in Fukuoka on August 6th, 2017.
Following their nationwide 6-city tour, FLOW has announced a special, one-night-only concert on December 21st titled "FLOW THE CARNIVAL 2017 ~Anime-only~", which will include 21 songs from anime-related works.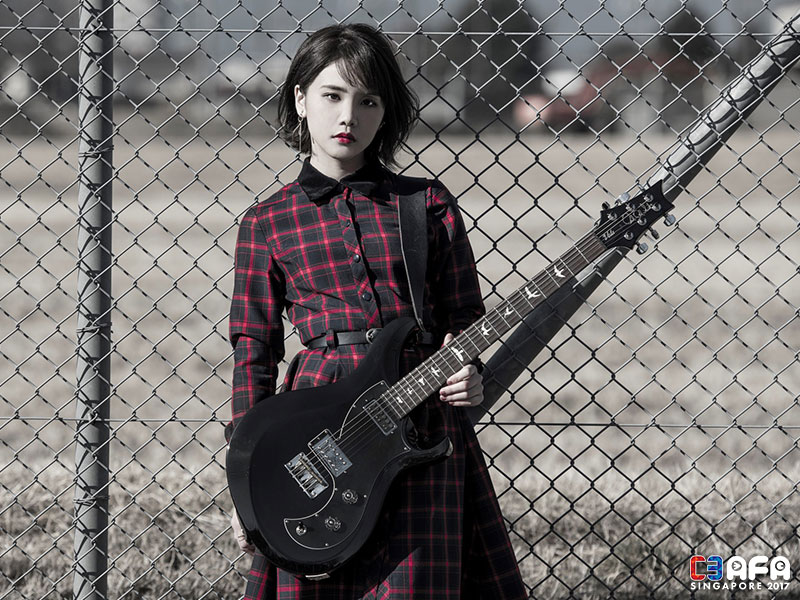 Shiena Nishizawa
•

Artiste •
Birthdate: February 23, 1997.
Height: 4 ft. 8 in. (148cm)
Blood Type: B
Astrological Sign: Pisces
From: Saitama, Japan
Favorite Foods: onigiri (rice balls), curry, honey.
Hobbies: strolling around the city, video games (especially Dragon Quest games).
Talents: composing songs on the spot, balancing small objects on her hand.
Guitar: Fender/Telecaster, Paul Read Smith/S2 Vela
Shiena fell in love with music in middle school, when she laid hands on her father's old guitar.
That interest expanded from not just guitar, but also into singing/songwriting. Before she knew it, she began dreaming of singing on a large stage.
In 2014, she won the grand prize at the Flying Dog Audition (a popular singing contest).
In 2015, her debut song, "Fubuki", was the ending theme for the television anime "Fleet Girls Collection (KanColle)", and was released as a single that same year. She was 17 at the time.
Her second single included the songs "Brand-new World", which was the theme song for the television anime "The Asterisk War", and "Piacere", which was the theme song for the anime "ARIA The AVVENIRE".
Her third single, "The Asterisk War", was the theme song for the television anime's second season, and her fourth single, "Kikan", which was the theme song for "KanColle:The Movie", was a smash hit. Her videos have received over 13 million hits on YouTube.
On March 15th, 2017, Shiena released her first full-length album, entitled "Break Your Fate".
This album features a rock sound that showcases Shiena's evolving talents, and shows that she is leading Japan's next generation of talented artists.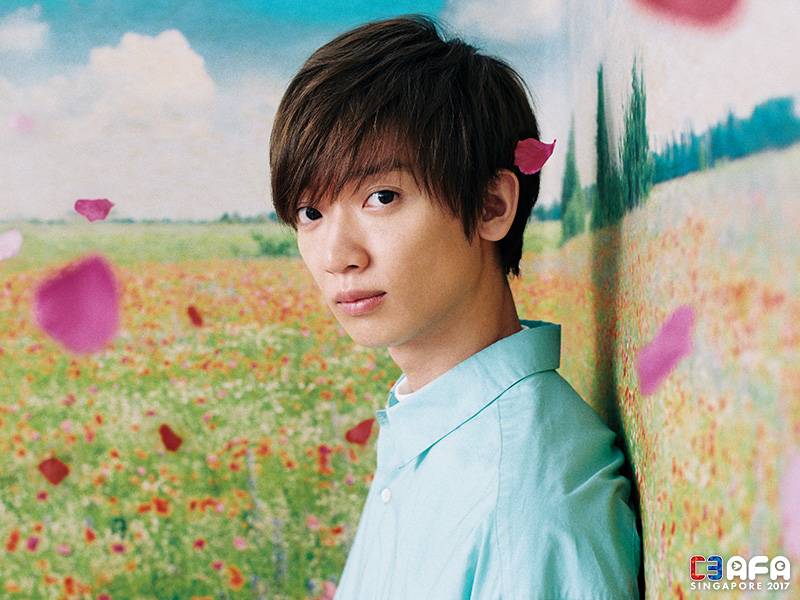 Tomohisa Sako
•

Artiste •
Tomohisa was born on December 26th, 1991, in Hokkaido, Japan.
In 2010, he started performing music online, as "少年T" (Shounen T), as it was snowing heavily and he couldn't perform on the streets. His music received positive response, and soon he was called "the God with the healing voice."
All the videos he participated in, exceeded a total number of 13.5 million views!
He has 250 thousand people registered to his official LINE account, and the same number of twitter followers.
In 2012, he made a major debut with his first single, "愛言葉" (Ai Kotoba). 3 of his single releases came in the TOP10 Oricon Daily Charts. He is also active as an actor in the stage, "タンブリングvol.4" (Tumbling vol.4), and "虹色オーケストラ" (Nijiiro orchestra).
In 2015, "ゲッタバンバン" (Gettabanban) was chosen as the opening theme song of the television anime, Pocket Monster XY. He was also the comprehensive producer of Pocket Monster XY&Z. The latest single, "フローリア" is the opening theme song of TV anime, Natsume's Book of Friends. Not only does he produce his own music, but also produces songs for various other artists too. He is active as a singer song writer, with various talents.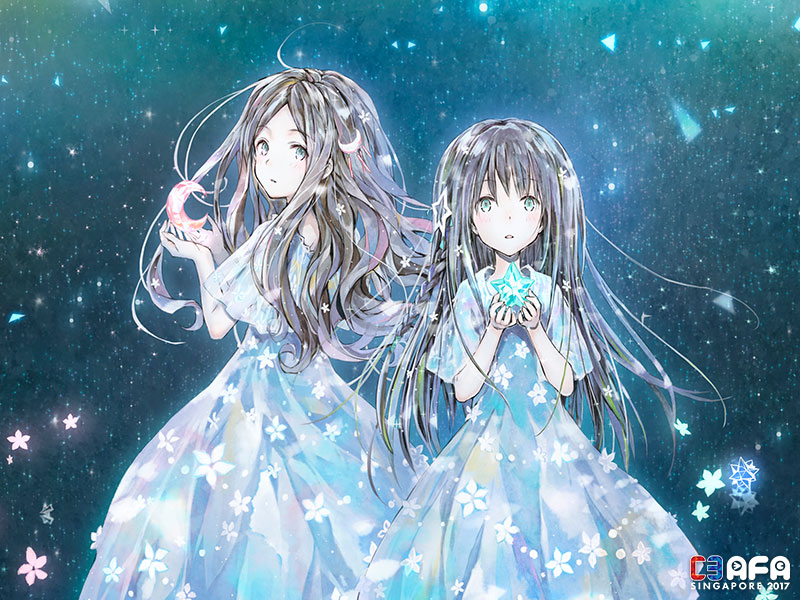 ClariS
•

Artiste •
ClariS is a girl duo of Clara and Karen.
ClariS was first featured in 2010 when the duo consisted of Clara and then-member Alice, in an issue of anime music magazine LisAni! in a special coverage and on its attached CD. The coverage caught the eye of the producer of TV anime Oreimo (Ore no Imōto ga Konna ni Kawaii Wake ga Nai), who went on to handpick the rookie to take on its opening theme. On October 20, 2010, they changed their unit name to ClariS and made their major debut with single "irony", the opening theme of the anime. The song debuted at #7 on the Oricon chart.
After their meteoric debut, they continue to release singles, with several tie-ins to TV anime such as Puella Magi Madoka Magica, Nisemonogatari, Moyashimon Returns, Oreimo (Season 2), each contributing to build a solid fan base mainly among anime fans.
Their much-anticipated first album BIRTHDAY, became a smash hit selling over 100,000 copies, debuting at #2 on the Oricon chart, and still enjoying long-term sales success. The duo's sophomore album SECOND STORY, which also scored a smash hit.
On January 5, 2014, ClariS performed their first special event entitled "2014 New Year's Festival: Hajimari no Yokan…" at Zepp Tokyo. This was the first time when Alice and Clara, who had never shown their faces or real-life images, appeared in the form of silhouettes at the end of the event, and catapulted into the talk of the town.
The following two singles, namely the 9th "CLICK" and the 10th "STEP" were used as the first and second opening themes of TV anime series Nisekoi, respectively. These three singles were included in the duo's 3rd album PARTY TIME, which was released on June 4, 2014 and debuted at #3 on the Oricon chart. Alice's departure was announced along with the release.
On November 8, 2014, it was announced in Vol. 19 of LisAni! magazine that ClariS would make a new step forward with new member Karen. The renewed ClariS released their first single "border" on January 7, 2015. The song had been used as the closing theme of TV anime Tsukimonogatari aired on December 31, 2014.
In April 2016, ClariS released their first concept mini album SPRING TRACKS – Haru no Uta – themed on the season. In support of the mini album, the girls embarked on their first Tokyo/Nagoya/Osaka circuit to a huge success.
On January 25, 2017, ClariS released their first album with Karen entitled Fairy Castle was released and scored a hit. The following month they performed their first Budokan show and made it a huge success. Furthermore, their latest single "Hitorigoto" (opening theme of TV anime series Eromanga Sensei), release on April 26, achieved the top 10 position on Oricon's weekly chart.
On July 12, ClariS' released their first visual product entitled ClariS 1st Budokan Concert ~Futatsu no Kamen to Ushinawareta Taiyo~.
ClariS' upcoming release is their 18th single entitled "SHIORI", scheduled to hit stores on September 13. On September 16, they will perform a concert entitled "ClariS 2nd HALL CONCERT in Pacifico Yokohama National Convention Hall ~Sayonara no Saki e… Hajimari no Melody".
ClariS' string of success is unstoppable!
The unit name ClariS refers to a Latin word meaning "bright", "clean", "glorious", etc.
Konomi Suzuki
•

Artiste •
Konomi Suzuki was born in 1996, and she is now 19 years old.
She received first prize of all Japan anime song grand-prix, and made a debut with the song "CHOIR JAIL" (lyrics produced by Aki Hata), when she was 15 years old.
She made four consecutive appearances at the biggest anime-song festival in Japan, 'Animelo Summer Live'.
She also sang various TV animation main theme songs, and sang "This game", opening theme song of TV anime No-Game, No-Life, and "Redo", opening theme song of TV anime Re:Zero. She will be releasing 3 more songs in 2017. She has also received 2nd prize at the first week of Billboard Japan Hot Animation. She is currently carrying out a solo-live tour.
Moso Calibration
•

Opening Act •
Members: Mahiru Kurumizawa, Usa Sakurano, Nia Hoshino, Iori Amamiya, Yumeko Mizuki
Moso Calibration (sometimes abbreviated as Mo-Cali) is an idol unit from Akihabara Dear Stage, where groups such as Dempagumi.inc hail from. After making their major debut from Sony Music Records in June 2016,
Mo-Cali has released four singles including "Geki-Yaba ∞ Bokkaan!!", the closing theme of TV anime Time Bokan 24!
Starting April this year, they will take on the closing theme of TV anime Saekano: How To Raise A Boring Girlfriend which will be a part of Fuji TV's Noitamina series. The tie-in tune and 5th single "Sakura-iro Diary" will be released June 14!
Last year, they performed successful single-bill shows at Zepp Tokyo and Shin-Kiba Studio Coast,
followed by their first overseas single-bill show in Hong Kong in February this year.
They are going way beyond the borders of idols or anisongs, expanding their scope of activities home and abroad. Eyes are on this group's moves!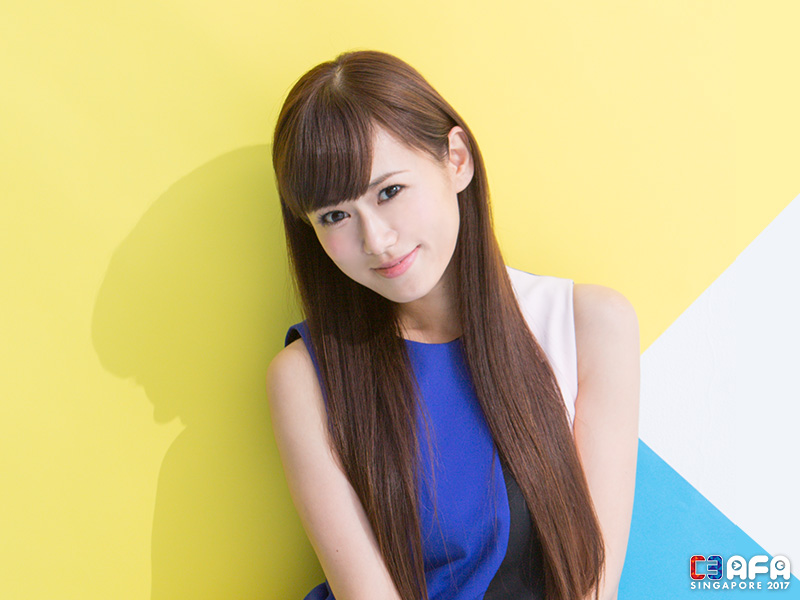 TRUE
•

Artiste •
She is an Anisong writer, composer, and radio personality, active in various parts of entertainment.
She started her singing career with a single produced by Satoshi Shimano.
In March 2001, her third single "Way to Love" was chosen as a drama theme song and was a smash hit selling 300 thousand copies.
In 2011, she focused on being a lyricist. The song「Beat Generation」performed by Fairies, which she wrote, won the 'Excellence Award' in the 45th Yu-sen Taisho.
In 2014, she restarted her career as an artiste, TRUE.
She has sung various Anime theme songs, including the opening theme song of Buddy Complex. From strong and intense music to grand ballads, she has a good command of the various singing styles..
In 2015, she started her very first program, '~TRUE no Omotenashi Radio~ Tsurumatsuyae Yokoso', where she talks about Anime as an Anime fan herself.
In 2016, her second album, 'Around the TRUE' was released, followed by her sold-out album release tour, 'TRUE TOURS 2017 Tsuruko to Tsuruo no Mikkakan ~Around the TRUE~', in Tokyo, Osaka, and Nagoya, and an additional performance on her birthday.
Her live performance is powerful with energy that brings the crowd together.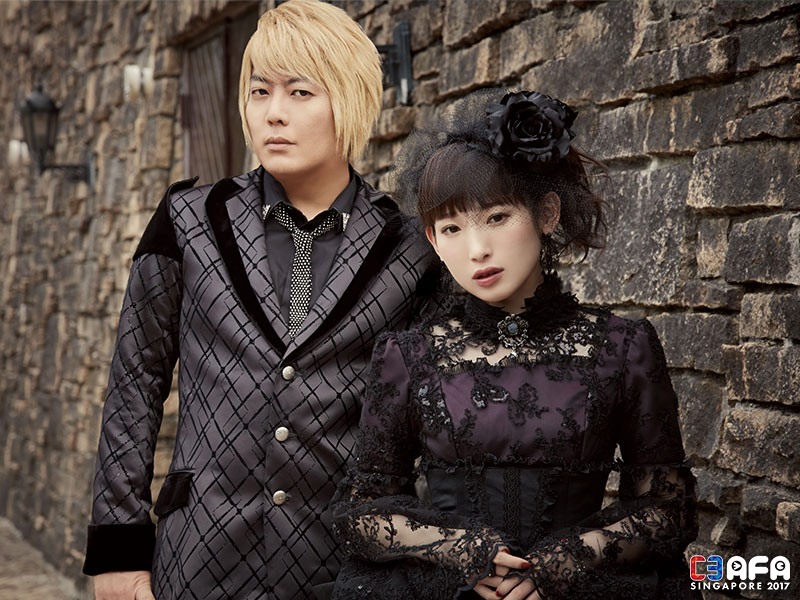 fripSide
•

Artiste •
fripSide was formed in 2002, by Satoshi Yaginuma also known as "sat", who has been on the quest for innovative synthesizer sounds, and catchy melody. In 2009, Yoshino Nanjo joined fripSide as a vocalist, and they released their first ever single, 'only my railgun', which was the opening theme song of the television anime 'A Certain Scientific Railgun', leaving the anime scene with positive impact. They have been creating hit music ever since, releasing singles such as 'sister's noise', for the television anime, the theme song to 'A Certain Scientific Railgun S', which successfully ranked number one on the Oricon charts.
Extending their fan base with every release, they held live concerts at Yokohama Arena in March 2015, and at Saitama Super Arena in March 2017, both of which, were successful, sold-out concerts. This year in October, they plan to release their 15th anniversary album, 'crossroads', and conduct a 7-show, solo concert tour, 'fripSide 15th Anniversary Tour 2017-2018 "crossroads" supported by animelo mix'.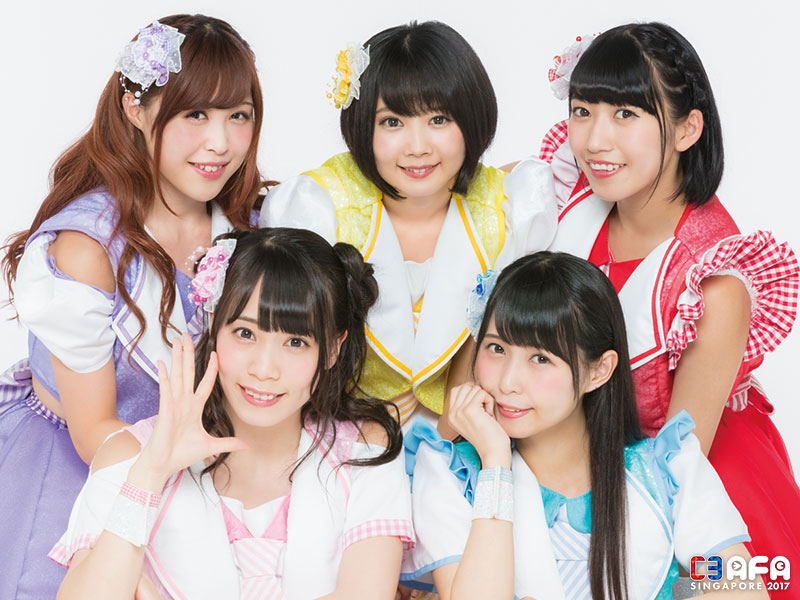 Luce Twinkle Wink☆
•

Artiste •
Consisting of members, Yukino Usami, Saki Fukasawa, Megumi Nishikiori, Saori Itayama, Kaho Higaki, with a cute and passionate dancing style, Luce Twinkle Wink☆ aims to bring a sparkly and eye catching stage performance. In October 2015, the group had their major debut with the song, 'Koi Iro ♡ Shikou Kairo'. The members accomplished their goal of singing an anime theme song, when their second single, '1st Love Story' was chosen as the opening theme song of the television anime, 'And You Thought There Is Never a Girl Online??' In March 2017, they released another ending theme song, 'go to Romance>>>>>' for the television anime, 'Urara Meirochou'. Four months later in July, they sang the ending theme song, 'Fight on!' of the television anime, 'GAMERS!' Next year in January 2018, they will be conducting their first ever one man live tour in Tokyo and Osaka.
Mashiro Ayano
•

Artiste •
Born in Toyako, Hokkaido, Mashiro Ayano is a singer that currently lives in Sapporo, Hokkaido.
With songs and messages that reach their listeners' hearts, and a resolute voice resounding with clarity. Mashiro has been attracting new listeners ever since she started her career. In October 2014, Mashiro made her debut with the opening theme song, 'ideal white', of the television anime, 'Fate/stay night'. After that, she has also sung the theme songs of many other television anime such as 'Gunslinger Stratos' and 'D.Gray-man HOLLOW'.
Other than performing at live events in Japan, she has also visited overseas countries such as Singapore, Los Angeles, Germany, and Taiwan. In October 2016, she released her 1st album, 'WHITE PLACE'. This year, in May 2017, she released a new single, 'NEWLOOK', that was chosen to be the ending theme song of 'Re:CREATORS'.
Currently she is on her live tour, 'Mashiro Ayano Monthly One-man Live Circuit 2017'. On 3rd November, she is planning to hold a One-man Live 2017 'UNIVERSE' at Blitz, Akasaka.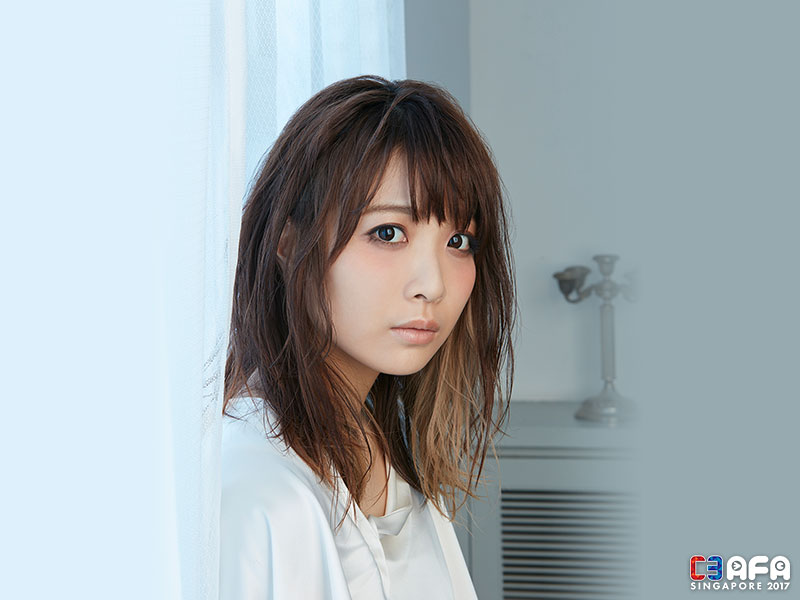 May'n
•

Artiste •
Although her artiste name 'May'n' was originally derived from her real name, she has always had the desire in her heart to be able to "become the main theme of everyone's lives and sing for them."
May'n has performed the theme songs for multiple TV anime, dramas and movies. Having completed 4 successful overseas tours, her largest one yet started in February 2014, in which she held over 70 performances across the 47 prefectures of Japan as well as overseas venues.
On 26 August 2015, May'n held her 10th Anniversary concert at the Japan Budokan. It was her 4th time performing at the prestigious location. At the same time, she released her first Best Album "POWERS OF VOICE".
May'n ASIA TOUR 2017 OVER∞EASY has started from January this year, lasting till April 2017!
Her ever-powerful and stunning voice will continue to capture the hearts of people who hear her songs, not just within Japan but all over the world.