ずっと前から好きでした。
~告白実行委員会~
I've always liked you
-Confess Your Love Committee-
SPECIAL SCREENING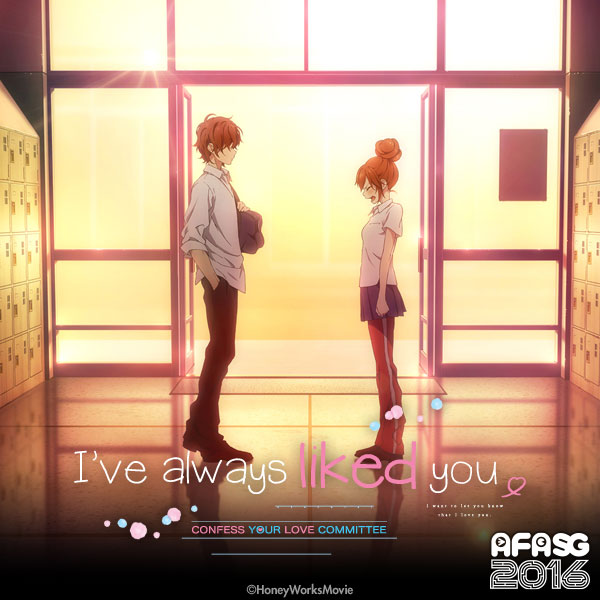 I've always liked you -Confess Your Love Committee-
"Because, this is the last practice…"
Sakuraoka third year student Natsuki Enomoto has a crush on her childhood friend Yū Setoguchi.
Not being honest with her feelings, she asked him to help her 'practice' confessing love.
Whilst continuing to hide her feelings, Natsuki gets asked out on a date by her classmate Koyuki Ayase…
Will Natsuki be able to get past her 'practices' and move on to the real confession!?
Introduction
With their video garnering over a hundred million total views, the youthful love drama stage produced by the creator unit HoneyWorks has been given a movie edition!
HoneyWorks songs 'Kokuhaku Yoko Renshuu', 'Hatsukoi no E-hon' and 'Yakimochi no Kotae' will be used as the centre theme of this project.
Confession Executive Committee ~Love Series~.
Come and watch the protagonists make their move in this Movie Animation, 'I've always liked you -Confess Your Love Committee-'!
The movie has been rated PG with a Consumer Advice of Brief Nudity.
©HoneyWorksMovie
CATCH THIS ON THE MAIN STAGE!
Catch the screening of the movie, only at the AFA Main Stage! Following the movie screening, there will be a special talkshow, featuring Gom, sana and CHiCO!
SUNDAY 27 NOV
12.00PM : Featured Anime Screening & Showcase – I've always liked you
-Confess Your Love Committee- FEAT.: HoneyWorks / CHiCO with HoneyWorks
ずっと前から好きでした。~告白実行委員会~ I've always liked you -Confess Your Love Committee-
SPECIAL GUESTS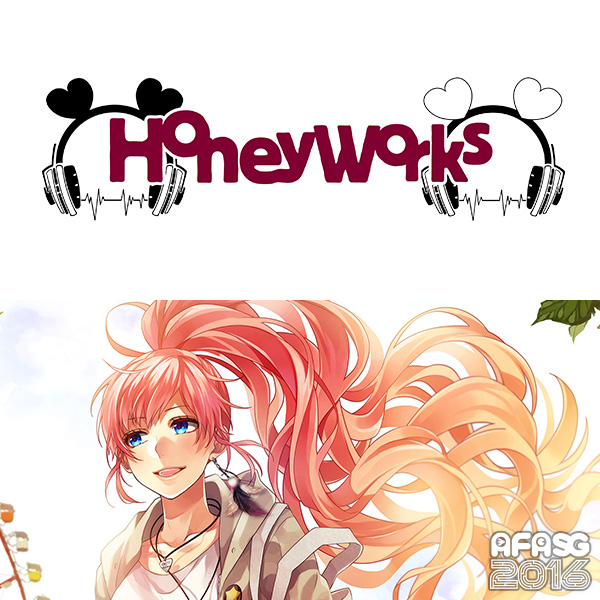 HoneyWorks / CHiCO with HoneyWorks
HoneyWorks is a creator unit that has garnered over 200 million combined views on video sharing sites such as Nico Nico Douga and Youtube. Members include composers Gom and shito, illustrator Yamako, and supporting members Oji (Pirate), Mogeratta, kororu, ziro, cake and AtsuyuK!.
Representative works include 'SukiKirai', 'Hatsukoi no E Hon', 'Kokuhaku Yokou Renshuu', etc. Their melodies are love-related and filled with youth, such that they are said to play a positive-rock style of music.
On 29th January 2014, they made their major debut with the release of their Vocaloid Best Album 'Zutto Mae Kara Suki Deshita', which even reached 4th place on the Oricon Weekly Charts.
In May 2014, the formation of 'CHiCO with HoneyWorks' was announced. In 26th November 2014, they released their second major label album 'Boku Jya Dame Desuka?', which reached 2nd place on the Oricon Daily Charts. HoneyWorks was awarded the Amazon Ranking First Prize for the first half of 2015.
The 6 novels that were created based off their music was also a best-seller that sold over 1.2 million copies combined. July 2015 saw the much-anticipated release of their third album, which featured guest vocals from sana.
In April 2016, HoneyWorks's songs were used in the original anime movie 'I've always liked you -Confess Your Love Committee-' which was shown in theatres all over the country. The first week of its premiere received 8th place in the Movie Box Office Rankings and a sequel of the movie is scheduled for release in December.
CHiCO, is the winner of the Vocaloid and Anisong audition Utakatsu! organised by Sony Music. Together with HoneyWorks, the Creator Team that is the subject of conversation and responsible for over 100 million online views, the collaboration unit CHiCO with HoneyWorks is formed!
CHiCO with HoneyWorks's first 3 singles were used for popular anime:
– Sekai wa koi ni ochiteiru: Aoharu Ride OP theme
– Ai no scenario: Magic Kaito 1412 OP theme
– Pride Kakumei: Gintama OP theme
The music videos have been viewed over 100 million times, and in November 2015, their debut album "Sekai ha i ni Michiteiru" was a smash hit.
Their 4th single, "Koiiro ni Sake" was released in April 2016 and was used as the opening theme to the movie "I've always liked you -Confess Your Love Committee-"
They sold out their first hall solo concert at the Nakano Sun Plaza, and toured live houses in Nagoya, Osaka, Fukuoka and Tokyo in the summer, as well as making their first ever summer festival appearance at "Summer Sonic 2016".
On 14th September 2016, they released their fifth single 'Canele & Wolf'!
CATCH THEM ON THE MAIN STAGE!
SUNDAY 27 NOV
12.00PM : Featured Anime Screening & Showcase – I've always liked you
-Confess Your Love Committee- FEAT.: HoneyWorks / CHiCO with HoneyWorks