Tokyo Performance Domo
Presented by NHK World
SPECIAL GUESTS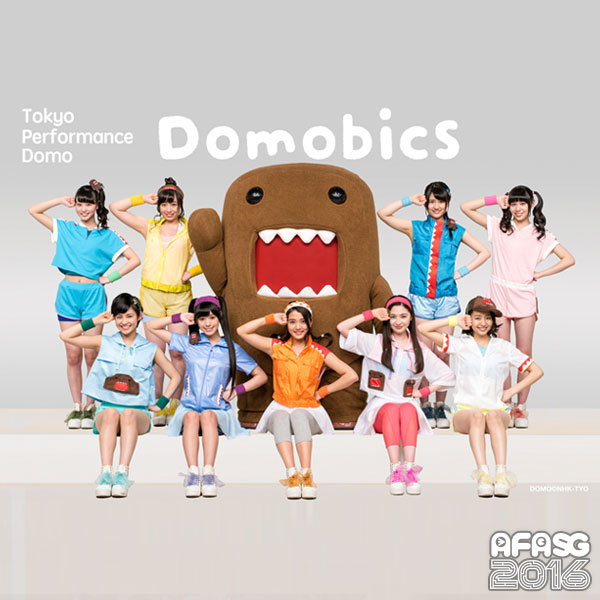 Tokyo Performance Domo
Tokyo Performance Domo (TPDomo) is a special collaboration unit made up of Domo and dance group Tokyo Performance Doll.
Born in 1998, Domo is the official mascot of NHK, Japan's public broadcaster. Over the years, he has become a well-known character around the world.
Tokyo Performance Doll was formed in June 2013. The 9 members were selected among 8,800 candidates from all across Japan.
Let's learn and dance "Domobics", a new catchy song, with Domo and 3 TPDomo members! This year at Anime Festival Asia Singapore 2016, you can meet them at the MAIN STAGE, MINI STAGE and NHK WORLD's BOOTH!
Music video, dance tutorial and more are available online at http://www.nhk.or.jp/nhkworld/domo/world/domobics/
[Day Stage]
25 Nov FRI 13:00
CATCH THEM AT AFASG 2016!
FRIDAY 25 NOV
01.00PM : Tokyo Performance Domo at MAIN STAGE
05.50PM : Domobics produced by NHK WORLD – Tokyo Performance Domo + Sebastian Masuda at AKIBA STAGE
SATURDAY 26 NOV
11.20AM : Domobics produced by NHK WORLD – Tokyo Performance Domo + Sebastian Masuda at AKIBA STAGE
02.20PM : Domobics produced by NHK WORLD – Tokyo Performance Domo + Sebastian Masuda at AKIBA STAGE